Maybe this is your first attempt at dieting, maybe you've tried them all with some or no success, whatever your backstory you have found yourself checking out the Keto Diet as an option. You might have even landed here by accident but now you are curious about what the Keto Diet is. Basically, the ketogenic diet is based on Ketosis – a metabolic state in which some of your body's energy supply comes from ketones in the blood. When in ketosis fat reserves are readily released and consumed – your body's "fat burning mode".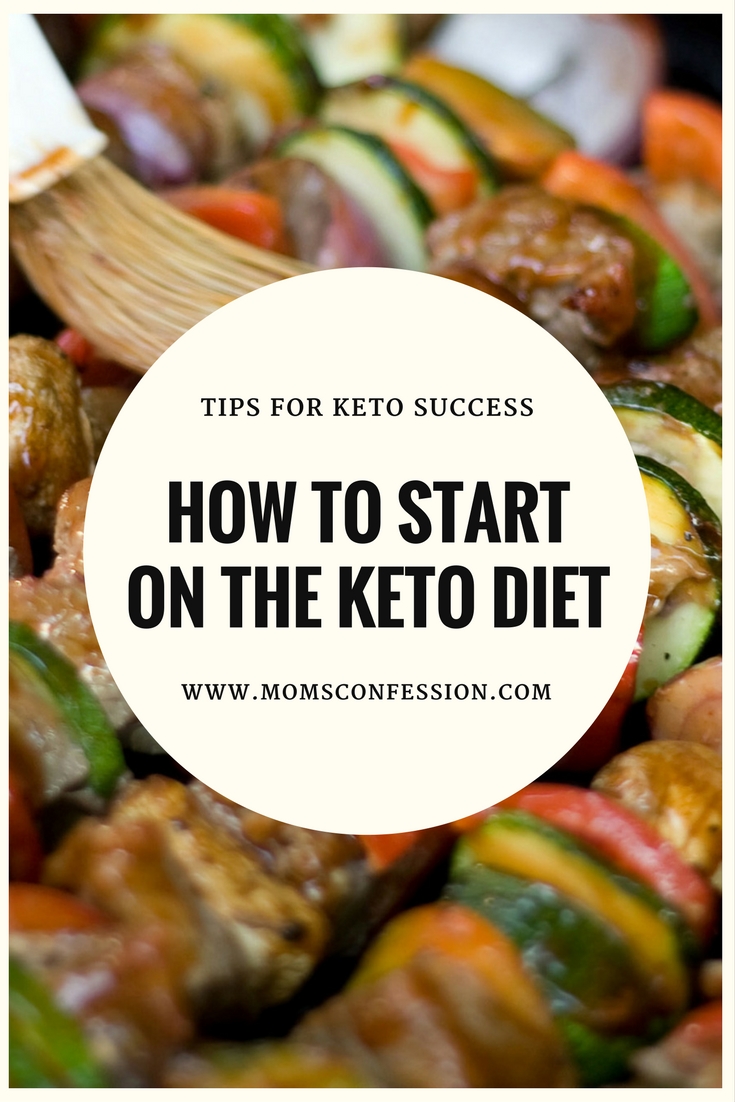 Remember the popular Atkins diet of the 90's? This is similar to that in that it's a high fat and low carb way of eating. The diet encourages generous amounts of meats, real butter, and other healthy fats while avoiding processed foods, pasta, and grains. There are some differences between the two programs, but I won't be going into that. I will, however, be giving you tips on how to start on the ketogenic diet so you can have the most success with this way of eating.
DISCLAIMER: I'm not a doctor (nor have I have ever claimed to be one), so I can't tell you if this way of eating is good for your overall health. As with any diet, always check with your doctor before starting a new plan. While the ketogenic diet is considered somewhat controversial, it is a less restrictive plan with good sources of natural carbohydrates and some doctors have researched it so they understand how it works.
Now that we got that out of the way…let's dig into getting started on the keto diet!
How to Start on the Ketogenic Diet
Research, research, research – Since you are here reading this you are probably already doing just that. Look at what makes up the Keto diet, how long it lasts, what the benefits are, the drawbacks, the basics, and the different types depending on how aggressive you want to be in your fat burning journey.
Tip: Jot down a pros and cons list of how this way of eating can help the overall of you or anyone that is going to be doing the keto diet with you so you can take that with you to discuss with your doctor.
Commit to it – If you made it through the research and you know the ins and outs of the diet and still want to do it, be sure you are 100% committed to this WOE (way of eating). From the beginning, you need to be committed to it because it's not like your typical diet and sometimes a little cheat will have disastrous results. As with any diet, keto will be as successful as you commit and stick to it being. In the beginning, you may cheat and I'll be the first to tell you that it's okay. Just get back on track and keep going.
Tip: Print this free weight loss contract and commit to yourself that you can do this! You are your biggest success story and when you believe in yourself, anything is possible.
Get rid of non-keto-friendly foods – Once you learn what's on the keto approved the list and what is not clear out your refrigerator and pantry of sabotaging snacks and recipe ingredients except those that the rest of the family will be eating up (unless everyone is going keto). Obvious items like potato chips, pasta, and cookies are not the only culprits. The name of the game in keto is super low carb, less than 20 net grams per day, and you want those coming from healthy foods like veggies. You will be surprised how much sugar…carbohydrates are in things like canned pasta sauce, gluten free items, and other so-called diet foods. Check labels on everything and stick to basics when you are just beginning.
Tip: To calculate carbs based on net grams, simply subtract the total carbs from fiber and you will get the net carbs for products with a nutrition label. 
Use a ketogenic calculator – Before you start this way of eating, you need to determine your body's nutritional needs. You can use a keto calculator to help you with that. This is the ketogenic calculator I used. It was the easiest to calculate the number of macros and calories I needed to start the keto diet.
Go shopping – Now that you have emptied out your food supply, you want to replenish it with keto approved snacks, drinks, and meal ingredients. I will go more into this kind of list in another post but for now, I will give you quick basic list-various meat, hard cheeses, eggs, avocados, heavy cream, cream cheese, butter, water, and low carb veggies like spinach, broccoli, green beans, and radishes.You want to steer clear of the vegetables that are grown in the ground. Leafy greens are your best friend. Items like pickles, berries, pork rinds, low carb beef jerky, low carb full-fat Greek yogurt, and fat bombs will make up most of your snacks.
Tip: Make a list of the approved foods you can eat on the ketogenic diet and keep it where you meal plan. This will help you as you start your journey to weight loss. 
Keep a food journal – Writing down what you are eating is probably one of the biggest ways you can be successful on the keto diet. You can keep the food journal on paper or by using apps like My Fitness Pal or Stupid Simple Keto. Each of these apps allows you to count calories and macros (protein, carbs, and fats) so you can be successful on the keto diet. These apps do offer a paid subscription service to access additional things within the app, but I have been able to use the free version without any problems.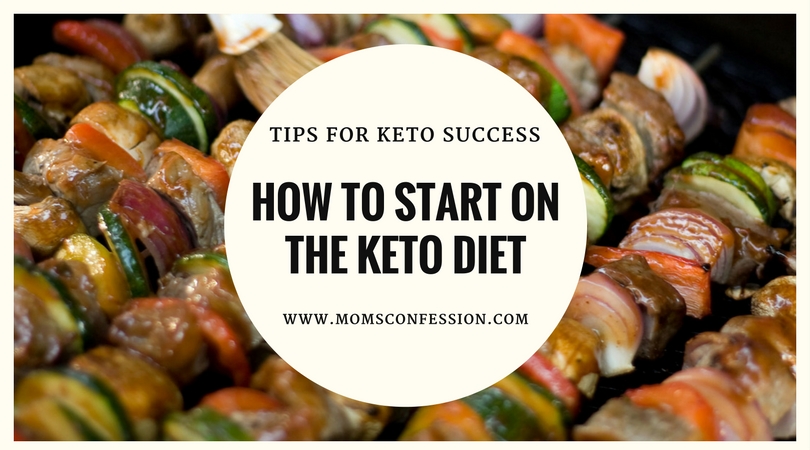 Food prep – I have found with any new way of eating it is much easier to stick to if you plan and prep in advance. Have something on hand to combat sugar cravings, cravings for crunchy snacks like chips, soda, etc.. Prepare meals in advance to freeze or put in easy to grab containers. Success will be your reward when you make it easy on yourself by putting in a couple hours each week to prepare for coming meals and snacks.
Tip: I have found that prepping meals twice a week works best for me. This ensures my approved snacks and meals are fresh so I usually prep meals on Sunday and Wednesday. This works for me, but it may not work best for everyone. Some people on this way of eating prep their meals every evening. Do what works best for you and the time you have available. 
Take measurements & weight weekly -Before you start day 1 of your journey, take your measurements and weight then jot them down in your food journal or on your meal plan. On the keto diet or any plan, weight is not necessarily based on the number you see on the scale. Everyone loses weight differently so by weighing in and taking measurements weekly, you can really see how you lose weight from week to week. It will also give you insight into what is working and what's not working for your body type.
Tip: This will help keep you motivated if you see the numbers going down or it can also help you figure out where you need to improve. Trust me, there will be times when the numbers don't change. It can be discouraging, but you can find ways to tweak your plan to be successful when you have your measurements and food journal.
Test your ketones – Once you have been on the ketogenic diet plan for a week or two, use ketone testing strips to check if your body is in ketosis. A state of ketosis means your body is in a fat burning state. When you reach ketosis, you will notice that your metabolism is boosted and energy levels are elevated.
Find a support system – Join the Facebook group, Low Carb Inspirations. My friend, Jennifer from ISaveA2Z started the group to help others on the keto diet and it has given me a wealth of information and a place to ask questions.
That's it for now…I'm sure your mind if swirling with questions and you may even be in information overload. It's okay! Take it slow and ask questions! We will have more information on the benefits of the ketogenic diet later this week. Stay tuned!
More Healthy Living Ideas