Tips for Keeping Happy & Healthy Cats Indoors
This shop has been compensated by Collective Bias, Inc. and its advertiser. All opinions are mine alone. #yougottabekittenme #CollectiveBias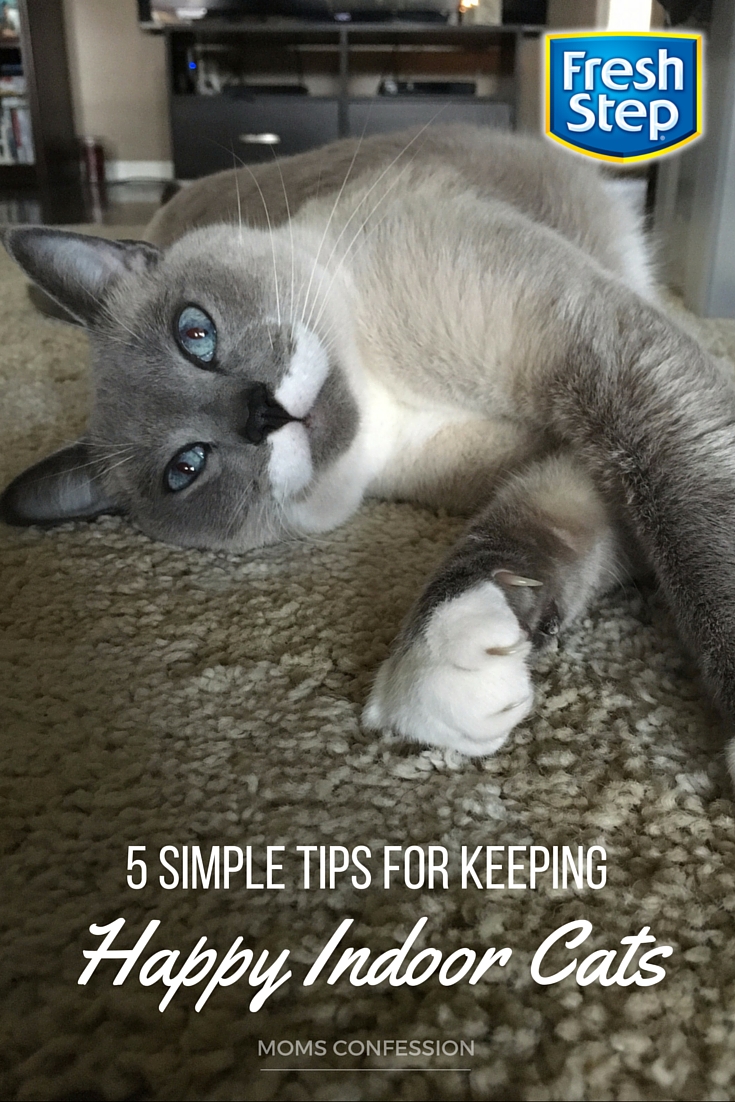 5 Tips For Keeping Happy Cats Indoors
If you are a cat lover like I am, then you know happy cats are a wonderful part of life. When your indoor cats are happy and healthy then you are happier. Cats have so many wonderful benefits for your health. It is important that you maintain their health and happiness so they can continue to help with yours. We've had indoor cats for a long time, so we know that there are a few basic things that make it easier to keep happy cats indoors.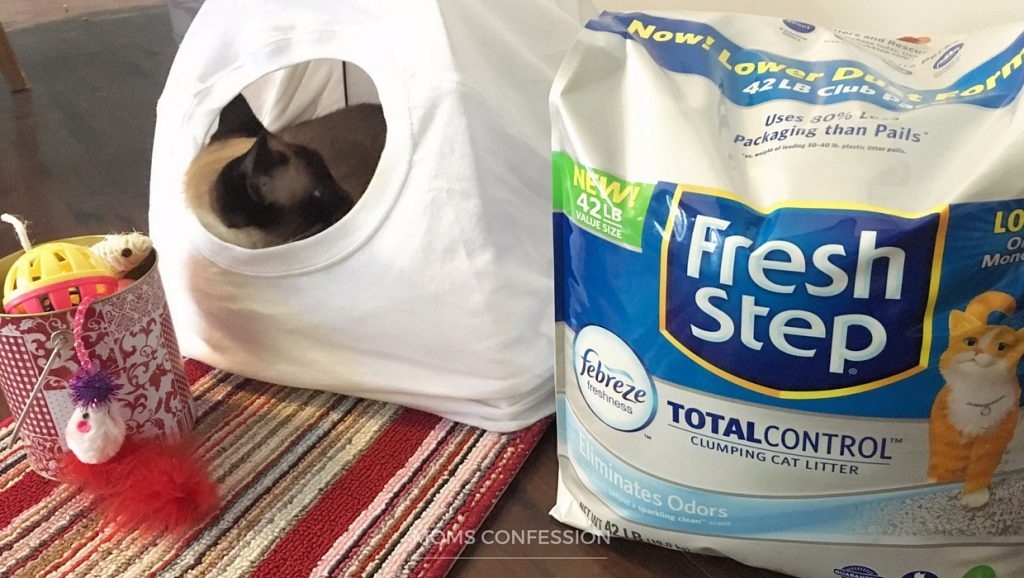 Keep a fresh litter pan.  A cat litter pan is something that can be a frustration to deal with.  Nobody enjoys scooping used litter, and the yucky smells that come with it can be frustrating.  Your cat, however, needs you to make sure this is taken care of.  Indoor cats have to have your help to maintain their "bathroom routine".  A quality cat litter like Fresh Step Total Control with the Power of Febreze purchased from Sam's Club is vital to making sure you have an easier time maintaining his, all while giving them a clean environment to do their business.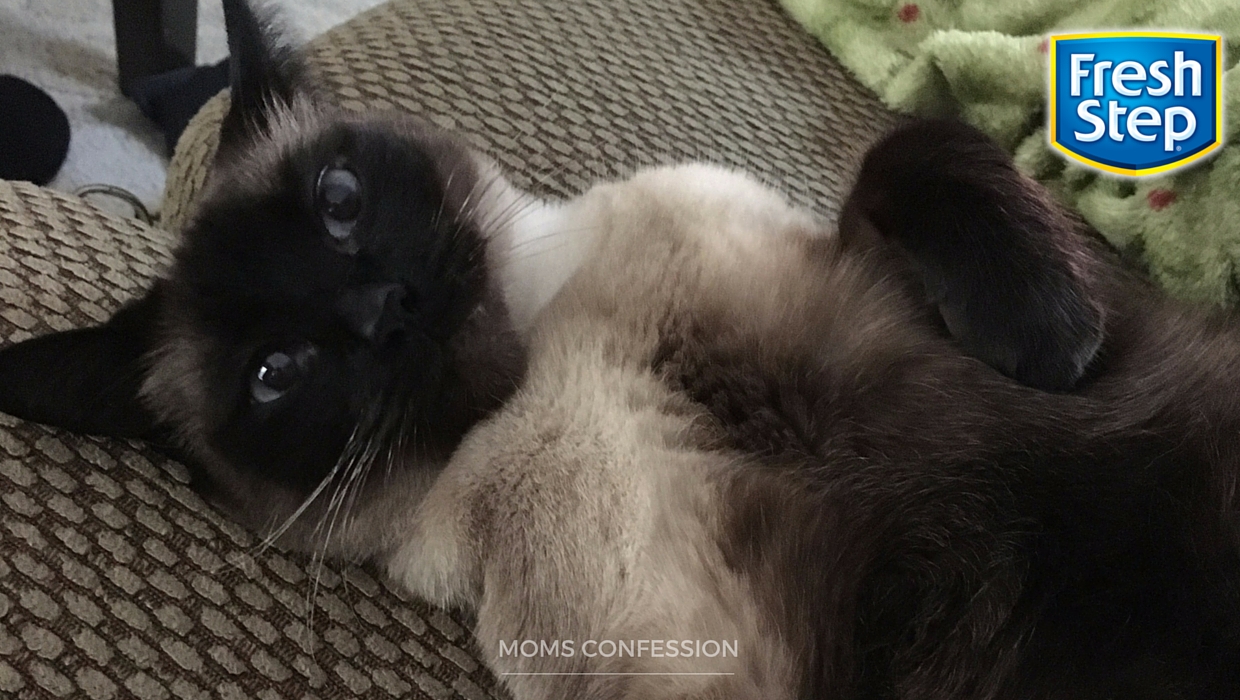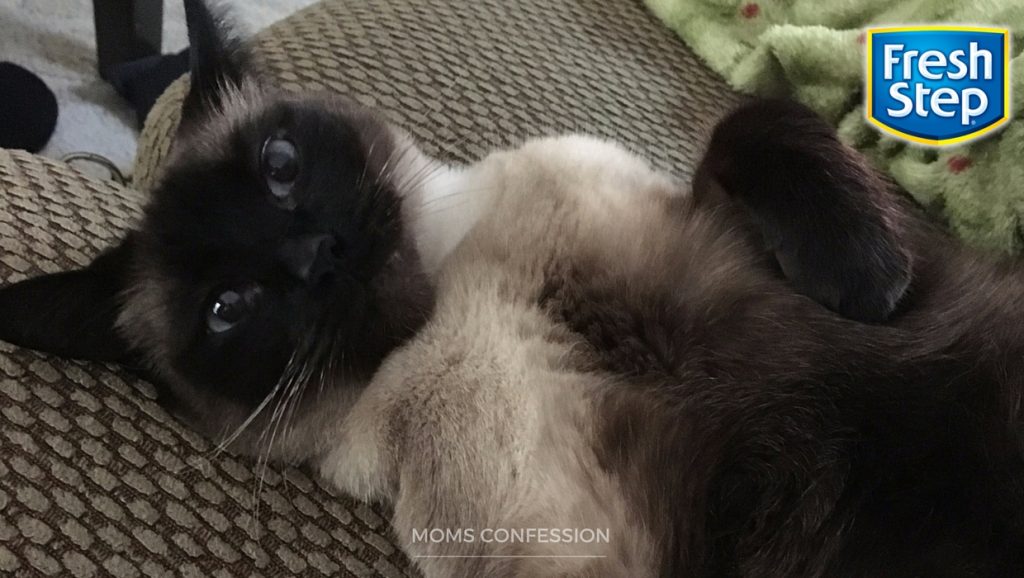 Reward them with love and affection.  Happy cats are naturally affectionate.  Every cat has a different personality, but they all need love and affection.  For some, this is being held or cuddled.  For other cats, it may simply be brushing them to remove excess hair, or petting them as they walk by.  Let your cats know they are loved by talking to them, petting them, helping them groom, or providing comfort to them.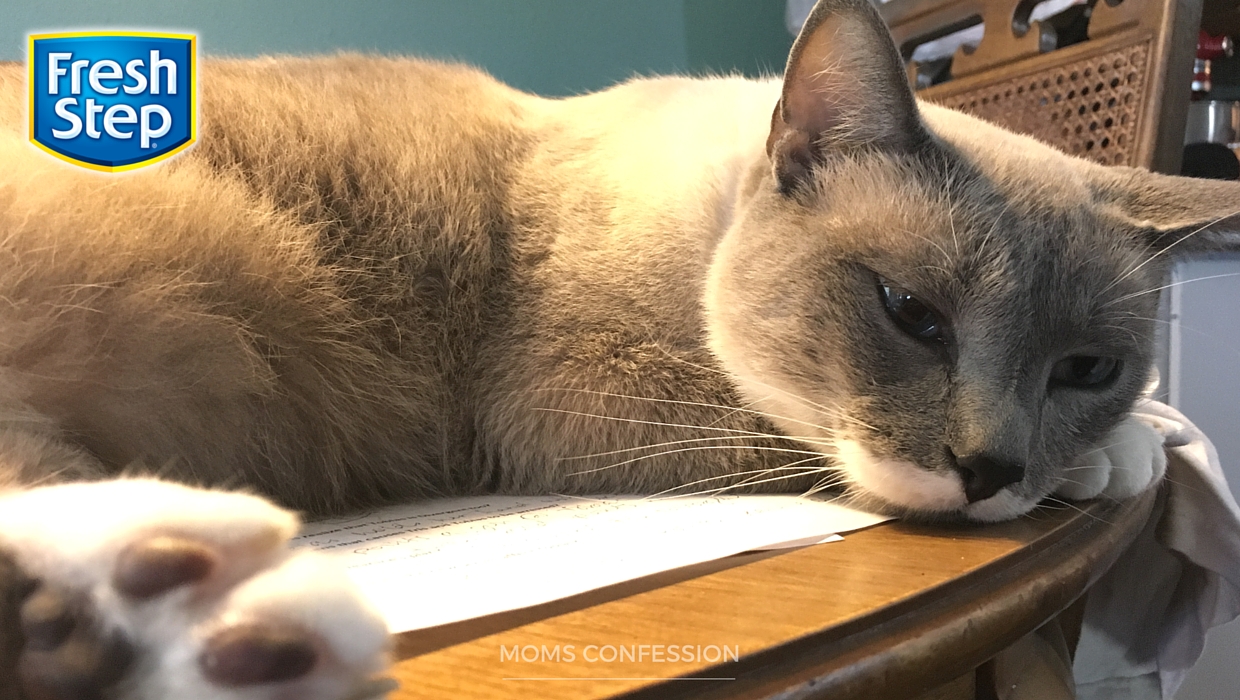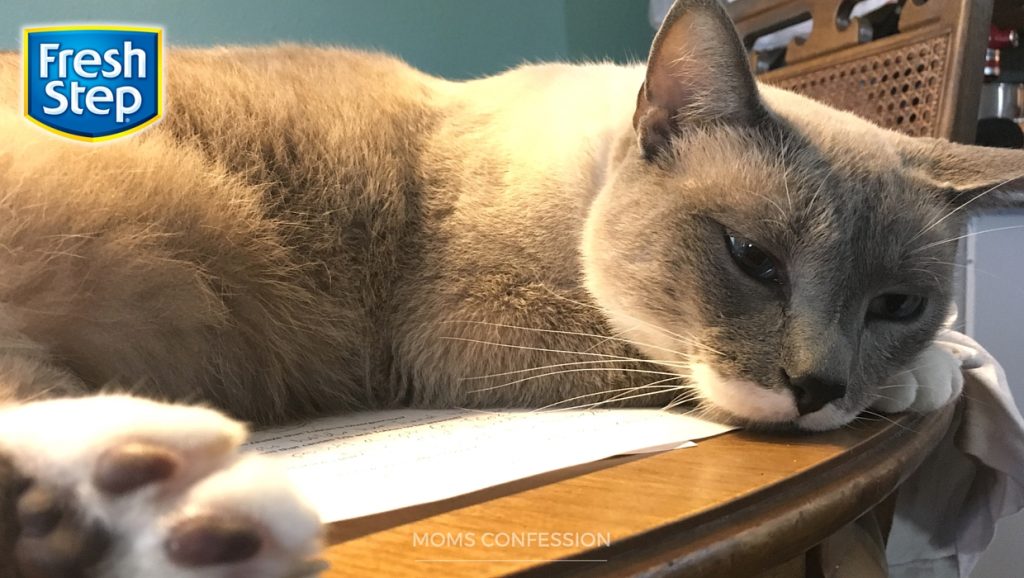 Give them personal space.  Cats are often called moody, but the truth is they are just unique in their need for personal space.  While many indoor cats are happy to snuggle or be around a crowd, they are often in need of a quiet place that is just theirs to settle and nap, groom, or observe.  Give your cats their own personal space that allows them to be above the noise in the room.  Special shelves or cat trees are great for giving cats their own perch to watch what is going on without feeling threatened.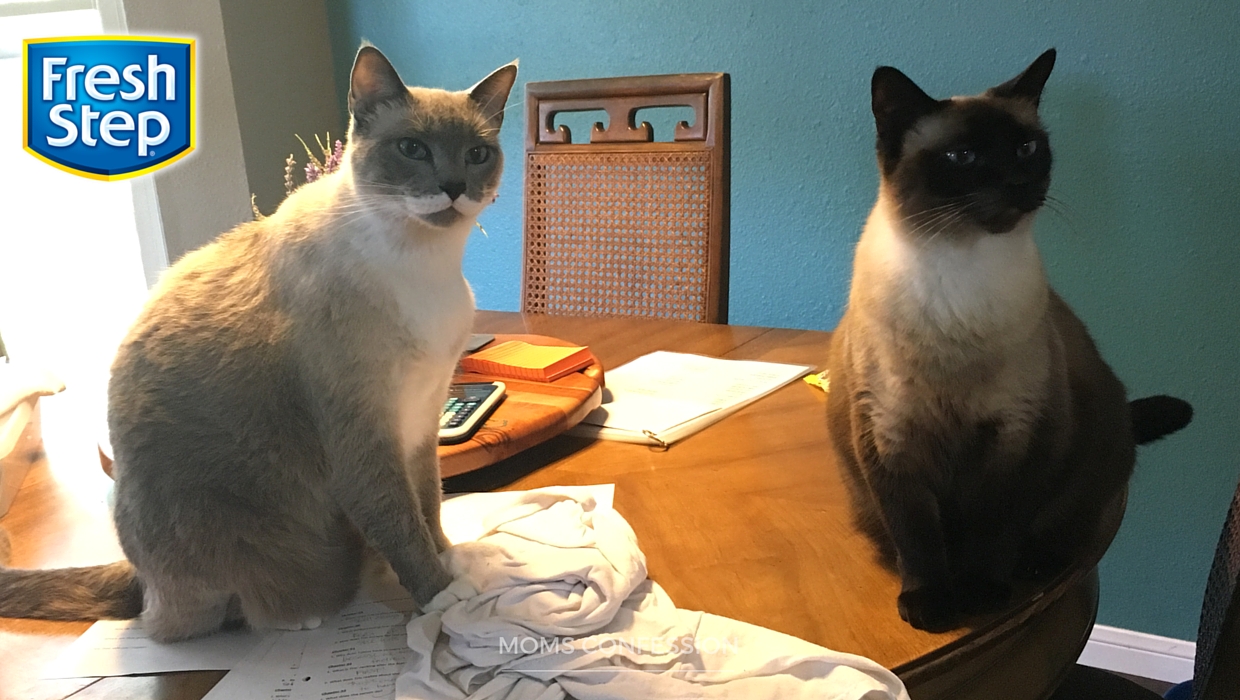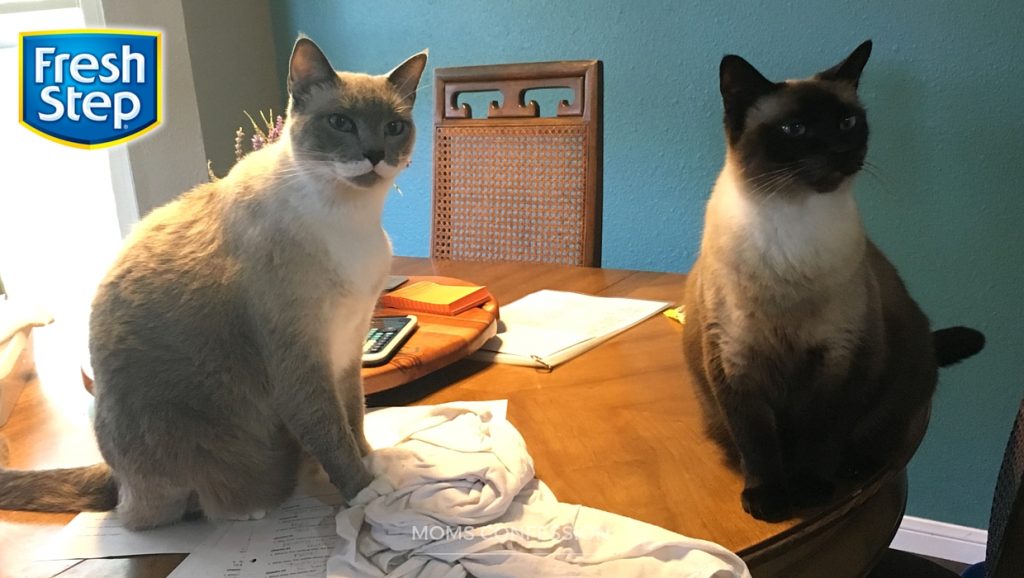 Make their health checks important.  Just like you go for an annual physical, so should your cats.  Happy cats are healthy cats, and that means getting them checked out by a veterinarian on a regular basis.  Since it is tough to see health issues in most cats, it is vital that you make it a priority to have them checked. Cats that have not been properly vaccinated can have issues with worms in their early years.  Cats exposed to the outdoors will need proper flea and tick treatments.  There are also the hidden diseases like kidney issues and diabetes that aren't noticeable right away to their owners but should be attended to by a veterinarian.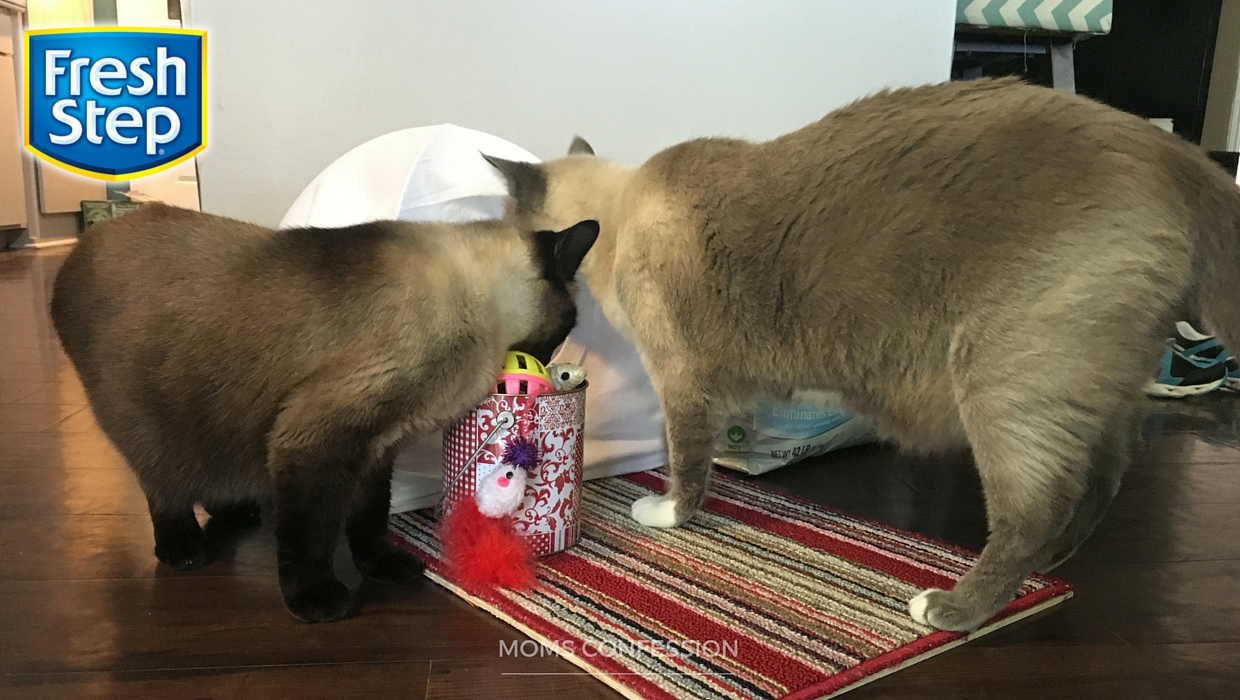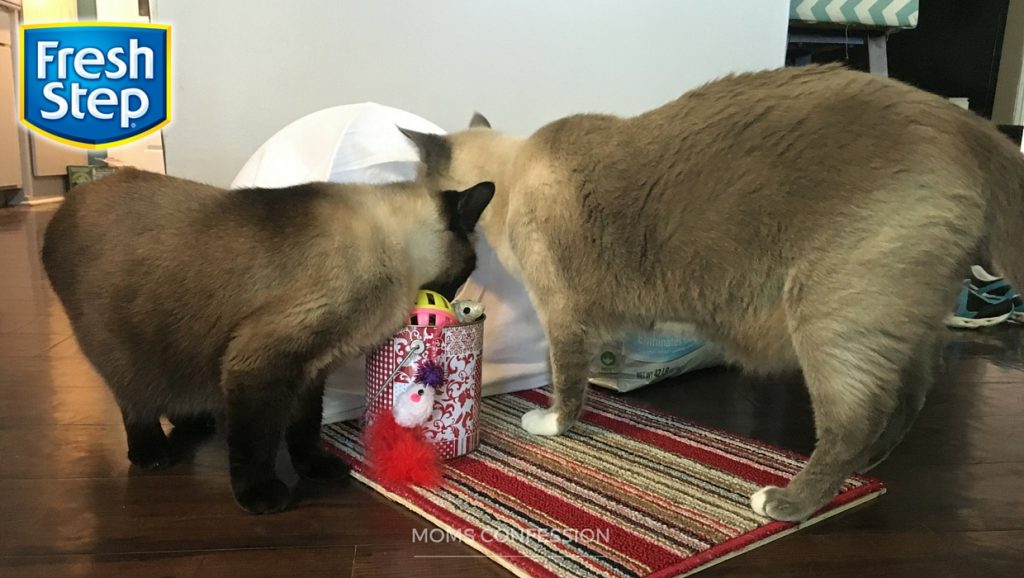 Give them a way to play.  Indoor cats need a way to play and get rid of excess energy.  Things like catnip toys, balls they can chase, and laser pointers are all fun toys.  They also need a way to get rid of energy and use their natural instincts for hunting.  A great DIY scratching post is a great way to get their energy out, and help keep their claws off your furniture.  You must provide them with play time and sources of play to keep them from finding something on their own that you wouldn't want them using as a toy. Make playtime fun with this super easy do it yourself cat bed and scratcher combo. Your furry friends will enjoy relaxing and playing the day away!
DIY Cat Bed & Scratcher Combo Tutorial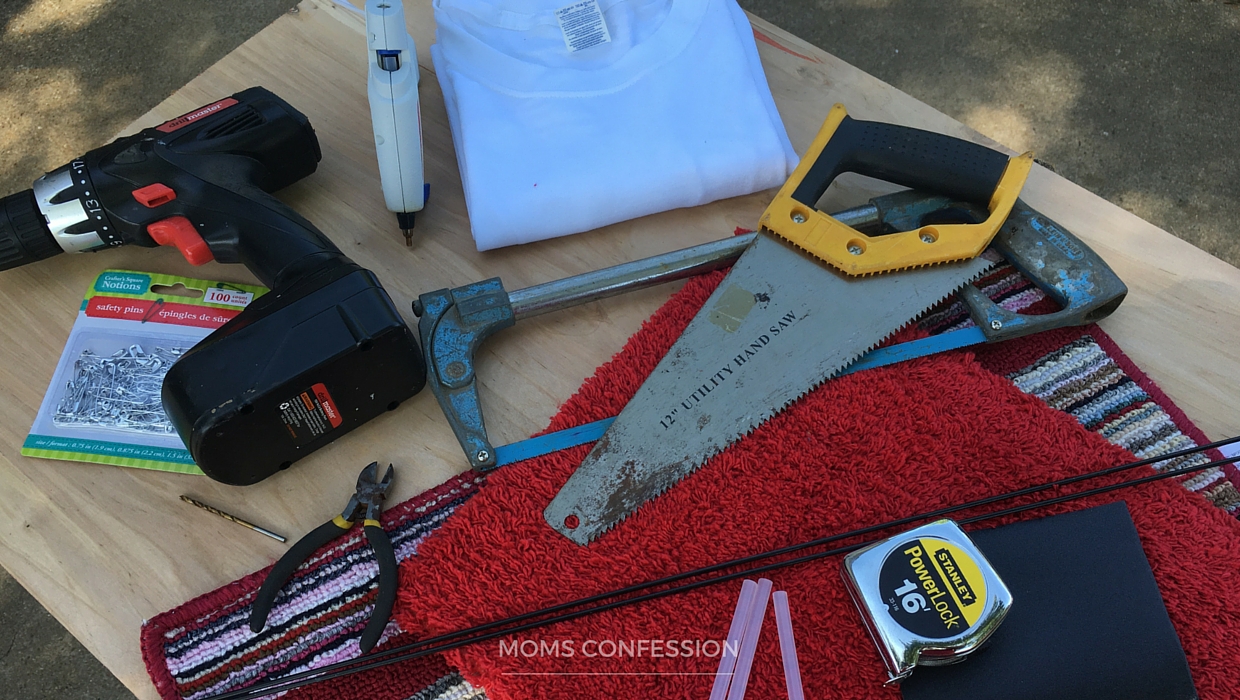 Items Needed:
1/4 inch plywood
2 dollar store rugs or repurpose rugs you have at home (1 should be a carpet base)
cat toys
hand saw or hacksaw
measuring tape
drill bits (fit to wire hanger width)
hot glue gun and glue sticks
pencil
small piece of sandpaper
wire hanger
large t-shirt
twine or string
safety pins
clamps (not pictured)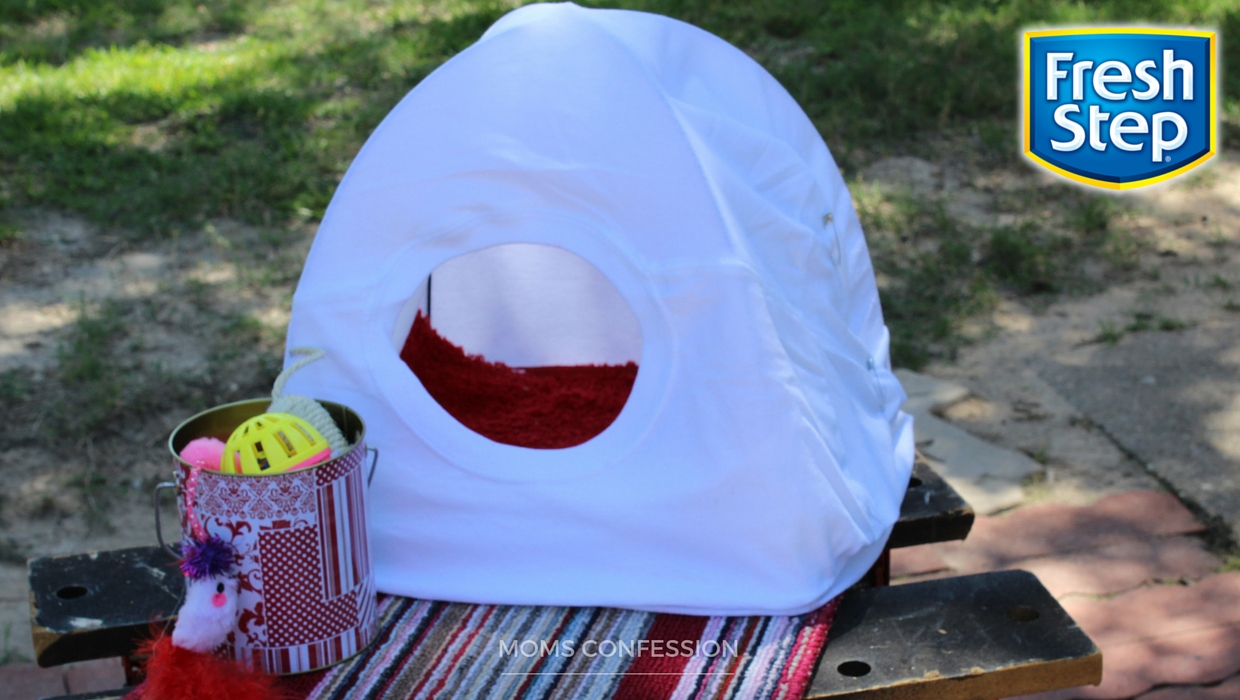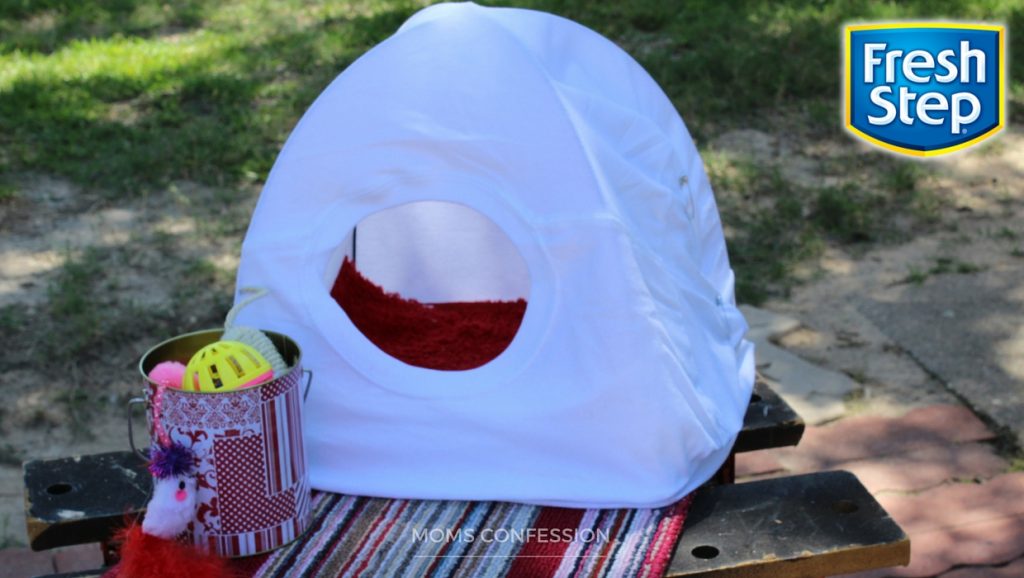 Directions:
Measure the width of the rug on the plywood and mark it with a pencil.
Use the hand saw or hacksaw to cut excess plywood.
Sand the edge of the plywood to get rid of any burrs in the wood.
Add a line of hot glue around the edge and place your carpet rug on the glue to tack it in place.
Straighten out the wire hanger and trim it down. Mine measured 36 inches.
Drill a hole in the corners where the wood is still exposed.
Place the wire hanger into the holes and tack down with a bit of hot glue to secure them in the corners.
Feed the wire hanger over in a half circle and locate where to drill your next hole.
Drill the holes and tack down the wire with a bit of hot glue to secure them in place.
Pull the top of the wire together and secure with a string. (optional: tie a cat toy to the additional string like a mobile for cats to play while they chill out in their new cat hideout.)
Place the t-shirt over the wire with the neck hole facing the carpet.
Secure the front corners down with some hot glue and wrap the back under the corners of the wood.
Flip the cat bed/scratcher combo over and secure the flaps of the shirt with safety pins.
Flip the bed/scratcher combo back over and secure the arms of the t-shirt with safety pins.
Place the second rug inside the neck hole of the shirt for a relaxing and comfortable place for your furry feline friend to rest, relax and play!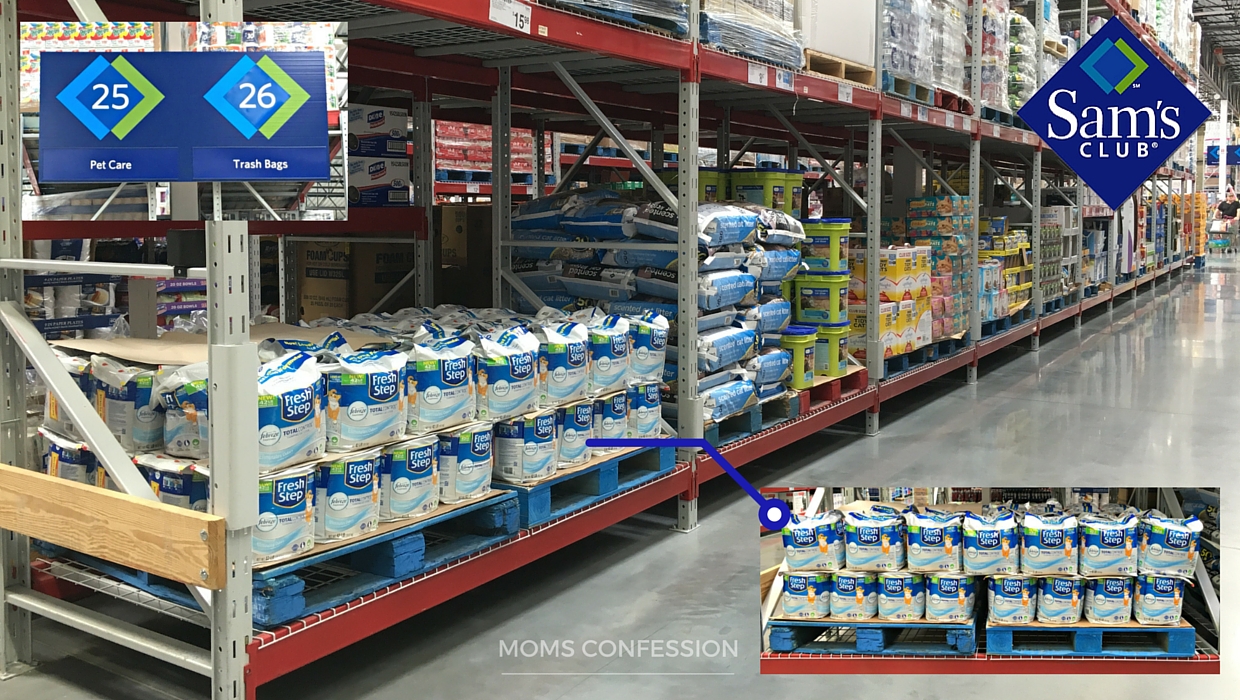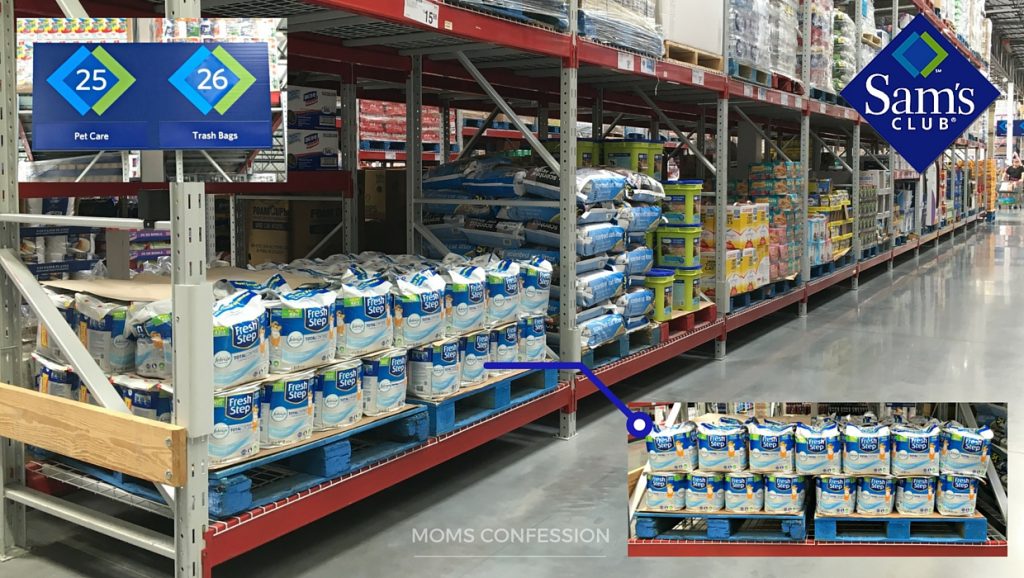 Between 5/11-6/5, purchase Fresh Step Total Control with the Power of Febreze from Sam's Club and save $3.50 with the Sam's Club May Instant Savings Book. Enjoy knowing your pets are taken care of when it comes to litter time while you stock up on the savings!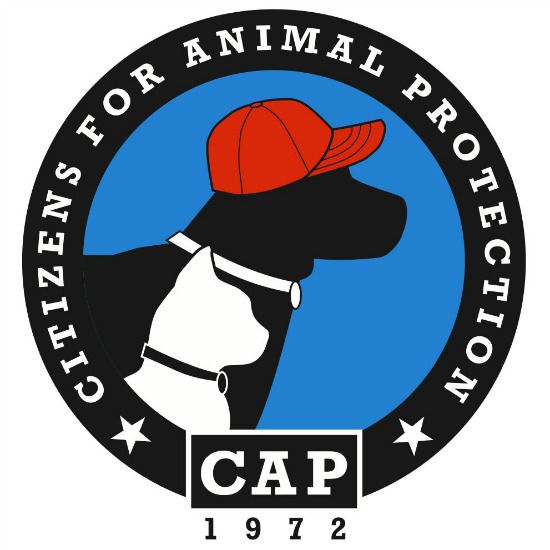 For years, we have been huge fans of Fresh Step Total Control Cat Litter and I was so happy that they along with Collective Bias gave me the opportunity to donate$100 to a pet-related organization of my choice.
About CAP
"Citizens for Animal Protection is a non-profit organization, founded in 1972, which shelters, rescues, and places homeless animals for adoption with loving families.  CAP advocates respect and compassion for animal life and provides humane education to help prevent cruelty to animals."
With so many animals in shelters these days, it's good to know that organizations like CAP are there to help them find their new "forever" home through adoption.
Make your cat's health your priority and create happy cats indoors with these great tips! I know Harley and Ninja are happy and healthy…they show me that every day when they act like having two-year-olds running under your feet at home! :) Gotta lov'em!