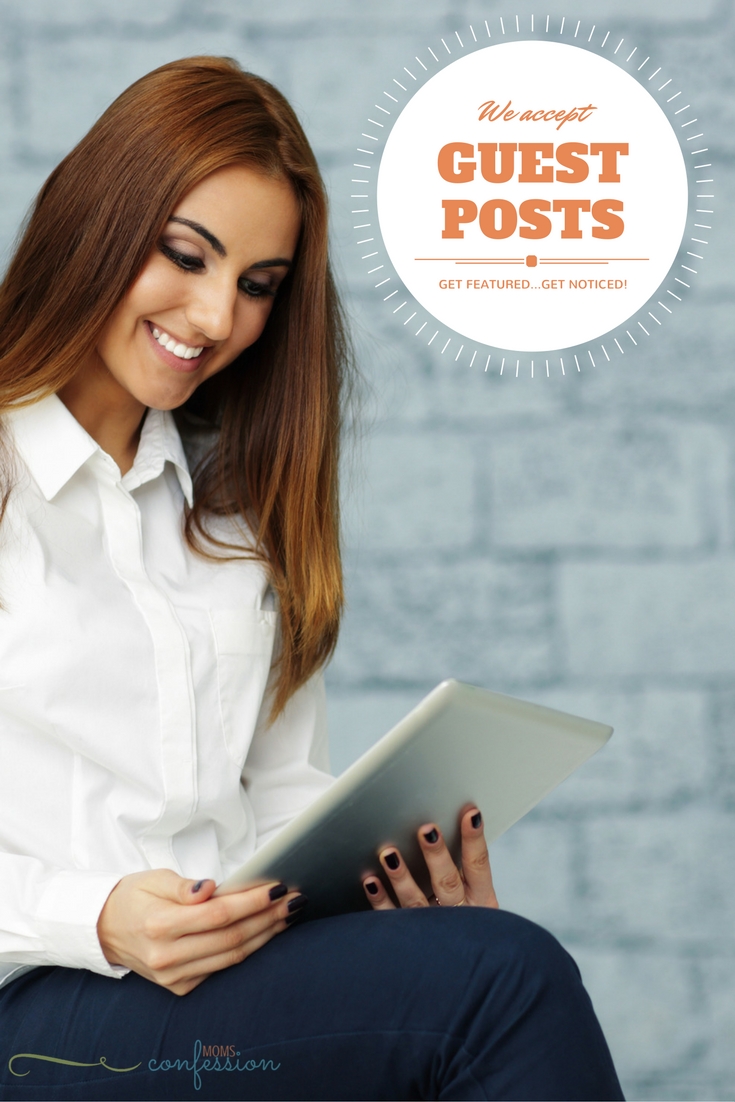 Would you like to share a guest post at Moms Confession? If so, you are in luck!
I do accept guest posts on my site, but I am very specific about the content that is shared with my readers as well as what is considered a guest post versus a sponsored post.
Please look over the guidelines below as you are creating your post to be featured at Moms Confession before submitting an inquiry.
Guest Post Guidelines
The content shared in your guest post must be high-quality, exclusive, and original (i.e. not published anywhere else online). All submissions will be screened through copyright software to ensure the content is original and not published anywhere else on the internet. This requirement is for the benefit of both the site owner and guest poster. Google does not like duplicate content and will discredit all sites involved if they deem the content shared as duplicated content.
The post must be 1000 words or more. More content = Better quality post for sharing purposes & traffic back to you.
The use of bullet points, lists, and short paragraphs are highly encouraged as it makes reading easier.
You may not link to any business, blog, or website you are being paid to write for.
You may not promote a brand in your guest post.
You may not use affiliate links within your post.
You must include at least two (2) high-quality original photographs/images to be submitted with the guest post. All photos must be original or come from a paid royalty stock image company like Graphicstock or BigStockPhoto. Should you choose to use a stock photo, please include a link to it on the original site you purchased so it can be verified. The image must be at a minimum of 1000 pixels wide. Pinterest friendly images are 1000 x 1500. You can use a free online photo editor like Canva to create & edit images for your post.
If you are submitting a recipe guest post, please include the in-process photos with your guest post submission. In-process photos help tell the story of the recipe and help readers understand the process of making the featured recipe. For recipe guest posts, there is a requirement of at least 4 in-process photos and 4 completed recipe images. Two (2) of the completed recipe images must be at least 1000×1500 pixels.
Please make a concerted effort to correct spelling, grammar, and punctuation. If excessive editing is required, the post will not be accepted.
You may include one (1) link to your site within the content as long as the information is relevant to your guest post submission.
You may include a short bio (50 words or less) at the end of your post with a link back to your blog.
Submit your post as an attached document or HTML via email upon approval of the topic.
The submission of your post does not guarantee publication. Upon approval, an email will be sent letting you know the publication date so we can both promote the content you have created on Moms Confession.
If you are a business or brand interested in sharing your product or service with the readers of Moms Confession, please kristi@momsconfession.com for information on sponsored post campaign opportunities or see my Advertising information here.
If you are interested in sharing a guest post, these are the topics I am accepting content for at this time.
Guest Post Topic Ideas
Easy Family Recipes
Easy family meal ideas for moms to get dinner on the table in a hurry – 30-minute meals with simple ingredients are key!
Organizing Tips
Simple tips for moms to make their lives easier because who doesn't like an easier way of living!
Craft Ideas for Kids
Quick and easy crafts for kids to make or fun kids activities to do with the kids!
Printables
Do you have a printable that will help moms? An organizing checklist? Kids' activity sheet? Share them with my readers!
Seasonal Crafts
Are you interested in creating crafts for holidays throughout the year? Share your favorite seasonal craft projects through a guest post!
Easy DIY Projects
Do you like to do DIY projects? Share your easy DIY projects here at Moms Confession!
When you submit a guest post, I work hard to help you gain exposure by sharing the post across my social media networks and linky parties. All posts featured at Moms Confession are shared multiple times and scheduled out over time to ensure exposure of the post is maximized.
Interested In Guest Posting?
If you are interested in guest posting at Moms Confession with the topic ideas and also agree to the guidelines above, please email me at kristi@momsconfession.com.
Please use GUEST POST in the subject line and include the following information in the body of your message.
Acknowledge that you will comply with the guest post guidelines listed above
Provide your blog URL
Let me know the topic idea you would like to write about
Share an example of the best post on your blog
I look forward to hearing from you and sharing the great content you have to offer my readers!