Fall Bucket List + Free Printable
Everyone should have a fall bucket list for the season. It's great to create memories with your family! Get 25 fall bucket list ideas and free printable!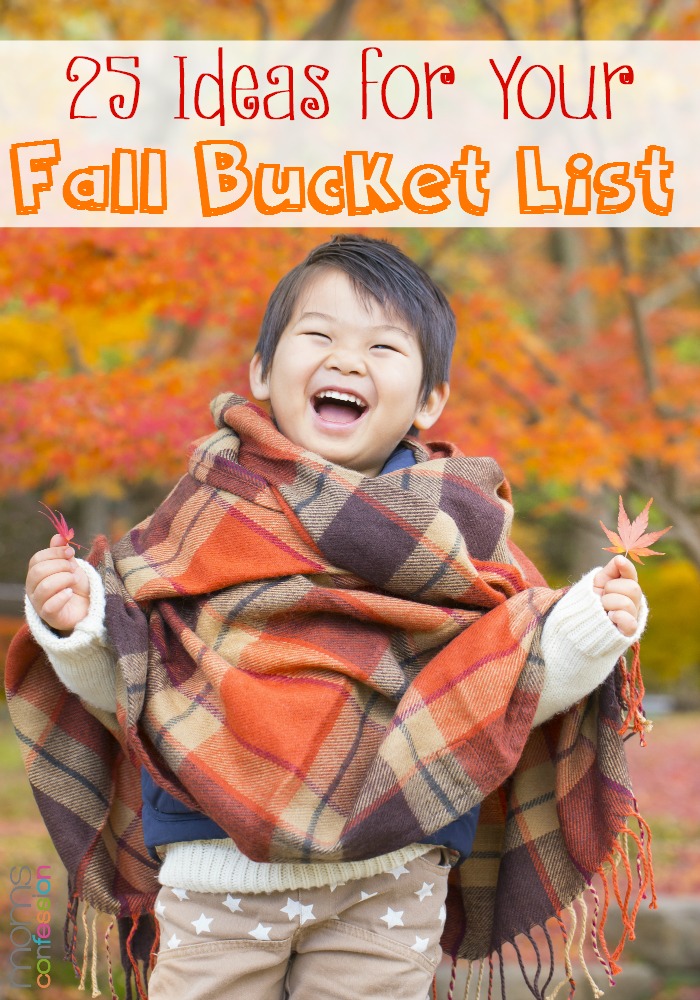 There is so much to do that really helps you make awesome memories and it's fun to be able to see how many you can do before the season changes.
Fall Bucket List
If you don't know what a bucket list is, it's very simple. A bucket list is a list of things you want to get done before a certain time, in this case, before Winter hits. It is the "must do" and "must sees." It's the important things!
To get you started on a fall bucket list, here are 25 things you must do when the crisp air starts to hit!
Rake leaves and jump into the pile!
Go on a fall hike in the woods and watch the colors change on the trees.
Participate in a fall scavenger hunt.
Host or attend a bonfire complete with S'mores.
Hit up a local orchard and pick some of your own produce.
Carve a pumpkin.
Roast pumpkin seeds.
Do an art project with leaves.
Make your own apple cider.
Try a new pumpkin recipe.
Go on a hay ride.
Check out a corn maze.
Go trick or treating.
Make a scarecrow in your yard.
Make some cinnamon rolls.
Plant bulbs for the spring in your garden.
Go to a harvest festival or visit a pumpkin patch.
Tell ghost stories around a campfire.
Attend a football game-professional, college or even high school level.
Bake homemade bread.
Decorate the house or yard for fall.
Visit a haunted house.
Make caramel corn and watch Halloween classics like "It's the Great Pumpkin, Charlie Brown!"
Make bird feeders out of pine-cones, seeds and peanut butter.
Bundle up and play a last round of putt-putt golf.
Be sure to pin this for later and grab the free printable below!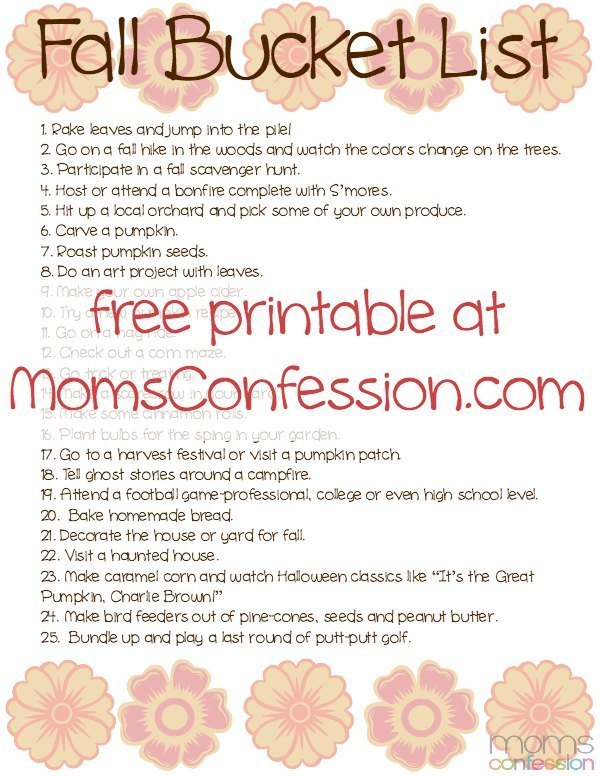 What are some of your favorite ways to celebrate the fall? What's on your bucket list every year? Let me know in the comments!