Everything You Need for Kitchen Organization
No kitchen organization project should go without these tips, tools, and gadgets to organize your kitchen, including the free printable spice labels!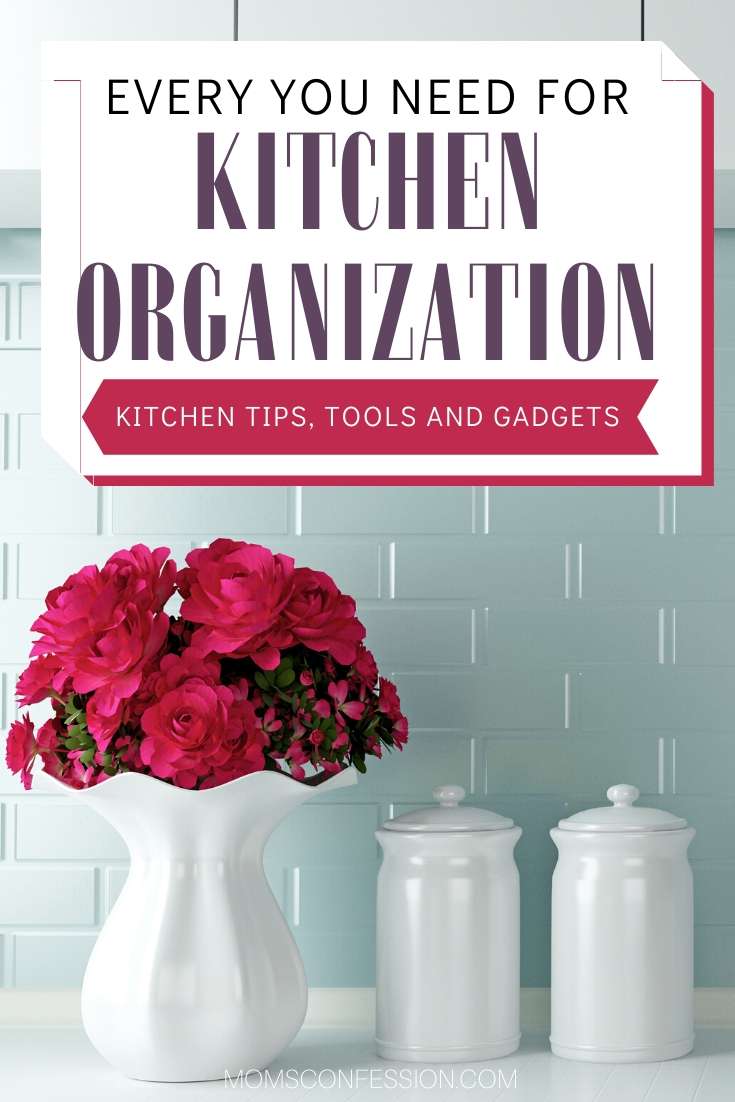 The kitchen can quickly become one of the most disorganized places in your home. For many families, the kitchen is a hub and the center of the home. With people dropping off papers and stuff on the counters, cooking in a rush going on, it can easily spin out of control.
One thing I noticed about my kitchen the last time I cleaned it out was just how many "junk drawers" I had and how many cooking utensils, pan, and serving ware I actually never use. I also had duplicates of some items! This led me to believe that if I had a more organized kitchen, I may have an easier time finding what I need, knowing what I already have so I don't buy it again and keeping things running more efficiently.
Organizing your kitchen is not hard. It is mostly a matter of going through and finding trouble areas and getting rid of things that you don't really need. I also think a few helpers in the form of organizing products can also be amazing, especially if your kitchen happens to be a smaller space.
When I recently went through my kitchen, there were a couple of trouble areas and these were the spice area, the baking items shelf, and my drawers. Included in the following list of some great kitchen organization stuff is a couple of things for these areas in case you struggle in this part of your kitchen, too. Also, if you are a labels gal like myself, make sure to print off the free kitchen spice labels for your spice rack when you are done. They are bright and colorful and will really make your kitchen spice jars pop!
Having an organized kitchen can not only save you time and money but your sanity as well! There is nothing worse than not being able to find what you need when you are in the middle of cooking dinner. Knowing what you have on hand and where it is located will make working in the kitchen that much easier.
Purge Your Kitchen
Spend the day going through every single item in your kitchen. You might find that you have a lot of appliances, cookware and even food that you are never going to use. If you have items you haven't used in the last 6 months to a year, donate them or sale the items. There is no need to hold onto items you are not going to use. The exception to this is holiday items and items for formal dinner parties.
Clear Your Counters
Obviously there are some items you will want to keep on your counters. However, try to keep your kitchen counters as clutter free as possible. This will give you more space to work with and you will automatically feel like you are in a cleaner, more organized kitchen.
Have Designated Zones
Make sure everything in your kitchen has a purpose and a place. Having designated zones in your kitchen will allow you to function quicker and easier. There should be an area where all cookware and bakeware is located. You should also have a zone with your dishes, glasses and silverware. There should be another area with any food and spices. Keeping everything in its own area will allow you to quickly find what you are looking for.
Invest in Organization Tools
Places like Target, Amazon and Bed Bath and Beyond have tools that allow you to quickly and effectively organize your kitchen. These items are great for small kitchens as well. Here is a list of some of the tools I personally recommended.
There are so many other items you could purchase but these are just a few to get you started. You can also spend some time looking around Pinterest for tips on organizing your kitchen.
Use Your Wall Space
Using the wall space in your kitchen or the wall space behind your pantry door is a great way to organize your kitchen. You can add pretty shelves along your kitchen walls that display your favorite cookbooks or kitchen art. You can also use the shelves to hold coffee cups, hang pot holders and aprons on.
If you don't have a lot of wall space try hanging things on the back of a pantry door. You can put a spice rack behind a pantry door, hang aprons and pot holders.
Must Have Kitchen Tools and Gadgets to Get Organized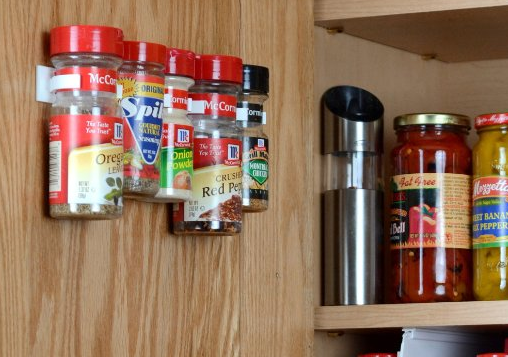 SpiceStor Cabinet Door Spice Clips is perfect for keeping those spice bottles and jars from toppling out on top of you.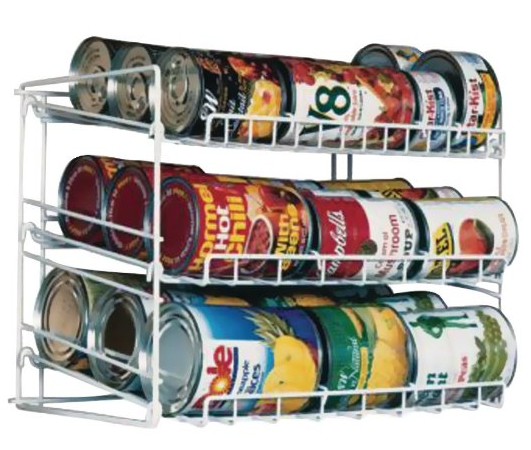 Atlantic Canrack is a great solution for making sure you keep things well-rotated and easy to access.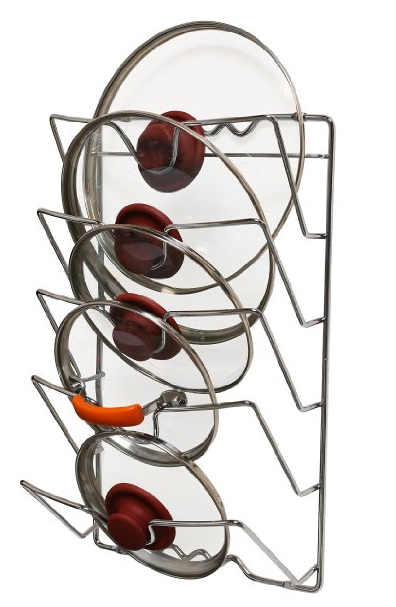 Wall Door Mounted Pot Lid Rack keeps you from having to search for the right lid because everything is easy to grab and see.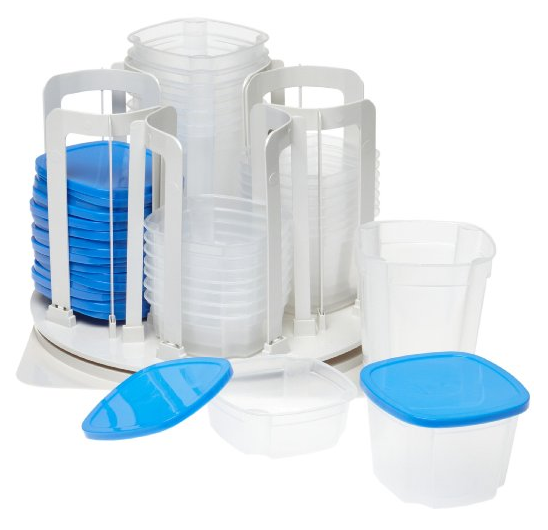 Handy Gourmet Swirl Around Organizer solves your "Tupperware" mess and lets you find the right matching lid with ease.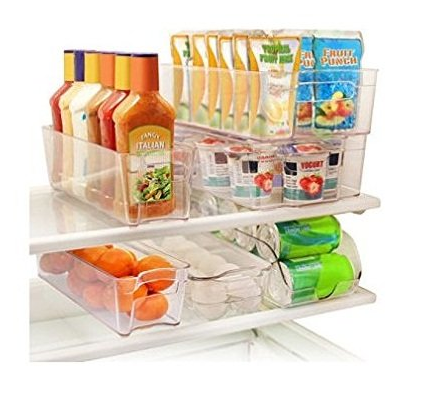 Daily Chef Stacking Fridge Bins lets you categorize your fridge and keep things easy to see.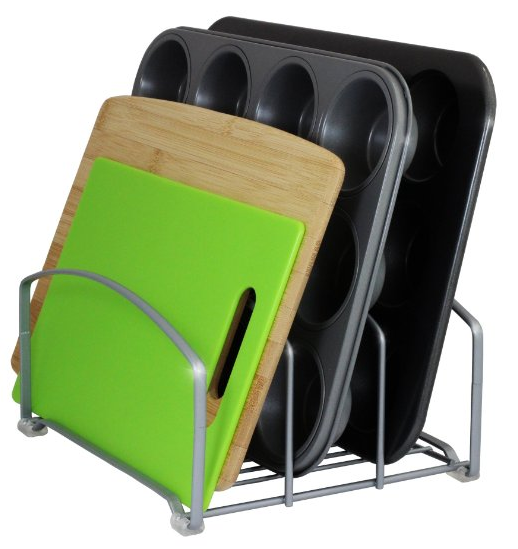 Kitchen Houseware Organizer Pantry Rack is something any baker could use. I know this would come in handy here!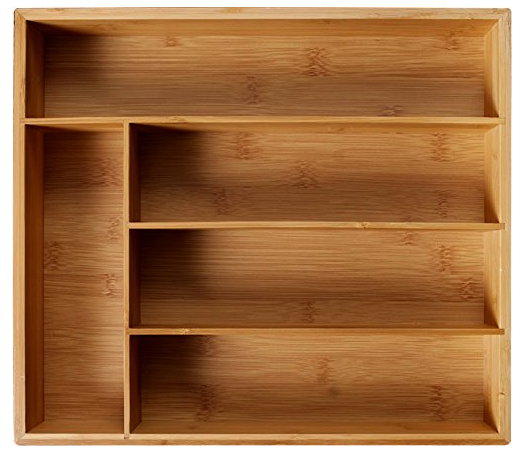 5-Slot Bamboo Drawer Organizer is the same one we have here and I love it for it's beauty and durability.
Cook N Home Pot Rack Cookware Organizer is a great solutions for small kitchens.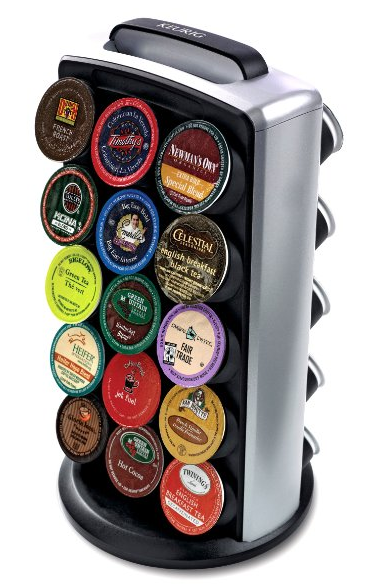 Keurig K-Cup Carousel Tower wrangles in all of those K-Cups in one spot and allows you to showcase all your flavors for easy pickings.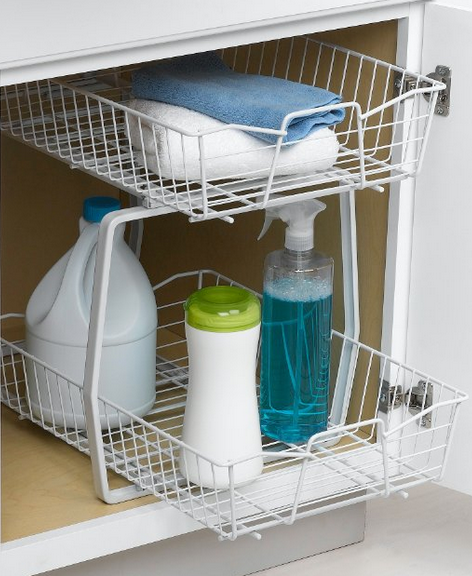 ClosetMaid Two-Tier Cabinet Organizer is the solution all of us want for all those cleaning supplies, sponges and towels.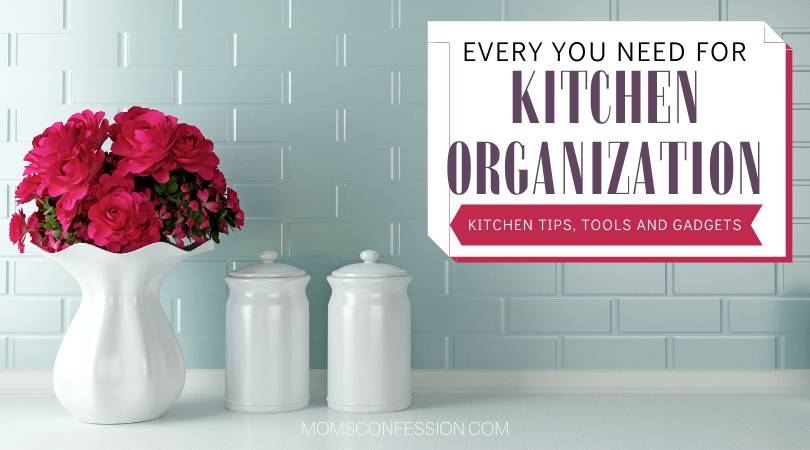 Hopefully, some of these suggestions can help you create that well-organized kitchen you have in your mind! What's your best kitchen organizing tip?
More Kitchen Tips and Tricks