Having an organized kitchen can not only save you time and money but your sanity as well! There is nothing worse than not being able to find what you need when you are in the middle of cooking dinner. Knowing what you have on hand and where it is located will make working in the kitchen that much easier.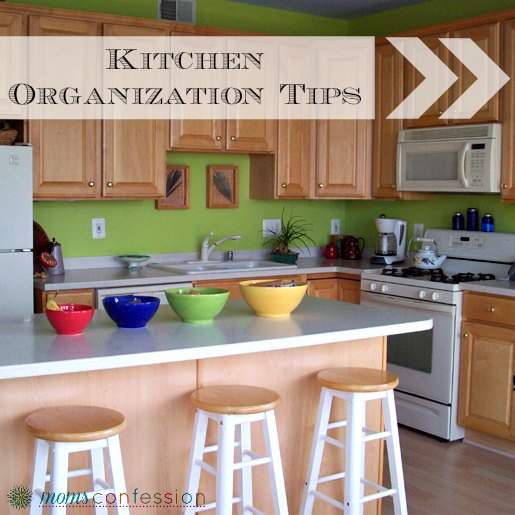 Kitchen Organization Tips
Today I'm going to list 5 kitchen organization tips that help me keep my kitchen organized. Remember what works for me might not work for you, but it will at least get you on the right track.
Purge Your Kitchen
Spend the day going through every single item in your kitchen. You might find that you have a lot of appliances, cookware and even food that you are never going to use. If you have items you haven't used in the last 6 months to a year, donate them or sale the items. There is no need to hold onto items you are not going to use. The exception to this is holiday items and items for formal dinner parties.
Clear Your Counters
Obviously there are some items you will want to keep on your counters. However, try to keep your kitchen counters as clutter free as possible. This will give you more space to work with and you will automatically feel like you are in a cleaner, more organized kitchen.
Have Designated Zones
Make sure everything in your kitchen has a purpose and a place. Having designated zones in your kitchen will allow you to function quicker and easier. There should be an area where all cookware and bakeware is located. You should also have a zone with your dishes, glasses and silverware. There should be another area with any food and spices. Keeping everything in its own area will allow you to quickly find what you are looking for.
Invest in Organization Tools
Places like Target, Amazon and Bed Bath and Beyond have tools that allow you to quickly and effectively organize your kitchen. These items are great for small kitchens as well. Here is a list of some of the tools I personally recommended.
There are so many other items you could purchase but these are just a few to get you started. You can also spend some time looking around Pinterest for tips on organizing your kitchen.
Use Your Wall Space
Using the wall space in your kitchen or the wall space behind your pantry door is a great way to organize your kitchen. You can add pretty shelves along your kitchen walls that display your favorite cookbooks or kitchen art. You can also use the shelves to hold coffee cups, hang pot holders and aprons on.
If you don't have a lot of wall space try hanging things on the back of a pantry door. You can put a spice rack behind a pantry door, hang aprons and pot holders.
What kitchen organization tips would you add to the list?
Looking for more kitchen organizing tips?