6 Simple Steps for Purse Organization
Before I became a mother, I carefully selected the purse that I carried. Sometimes, it was based on the season and sometimes my outfit. I was recently doing some "spring cleaning" in my closet and came across my favorite red handbag.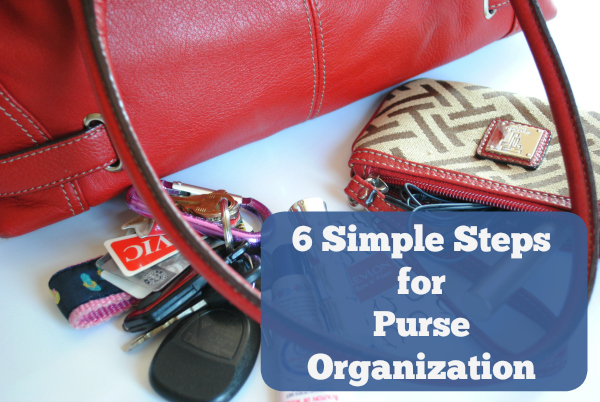 I remembered pulling it out for the start of every holiday season. There is something about the color red that sets the mood for my Christmas holidays. My favorite red handbag has been safely tucked away for several holiday seasons. It doesn't bring the same holiday cheer with the dust that is collecting on it. Instead of marking the change in seasons or serving as a fashion statement, my purse has now become my "Mom bag," the source of anything and everything that I might need when I'm on the go with my kids.
Today, we are going to tackle cleaning and organizing your purse. Without a doubt, my purse is with me daily and often becomes the container for a variety of items, including toys and trash.
Purse Organization Tips
Empty out all of the items in your purse
It easier to start the organization process by getting everything out of your purse and onto a table so you know exactly how much stuff you must organize.
Separate all of the trash from your treasures
No matter how hard I try my purse always becomes a container for trash. I'm sure I'm not the only one. One of the quickest ways to see progress toward organization is to get the trash out of the way.
Collect all of the spare change that you find in the bottom
When you are in a hurry, it's usually easier to must dump the change into the bottom of your purse to get out of the store and on your way. You might be surprised how much change you will find.
Take time to go through your wallet as well
Since you are putting your spare change away, go ahead and take the time to go through your wallet and put it back into order.
Restock the snacks in your purse
Keeping snacks in my purse is my number one mom tip. No matter how old your children are, it always a good idea to keep a snack in your purse. You never know when you will need it for them or for you. However, I find when I use the snack that I often forget to restock my supply.
Get rid of the items that you no longer need
Your kids grow and some of the items that you needed in your purse just three or six months ago you find that you don't need now. Take them out and lighten your load.
My number one tip to keep your purse or handbag organized is to use zippered pouches. The pouches make it easy for you to find items and to keep stray items together. For example, I have one pouch that holds all of the cosmetics that I keep in my handbag. Having them all in one place makes it easy for me to find them in a hurry. It's keeps me from emptying out my handbag in search of the lip gloss that has found it's way to the bottom. Using the zippered pouches also makes it easy to switch purses or pull out just want you need to put in your diaper bag or back pack for a family outing.
It's so frustrating to know you have something in your purse and not being able to find it when you need. I suggest setting aside time each month to go through my 6 simple steps. Using these simple organization strategies can keep your purse organized and useful.
More Organizing Tips from Julie