Lunch Ideas for Kids to Make
Teaching our kid's independence starts with something as simple as allowing them to make their lunch. The idea of getting children to make their own seems simple, but it can be tough to let go as a parent. While it's tough, it's also important to allow kids to discover the possibilities when it comes to making their lunches. Here are some lunch ideas for kids to make themselves so you can pass this one simple task off to them.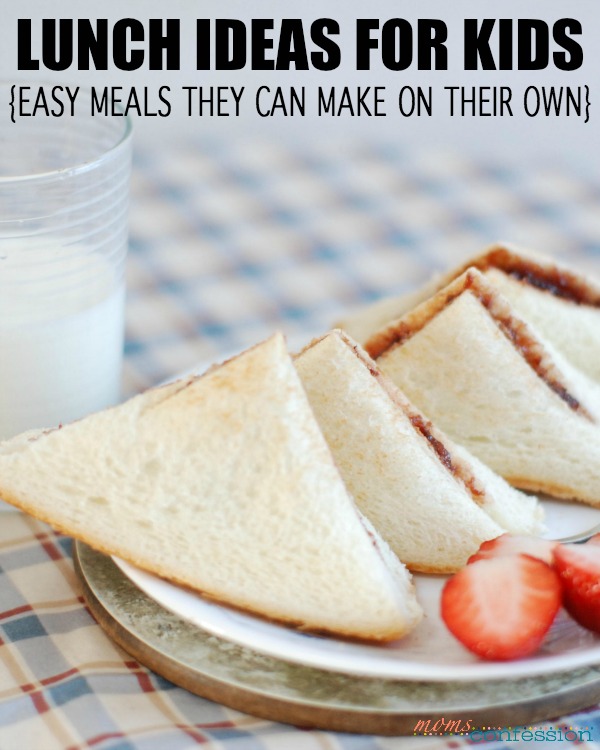 Lunch Ideas For Kids To Make
Giving your kids the chance to build independence by making their own lunch is a great choice.  As you'll see, they can not only learn responsibility, but it will help save you time in the process.  The fewer hours you spend in the kitchen working on their lunches each week, the more play time you will have to hang out with them, play games, or just spend time together as a family.
Peanut Butter & Jelly – If you have a child who's just starting out with making their lunch, then peanut butter and jelly is a good idea. You can use homemade jam and wheat bread to make it slightly healthier. Allow them to choose a fruit or veggie as a side.
Lunch Meat Sandwiches – Sandwiches are always a super easy idea for any kid to make. If it helps them, you can lay out the condiments and toppings to assist them in making a sandwich. The first time they make a lunch meat sandwich, you can show them proper proportions, so they don't overdo it on the lunch meat.  I love these sandwich containers for packing in lunch boxes since they don't let your kid's creation get smashed.
Anything Microwaveable – Think about the possibilities of teaching your child how to use a microwave. There are so many things they can make themselves from pizza to leftovers. A few lessons in microwave cooking will help your child become more independent in the lunch making department.
Fill a Pita – Pita bread is one of those incredible pieces of food that are perfect for children. Give your kids a few options for filling pita bread and go from there. They can fill it with their favorite foods and have a bit of fun doing it too.
Leftovers in a Thermos.  Almost anything you have as leftovers can be packed into a Thermos to stay warm until lunch time. This is usually super easy for your kids to do and ready for them when lunch arrives!  They even come in multiple sizes now that help to make it easy to portion control.  Plus the kid-friendly Thermos designs make them love taking this for lunch.
The secret behind lunch ideas that the kids can make themselves is to give them easy options. Lunchtime doesn't need to be complicated. Don't forget to offer them nutritious and easy sides to help keep them fuller longer either!
More Lunch Ideas for Kids