Frugal Gardening Tips & Tricks for Beginners and Experts
Gardening costs can add up quickly and these frugal gardening tips will have you gardening like a pro while staying on budget! Also, get hacks for pest-free plants and tips for gardening with kids too!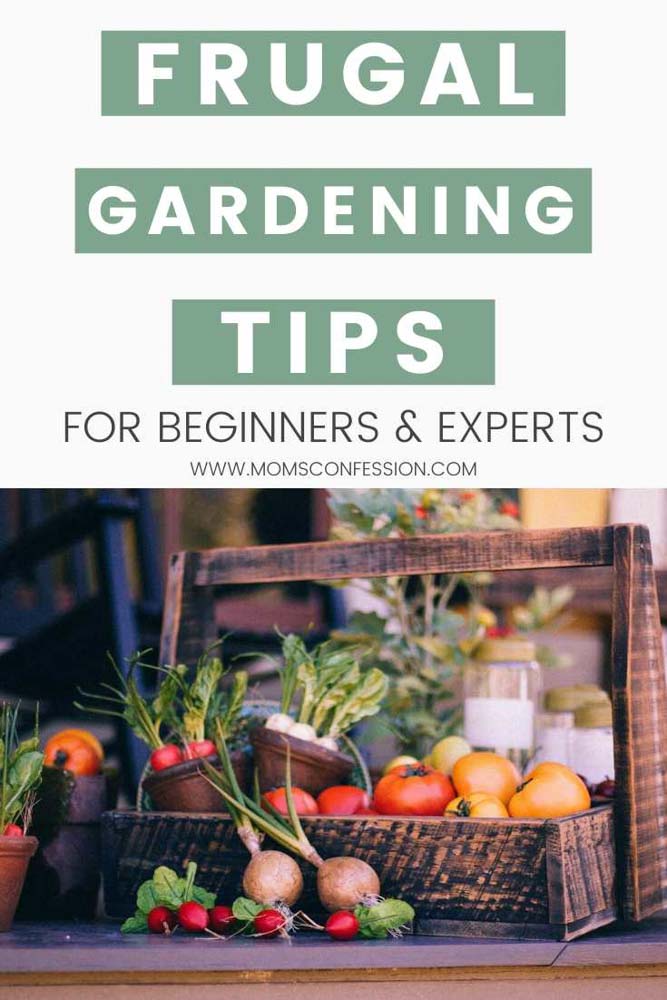 It's hard to believe that the gardening season is here. The taste of homegrown fruits and veggies is only a few months away.
If you're not careful, the cost of gardening can add up. It's important to watch the amount of money you spend on gardening, so you can actually make this a frugal adventure.
Frugal Gardening Tips and Tricks to Garden Like a Pro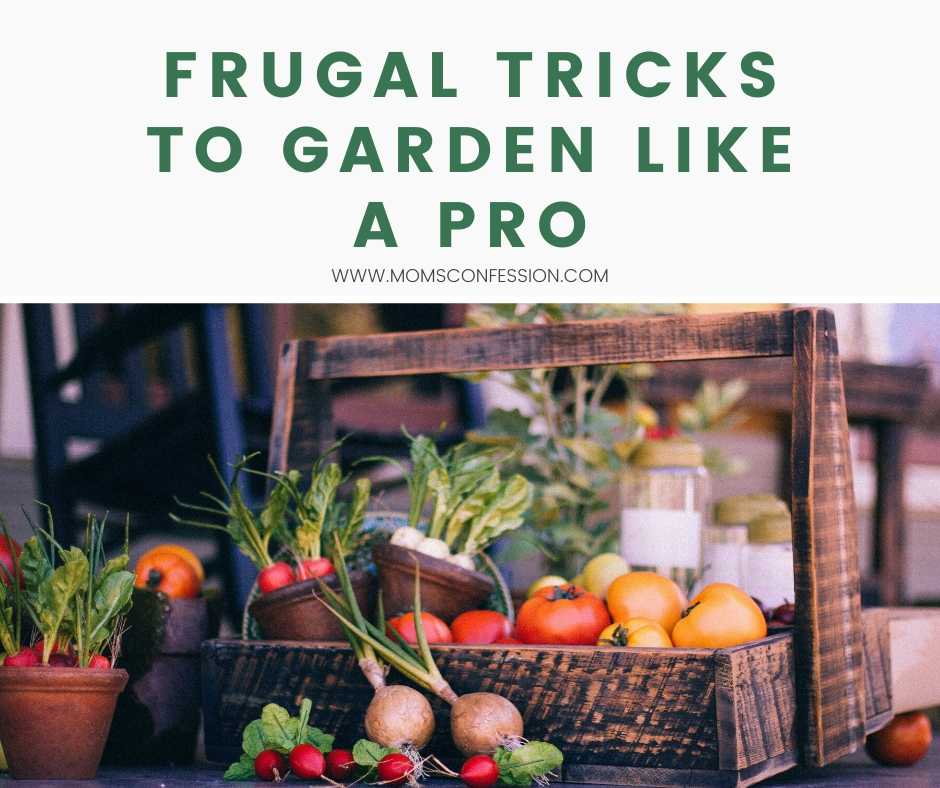 Use Your Own Seeds
When possible, it's wise to collect your own seeds from your own plants. There may be some situations in which you cannot accumulate the seeds, but don't be afraid to ask neighbors or gardening friends for a few!
They are usually always willing to share and swap seeds with their gardening friends.
Make Your Own Compost Pile
It's common for gardeners to buy dirt for their gardens. To save money, spend time making your own rich soil by having a compost pile. The compost pile makes the dirt nice and rich, which is perfect for a garden.
If it's in your budget, you can purchase a composter or you can use a medium-sized storage container (if you need a small amount of dirt for your project) or if you need a large amount of compost for your gardening project, you can use pallets made into a box or even an old trash can.
Co-Garden
If you're short on time and money, then consider starting a garden with someone else. You can host the garden or they can. Spending time together in the garden is not only one way to build a friendship but to also have a very successful harvest.
Search for Free Gardening Supplies
Instead of buying a fence for your garden, keep an eye out for materials that someone might be getting rid of. Craigslist (free section) and Freecycle are both great places to find free items for the garden.
People start gardens all the time and then find that they don't have the time to tend the gardens so they get rid of their gardening supplies for free or really cheap.
Plant Anywhere
Honestly, you don't need a "garden" to grow fruits and veggies. You can plant these seeds anywhere you think they will grow. Your front flower bed could be your garden. Hey…it's fruitful, right?
Research
Before you get started gardening and set your garden up based on how you think it should be done, do your research. You don't have to buy anything big and fancy to start gardening.
Also, once you get your first year under your belt, the following years will be extremely easy.
Tips for Gardening Beginners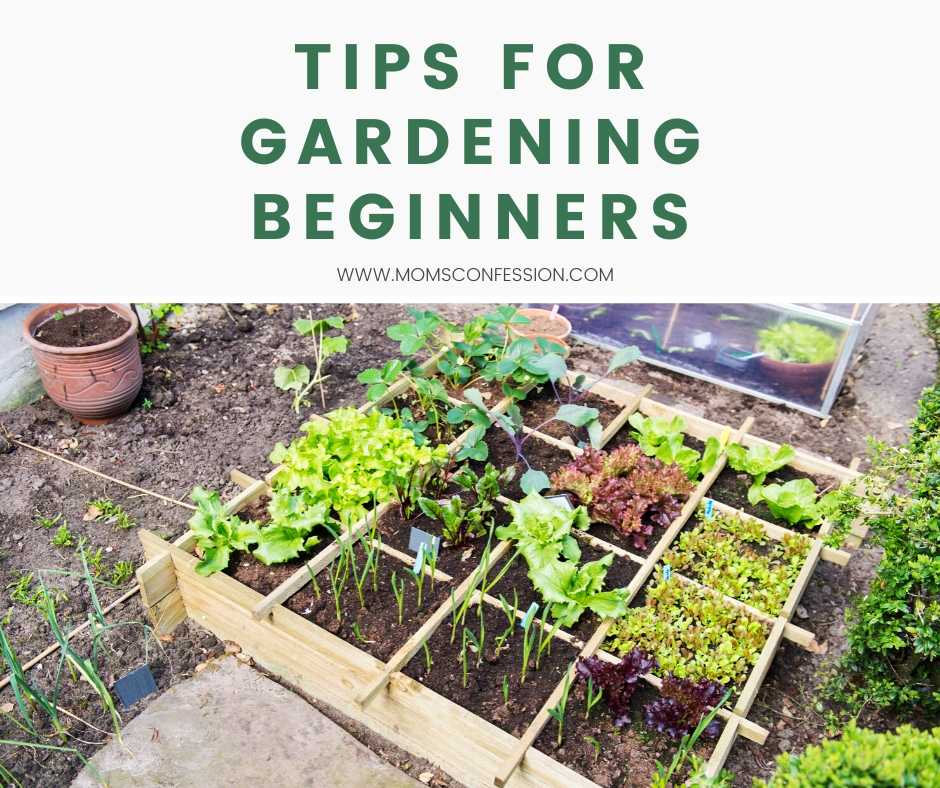 If you have never gardened, but want to start doing it, you may be overwhelmed by what to do, where to start, and even what you will need to do the job and start enjoying a new hobby.
Whether you are growing vegetables and other types of produce for fun or to supplement your food supply or just starting a little indoor herb garden, these are some basics all new gardeners should know.
Borrow tools you don't have already at first
This helps you not have to invest a lot into something while still learning. For many folks, this may be the best way to ease anxiety about starting to take up gardening. You can invest in some low-cost hand tools like shovels, trowels, and rakes but rent or borrow the more expensive power ones or large ones.
Even for the small ones, if you prefer, you can usually borrow them as well. A great place to start when it comes to borrowing is to see if there is a local community gardening organization. They often know where you can borrow or they may have a lending library themselves.
Go for hearty plants that do well in your environment
Some easy to grow plants include lettuces, onions, garlic, peas, beans, and tomatoes. These plants can be pretty forgiving and tend to do well in almost any environment.
Make sure to check out the length of your growing season in your area as well. You will want to make sure you will be able to harvest before frost destroys your crops.
Make sure where you will be planting has enough sunlight
Most plants need a specific amount of sunlight each day in order to not only grow but thrive well. Look at the minimum amount needed and keep that in mind when you go to plant so you are sure you are meeting your plant's needs.
Also, keep in mind that too much sunlight can often be damaging to some plants as well so it is a good idea to read up on what your specific plant's needs are.
Test your soil for how well it holds water
You can do this by completely saturating the ground in an area one day, and then when it appears dry on the surface, usually by the next day, dig some up. If it is still super wet, you may have too much clay and your plants will not have good drainage.
If it is really dry, keep in mind that this may mean more watering. One solution is to do raised beds or try container gardening.
Create seedlings indoors with seeds
When starting to garden, it is a good idea to create seedlings indoors with seeds or buy them already started at a local nursery. This will give you a chance to have a good starting point until you get better at attending to your plants.
Many seasoned gardeners still buy starters because of the convenience of not having to start seeds.
Gardening Hacks for Pest Free Plants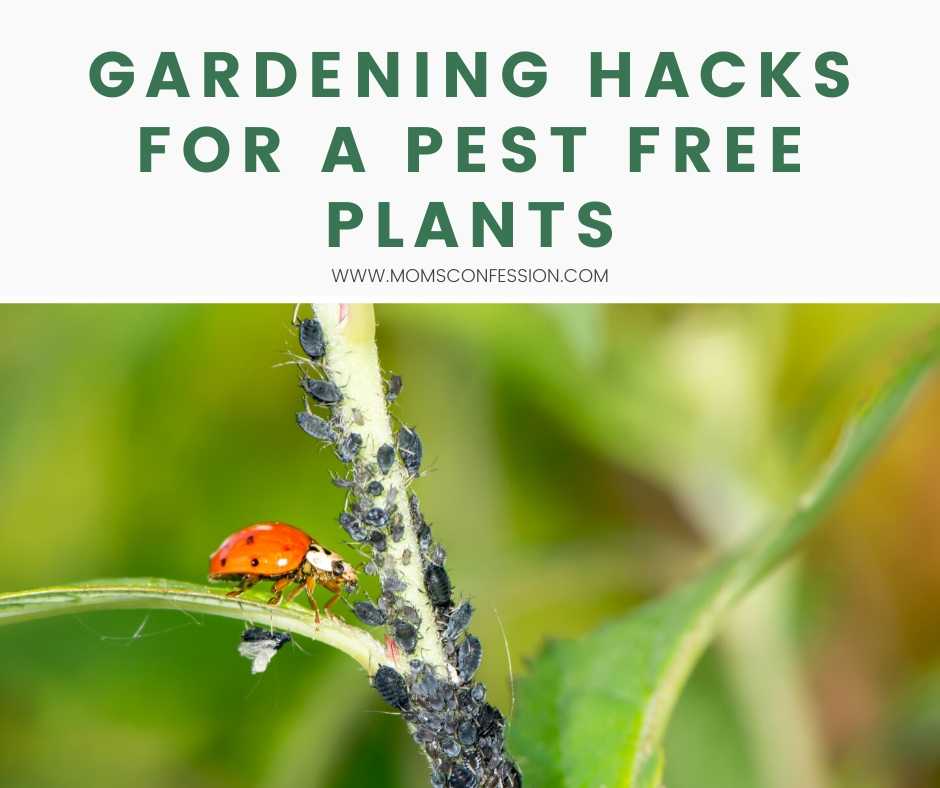 Keep those pesky insects and crawling bugs out of your garden with these gardening hacks for a pest free lawn. While some of those critters are a welcome addition to your garden, there are many that cause more harm than good.
While there are few things as satisfying as growing and harvesting your own produce there are few things as aggravating as having your plants plagued by pests. Little creepy crawlers that want to undo all your hard work must be stopped STAT.
However, I don't want chemicals that are harmful to my kids and pets to be the first thing I reach for so I go natural whenever possible.
7 Garden Hacks for Pest Free Plants
Crushed eggshells
Every time you have eggs give the shells a quick rinse, dry them for a couple of days, and crush the shells up- a coffee grinder is perfect for this task.
Grab your eggshells and sprinkle them on and around plants to give your soil a healthy calcium boost as well as deter pests like slugs and beetles.
Soap Stockings
Are deer nibbling up your sweet tender green plants before they get anywhere near harvest-ready? Cut soap bars into quarters (Irish Spring is a good choice) and hang on the toe of stockings on each corner of your garden (you may need more if your garden is very large).
Also, consider sprinkling some small bits throughout your garden, and replenishing the small bits as needed. Deer do not care for the smell of soap and should avoid the area.
Natural Mosquito Repellent
Protect yourself naturally from mosquitos when you work in your garden in the evening by planting things like peppermint, lemongrass, and citronella grass throughout your garden and yard.
I think this is one of my favorite gardening tips just because I love the smell of these plants growing.
Beer Garden
If garden slugs are what's "bugging" your plants simply set out several shallow dishes of any kind of beer. They are attracted to the beer where they drown and miss the party on your plants.
Stick it to the Bugs
Eggs and little bugs that is! If you have tons of eggs and little creepers like aphids you can remove them quickly and easily by wrapping duct tape around your hand, sticky side out.
Tap or brush gently on the stem and leaves (don't forget the underside) of your plants to remove large quantities of pests, then just toss the tape in the trash.
Natural Pesticides
Instead of spending a lot of money on chemical-laden store-bought pesticides, make your own for free.
Keep onion and garlic scraps from dinner and toss them in a spray bottle of water with 1 teaspoon of dish soap. Allow this to sit for at least a week. Spray plants as needed to deter pests, especially after rain.
Too Hot to Handle
Maybe squirrels and birds are what's plaguing your garden containers and need to move on to find other buffets to feed in. You can stop this by sprinkling to the top of your soil in your container plants with red pepper flakes.
I have found that often as soon as I put a new delicate plant in the pot or container it is uprooted quickly by the squirrels, red pepper keeps them out!
Gardening with Kids – Ways They Can Help in the Garden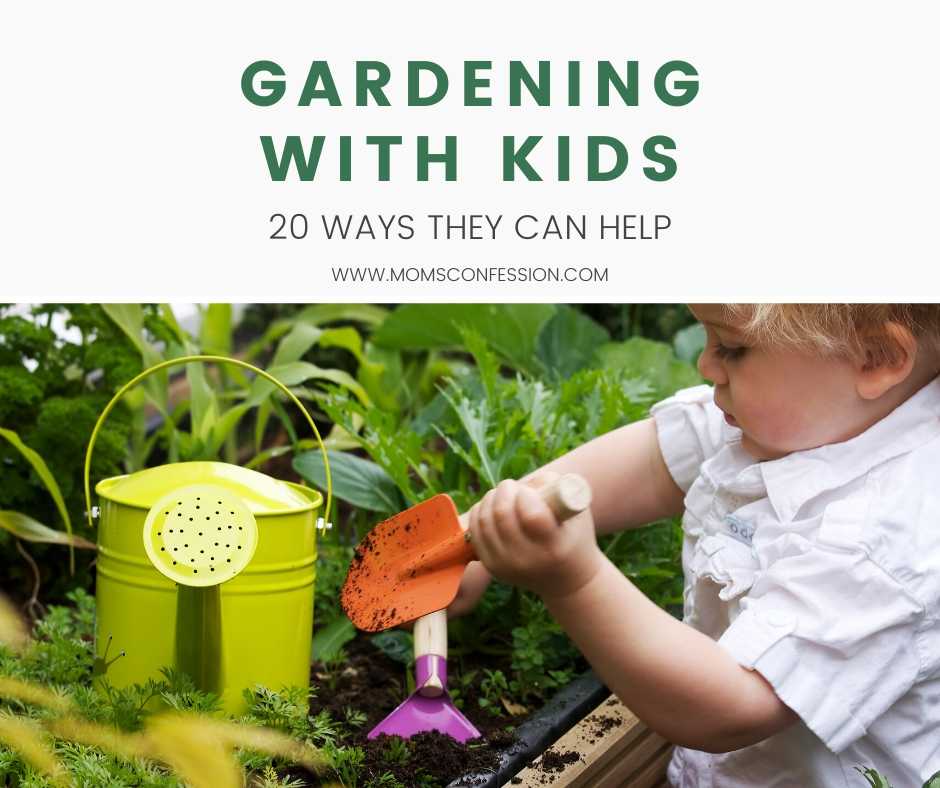 Gardening with kids is the perfect way to involve your kids in the exciting world of gardening. They'll enjoy being outside and seeing what you're up to and also enjoy the benefits of the work they put into gardening.
Do you ever remember watching your mom and dad do something and you just wanted to help? Now you can get your kids involved by letting them try any of these fun garden chores. Who knows, they may just start appreciating the hard work that goes into creating food.
Ways Kids Can Help in the Garden
Help start seedlings in containers before they are ready to plant.
Help place soil in the containers for seedlings before they're ready to plant.
Rake the soil to help get the garden ready.
Pull weeds and help remove tiny rocks.
Place soil or mulch on the ground to help with the nutrition of the garden.
Plant the fresh seeds or the seedlings in the ground.
Ensure that there's enough space between each seed that's planted.
Water fruits and veggies on a daily basis to help keep them healthy.
Help create garden markers for the garden.
Help put up a garden fence to keep critters out.
Write down what was planted and when it was planted.
Keep an eye on which fruits and veggies are ready to be harvested.
Use scissors to help cut different plants when they're ready to harvest.
Help take pictures of the progress of the garden.
Clean gardening tools and put them back where they belong.
Help pick fruits and veggies for that night's dinner.
Pick fruit and veggies off the main plant that are no good.
Help make sure all edible fruits and veggies are picked.
Help to winterize the garden when the time is right.
Put away all gardening tools and decorations for the upcoming winter.
Be sure to pin this for later!