Elegant Coffee Filter Candle
If you are like me, you want to create as many crafts as possible using the same basic supplies, but I definitely don't want them to all look the same. I am frugal after all, not boring! Since I already have coffee filters left over from the simple coffee filter wreath, I decided to take a look around the Dollar Tree and get some other ideas. I found these really fun little LED candles and a plain glass candle holder that would be perfect to create an angel inspired candle holder.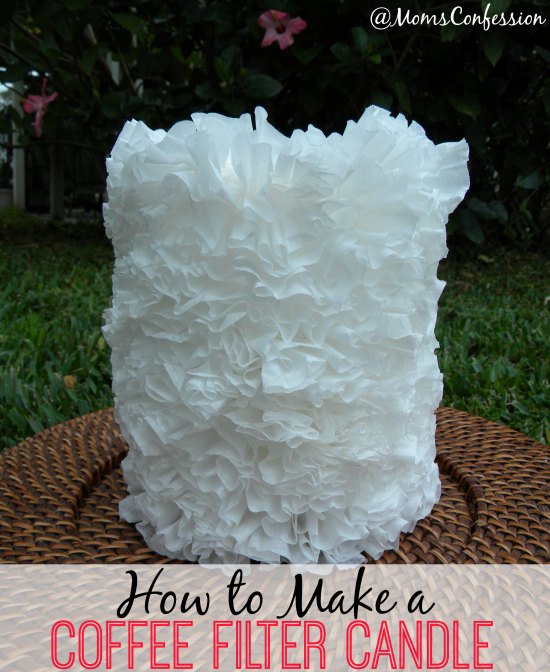 How to Make a Coffee Filter Candle
Materials Needed
Coffee Filters
Glass candle holder
LED candles
Glue Gun
Directions
Pinch the corners of each individual coffee filter and hot glue them to the glass candle holder. Start at the bottom and work your up so you can get full coverage on the glass. The smaller filters work best so you get an angelic feathery effect. Keep gluing them to the candle holder till you have the entire glass covered.
Place the LED color changing candle inside the glass holder. Since you're not using flame, you are able to use this in an arrangement without worrying about creating a fire hazard.
Other Variations and Ideas
Add small berries or holly sprigs from the floral aisle of the Dollar Tree. You can hot glue them between some of the coffee filters for a burst of color.
Use a large hurricane globe for a centerpiece and then smaller votive candle holders around the base to turn this simple idea into a full centerpiece.
Kid Party Option: If you are decorating for a kid's holiday party, you could use festive cupcake liners instead of coffee filters. This would yield an entirely different look, but would be the same process.
What Dollar Tree Crafts have you created this year? I'd love to hear and see your creations!