Purina Pro Plan – the only dog food for Maddie {no sew dog bed project}
This shop has been compensated by Collective Bias, Inc. and its advertiser. All opinions are mine alone. #ProPlanPet #CollectiveBias
A little over seven years ago, my mom was working at the local grocery store as a manager of the gas station located in front of the store. While sitting in her "cubby hole" (as we called it), she saw a dog running wildly through the parking lot trying to find a safe place. Being a dog lover like myself, she called me to come and see how we could help this poor dog find it's way back home.
When I got to the store, I found her. She was so scared, but still came right to me with a sad look on her face. My heart broke for her. Her hair was matted up and wrapped around her waist was a piece of masking tape that read…free to a good home. I thought to myself, who does this? How could they simply toss a dog out of their vehicle with masking tape wrapped around her waist. I was floored, heartbroken and cried for her. After all, she was just a defenseless dog and very well behaved.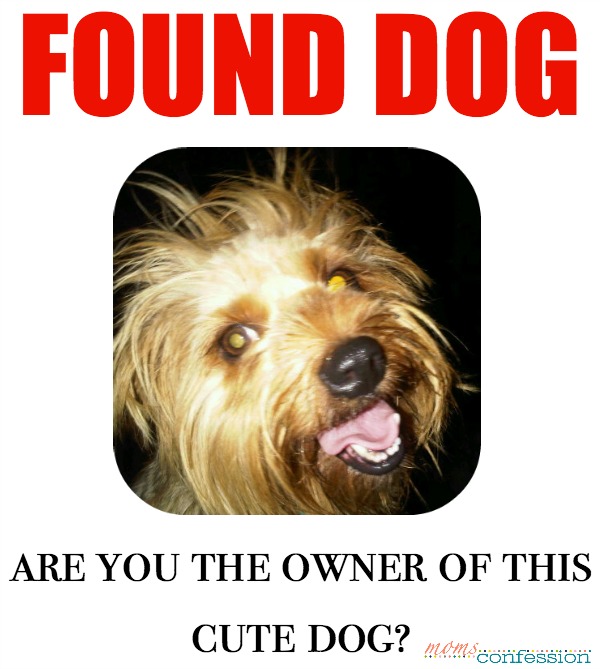 We brought her home, carefully cut the masking tape off from around her waist, gave her a bath and took some pictures. I still couldn't believe that someone would put such a cute dog out on the streets and feel good about it or themselves. We posted "found dog" signs up at the grocery store, all throughout the neighborhood and at neighboring stores in the area. We even took her to vet to see if she had a chip…no luck. :( After a week of no calls and giving the people that dropped her off the benefit of the doubt, we decided keeping her was the best option. She was already getting so much love from our family and it seemed the people that dropped her off at the grocery store, truly didn't want her anymore. I still didn't understand how someone could do that.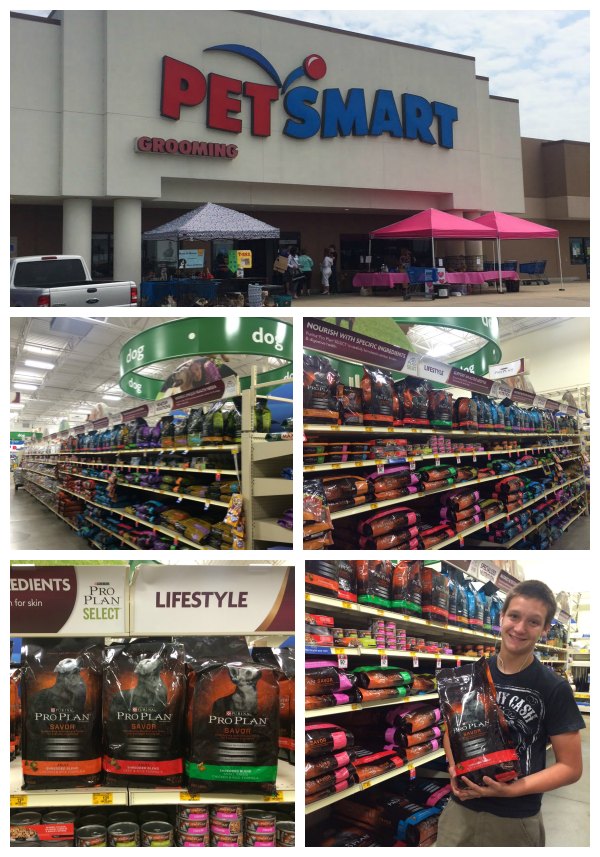 After having her a week we decided on the name, Maddie. It was fitting for her and she quickly learned her name and became a part of the family. Not having a dog before her at our house, we had to pick up the essentials: dog food, toys, etc. Going down the aisles at our local PetSmart, we searched and searched for the right food to feed her. One that was full of the absolute best nutrition for her to energetic and resilient, as well as maintain and ideal body condition, healthy skin and a stunning coat. At the time, Purina® brand was the perfect fit for her and over the years we have adjusted her dog food to fit her growing up.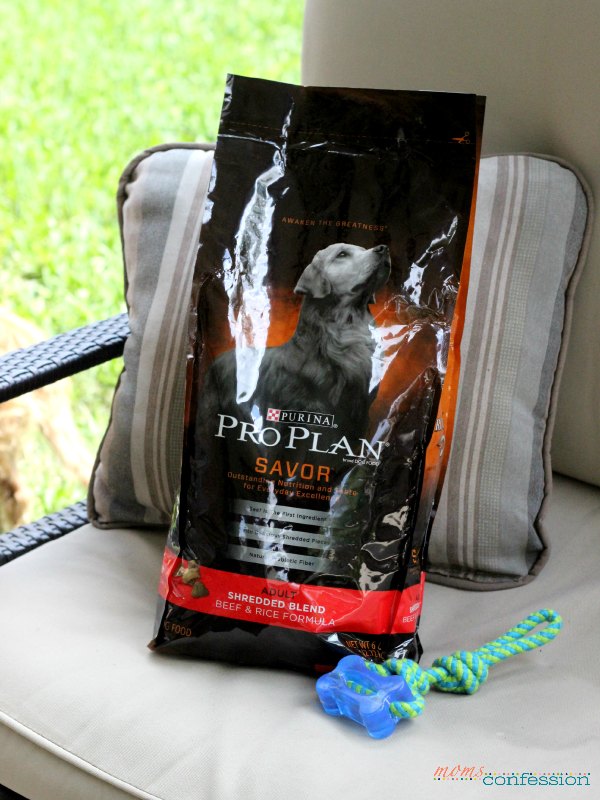 These days, we are on the Purina Pro Plan dry formula, Savor. The Purina® Pro Plan dry formulas have real chicken, beef, lamb or salmon as their #1 ingredient which helps promote total body health. Every high-quality ingredient is chosen for a specific reason because just like humans, there are no two dogs alike.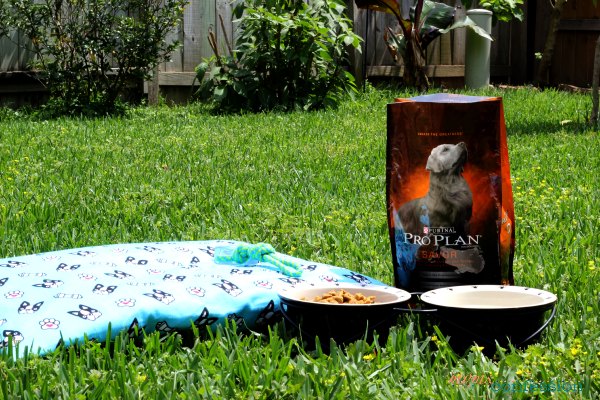 Over the years, Maddie has been pampered and treated like a princess. The one thing that she loves the most is her dog bed. The problem is, dog beds are EXPENSIVE! Instead of breaking the bank, we make a new one every year for a little over $5! It's so easy and takes about 15 minutes to complete! See how to make your own dog bed below.

NO SEW DOG BED PROJECT TUTORIAL
No Sew Dog Bed Project Supplies
Old standard size pillow
A little over a yard of fabric (your choice) – I usually purchase mine on sale at Jo-Ann Fabric Stores or Hobby Lobby
No Sew Fabric Tape
Scissors
Iron
Damp washcloth
No Sew Dog Bed Instructions
Layout fabric on a flat surface.
Place the pillow in the center of the fabric and fold over one side.
Fold over the end of the other side to form a seam and then place it over the other side.
Cut a piece of the no sew fabric tape to fit the size of the pillow and place it under the seam fold you made.
Lay the damp washcloth over the fabric you want to stitch together and iron over it to form a fabric bond between the two pieces.
After the center fold is secure, tuck the corner into towards the fabric to make the resemblance of a triangle.
Then create another seam at the straight side of the fabric on the end and fold it over.
Bond it together with the no sew fabric tape as you did the center seam.
Do the same for the other side and that's it!
Let your dog enjoy their new custom dog bed!
This project is very similar to wrapping a gift for the holidays or birthday. 
How do you take care of your pet?