Herb Garden Planter in 30 Minutes or Less
Creating your own herb garden can be a rewarding experience. Learn how to make a herb garden planter in 30 min or less for under $10 using Miracle-Gro.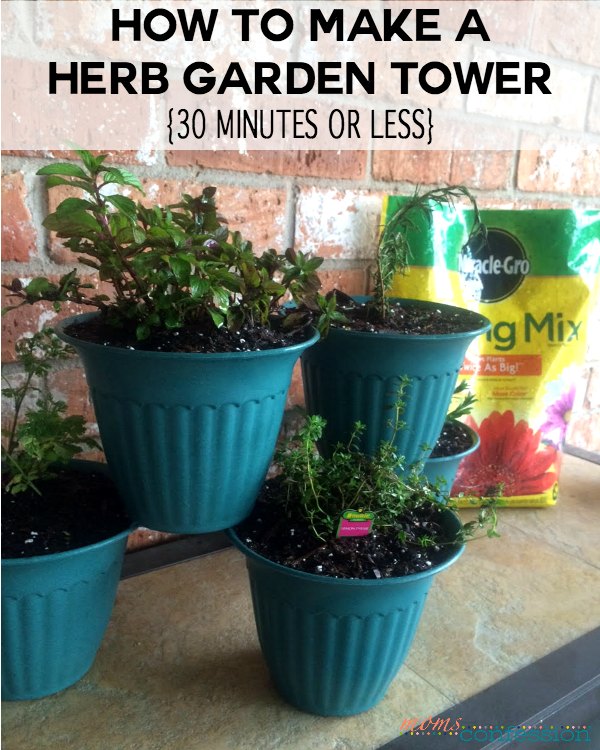 Gardening and family go hand in hand around here. It is almost like it is a labor of love that is poured into our home.
To us, gardening is fun. It gives us the opportunity laugh together, be a family, and in the process of it all…we get to enjoy some really good fruits and vegetables. If you are looking to do some gardening of your own, but only have a small space to begin cultivating your own little garden. Try herb gardening!
Herb gardening is by far the easiest way to start your gardening journey simply because everything can be placed in window boxes and planter pots.
Of course, you want to make sure you use good soil like Miracle-Gro Potting Mix to give your little herb garden a strong boost to grow your herbs. Herb gardening required a minimal investment with the end resulting in harvesting your own fresh herbs to enhance your family's favorite dishes.
Much like growing your own herbs requires a minimal investment, another benefit includes minimal effort. Most herb gardens require a healthy balance of sunlight and shade as well as making sure they are well-hydrated.
Some of my favorite herbs to grow include thyme, basil, parsley, rosemary, lavender, mint, and cilantro. You can grow most of these herbs by using Miracle-Gro Groables. They are by far the easiest way to sow your own seeds.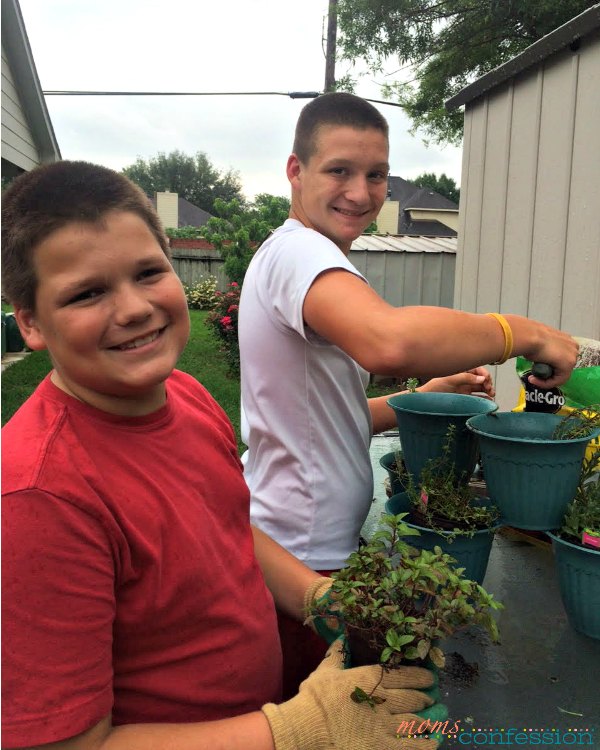 Of all the projects my family and I love about herb gardening in general is the ability to create our own herb planters. The kids and I have a ton of fun doing this. We get to get our hands dirty and make long-lasting memories.
Today I wanted to share our latest herb garden with the hope that you will get out there and express yourself through gardening too!
How to Make a Herb Garden Planter in 30 Minutes or Less
What You Will Need:
5 planter pots (small to medium) – I paid $1 for each planter pot
1 Miracle-Gro Potting Mix (8 qts) – $4.24
5 Herbs of your choice (you can use a clipping from a friends herbs or start your own seeds by purchasing Miracle-Gro Groables) $1.48 each
Glue Gun
Glue Sticks (approximately 10 small size)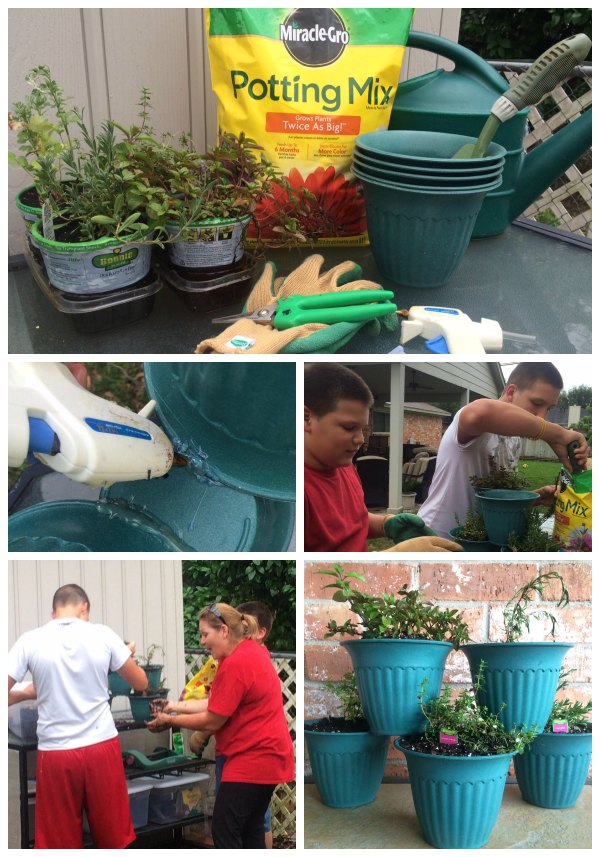 How to Put Your Herb Garden Planter Together:
Preheat the glue gun so it's ready to go when you are.
Drill holes in the bottom of each planter to allow water drainage.
Start by setting 3 planter pots on a flat surface in a semi-triangular shape spaced evenly.
Add a good amount of glue to the bottom edge of one of the pots on both sides that line up with the tops of the 3 planters on the bottom.
Turn over the pot and add more glue to secure the pot in place on both sides.
Allow the glue to dry before starting on the second pot for the top of the planter tower.
Repeat steps 4-6 for the second pot for the top of the planter tower.
Put Miracle-Gro Potting Mix in the pots before placing your Groables, plants or cuttings into the potting mixture.
Have fun with the kids and make some memories along the way!
Finish off by watering your new herb garden!!
Tip: Water daily for the first few days to help your herbs establish themselves in the new soil. After the first few days, you can change to an every other day schedule or as needed.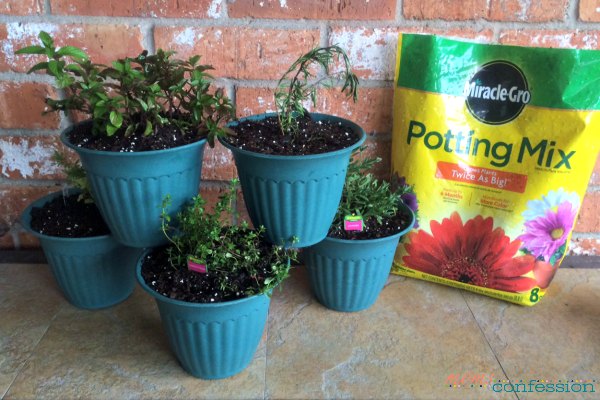 Enjoy your finished Herb Garden Tower!! Creating your own herb garden can be a really rewarding experience.
If you have children, now is the time to get your hands dirty, create a fun memory or tradition, and also teach them an interesting lesson about where food comes from.
It's a WIN for everyone!
Remember to always read and follow label directions for the referenced products.
This is a sponsored conversation written by me on behalf of Scotts. The opinions and text are all mine.