DIY Mason Jar Craft: Ornament Votive Candle for Fall
Today I have a diy mason jar craft that anyone can do. It doesn't require tape, scissors or even one ounce of creativity! All you need is a clean mason jar, some small ornaments, and a votive candle! It doesn't get much prettier or much easier than this.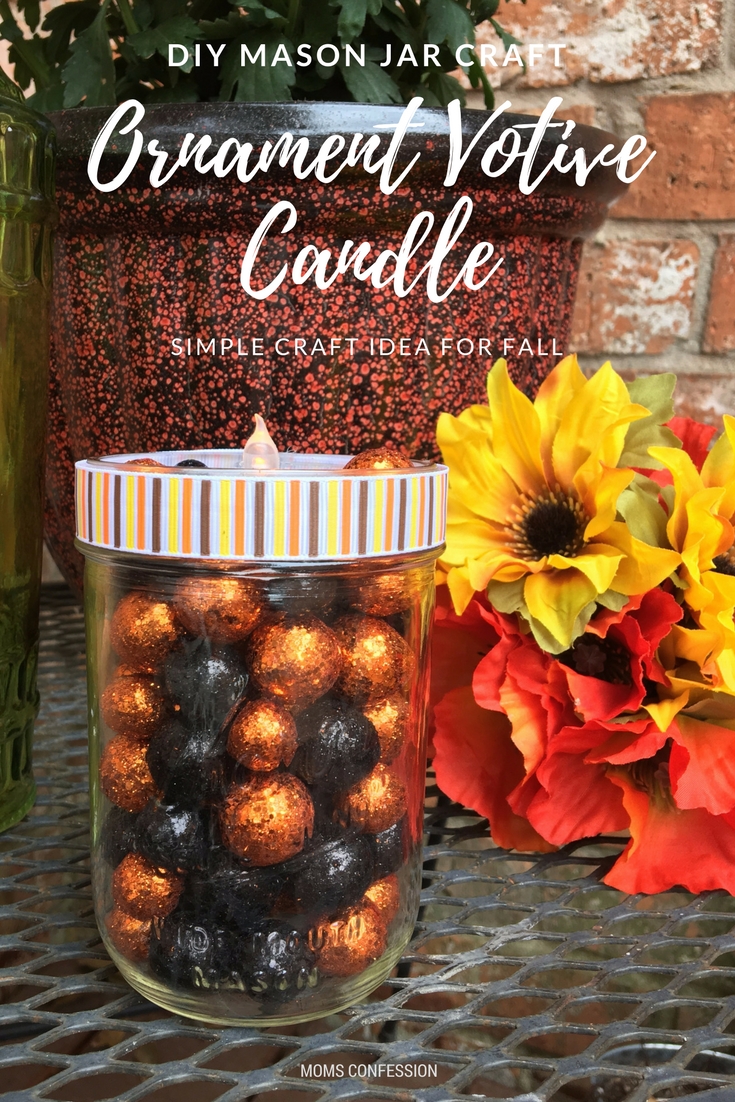 With Fall right around the corner, now is the time to plan for teacher gifts and the unexpected holiday visitor. You definitely don't want to blow your holiday budget, but you need to be prepared.
Ornament DIY Mason Jar Craft
Materials Needed
Glue Gun (optional, but very helpful)
Seasonal Ribbon
Directions
Simply fill the jar with mini ornaments. You can find these at thrift stores, yard sales or even discount dollar stores. I picked up these from Dollar Tree and even grabbed some for a Christmas votive candle to make at a later date. These don't need to be expensive ornaments, but you do want unique designs or bright colors.
Set a votive candle inside the jar on top of the ornaments. Depending on the shape of the ornaments, you may want to use a dab of hot glue to keep the candle level.
Add a ribbon to make it a festive gift.
I used simple round ornaments, but you could really take this gift and go nuts. I have seen cheap ornament sets with little miniature houses, cartoon characters or stars that would be cute in the jar. If you are using this for a teacher gift, look for little apple ornaments. Take a few minutes and browse the thrift store shelves a few weeks before and you will find many unusual ornaments that would be fun in this sort of gift.
Want to give the ornaments a little extra pizazz? Try some spray glitter or sparkle snow on the ornaments.
Share how you use this idea to create some great ornament mason jar crafts for your friends and family or for your fall decor! 
Check out the other great Fall Craft Ideas