Mason Jar Craft: Candy Corn Votive Candle
Decorating for fall and Halloween go hand in hand.  Decorating with my favorite candy just sounded like a great idea!  Candy corn is one of my all time favorite candies during the fall and Halloween season. It's super sweet, tasty and you can't just eat one and be ok with it! Well…at least that is the case for me.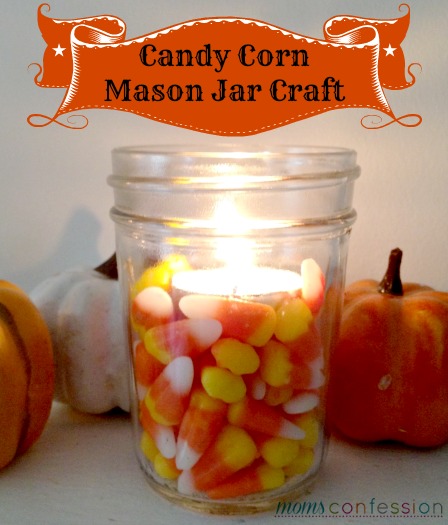 Mason Jar Craft: Candy Corn Votive Candle
This votive candle mason jar craft is super easy to make and would be the perfect craft to enjoy with the little ones on a cool afternoon.  Taking less than 5 minutes…you can make multiple and decorate your entire home with candy treats! :)
Candy Corn Votive Candle Mason Jar Craft
Supplies Needed:
Assorted mason jars. You can find these at your local crafting or thrift stores rather inexpensively.
Candy Corn
Battery operated votive candle or metal lined votives.
Directions:
Fill the mason jar with about 1 ½ inches of candy corn.
Place the votive on top of the filler.
Use your fingers to tuck more fillers on the sides of the votive holder so you are concealing it.
Press the votive down a little more to position it firmly into place.
Enjoy!!