How to Make a Custom Personalized Clipboard for Everyday Use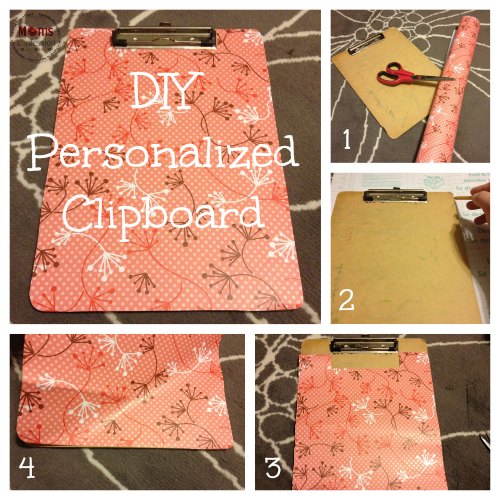 I officially have the cutest personalized clipboard in town!  It's been my best friend for years, but it definitely needed a makeover…tan just wasn't cutting it for me anymore.  I like color. I like style. I like anything other than Plain Jane colors…so bring on the fun!
While I was shopping earlier this week, I had my handy dandy clipboard with me to make sure I didn't forget anything and it hit me that the tan had to go away…far, far away! Oh and yes I still use good ole paper and pen for my lists!  I haven't made it to the full digital side just yet!  :)
So as I was making my way through the aisle, I found the gold mine…CONTACT PAPER!! And cute contact paper if I say so myself!
I picked my favorite design and rushed home to take my clipboard from blah..to FAB in about 5 minutes!
How to Make a Custom Personalized Clipboard for Everyday Use
What you need:
Clipboard
Contact Paper (any design)
Scissors
Pencil
To make your own personalized clipboard:
Trace the outer edges of the clipboard on the back side of the contact paper
Cut along the traced lines
Measure from the ends and cut out area for the clip
Remove one corner to reveal sticky back of contact paper and place it on the corner of your clipboard
Slowly remove more of the backing and slowly roll it over the front of the clipboard surface (making sure to remove any bubbles)
Viola!  Now you have a super cute clipboard that's will have everyone asking you where you got it!  And the awesome part is…you can tell them that you made it!! 

 Now that's a great feeling!!
Looking for more craft projects to at home? Check out these other easy tutorials and have fun!!