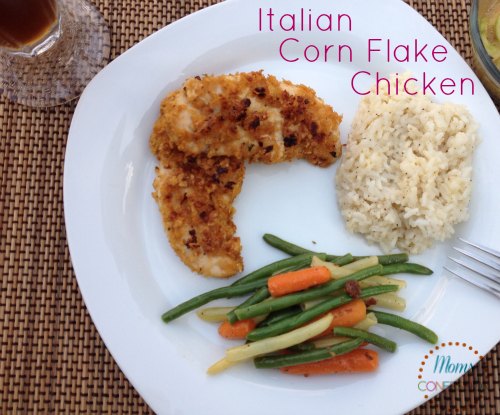 Easy Italian Corn Flake Chicken Dinner Recipe & Veggies
Corn Flake Chicken Dinner recipes are a dime a dozen. When I visited the Aldi's Texas Grand Opening earlier this week, I was excited to bring home a few items to test out. As I walked the aisles and chose items, there was one key thing in mind…how can I save time in the kitchen and put a balanced meal on the table for my family that I could share with each of you.
Since saving time in the kitchen was the top priority, the recipes I created had to be simple for families on the go! So my approach was to provide a complete meal plan with 21 simple meals (coming soon) for a family of 4 with a budget of $100 a week. It's crazy to think that you can feed a family of 4 for $100 a week, but it can happen!
So without further-a-do…enjoy this delicious Italian Corn Flake Chicken and Veggie dinner recipe with your family tonight!
Italian Corn Flake Chicken Dinner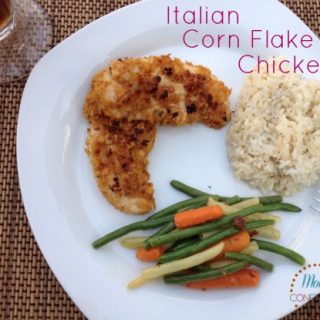 Italian Corn Flake Chicken Dinner
Ingredients
1 lb Chicken Breast or Tenders
¼-1/2 cup Italian Dressing
2 cups corn flakes (crushed)
1 tablespoon garlic & herb seasoning
Instructions
Place chicken and italian dressing in a pie dish or container to marinate for approximately 30 minutes.
Preheat oven to 350 degrees.
Add corn flakes to a large food storage bag and crush flakes into a fine to medium crumb mix.
Add garlic & herb seasoning to bag.
After chicken has marinated, pour chicken and italian dressing into large food storage bag.
Close bag and shake until chicken is fully coated.
Remove from bag with tongs and lay them out onto a cookie sheet.
Cook on center rack for 12-15 minutes, flip and cook for 12-15 minutes on the other side.
This is the first of many recipes to come. Stay tuned or check out our other deliciously easy family recipes.
During my walkthrough of the Katy location, I received products to taste test at home. The recipes featured in this series are my own and I was not asked to create them.
Tell me how you make your easy italian cornflake chicken dinner and veggies!
No compensation was received to share this information. All opinions are my own.