Busy Moms Guide to Meal Planning
As busy moms, we are always on the hunt for the best meal planning tips or ways that we can make our lives easier.  With dinner being the last meal of the day, it is by far the most hectic meal for moms who are just getting off work or who have been busy with other activities all day.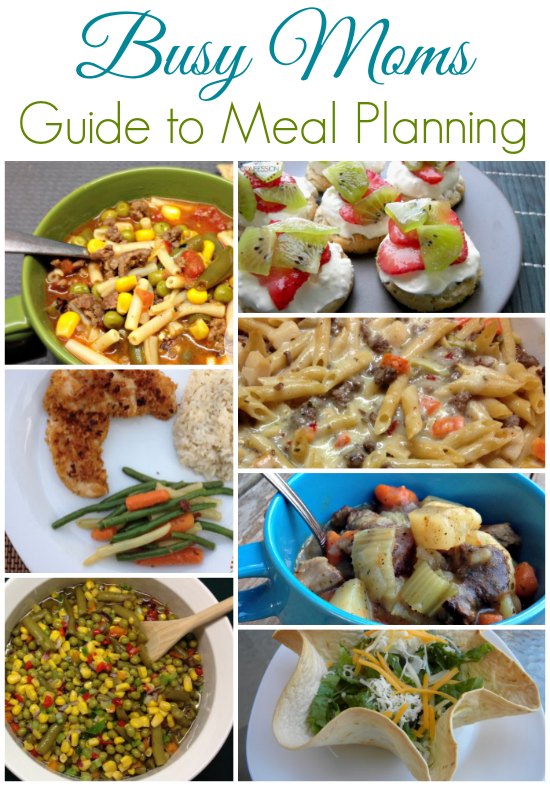 Gathering everyone around the table is a task in itself but it doesn't have to be anymore. If you are a busy mom or you know a busy mom, here are some easy meal planning tips to help make dinner both easy and fun.
Busy Moms Guide to Meal Planning
Weekly Meals at a Glance
This is probably one of the most important planning tips for meals. Knowing what you are going to eat throughout the week means less chance that of stopping off at the closest fast food joint for a convenient, but unhealthy meal.
Sit down once a week and plan what the menu will be for the following week. Create a shopping list from the meal plan to avoid buying what you don't need at the grocery store.
Bargain Hunting
Bargain hunting does not mean spending hours clipping coupons or anything like that, it simply means to check the local grocery circulars and basing meals on what is on sale for the week.
While clipping coupons will save some extra money, it doesn't have to mean that hours are spent doing so. Each week, I use the grocery circulars to find what meat items are on sale so I can save the most on these items. Meat is a staple in our house and generally, costs the most in our budget. To offset costs, I also use coupons. I don't use coupons to the extreme, but I usually use them on items that may help me save time in the kitchen.
I call those…momma's little helpers!
New Simple Recipes
Preparing the same meals over and over can get very tiresome and lackluster.  As a matter of fact, I have found myself in the "menu rut" before and it is not fun.  Ask family members for their "tried & true" recipes or even check out these easy simple family recipes to get some ideas on how you can twist up your family favorite recipes!
Another option is to search online for new recipes.  Places to search for recipes are a dime a dozen and most websites allow you to search for a specific ingredient or even a full recipe idea.
Coming up with new ideas for dinner is a lot of fun and generally, doesn't take that long to find the perfect recipe for your family!
Prep in Advance
Prepare as much as possible before putting your groceries away.  Enlist the help of children, spouse or significant others to help chop, cook, or mix ingredients together so it takes less time to prepare a delicious home cooked meal!
Another option to preparing in advance would be to actually cook your meals all in one day. Choose a day when the entire family can help and have each person make one meal and fix it for the following week. Let everything cool down and seal in casserole dishes or sealed containers in the freezer until the night it is needed.
Leftover Night
After planning meals for the week, there is bound to be some leftover food. Designate one night of the week to be leftover night and let everyone mix-and-match for dinner. Not only does this save time for mom, but it also saves money because less food is thrown away.
Win…Win!!
Free Weekly Meal Planner
To help jump start your meal planning efforts, we have created a great tool to get your creative juices flowing.  Easily plan your menu for the week to save time in the kitchen each night. Click here to download our Free Weekly Meal Planner.
No one likes to be standing at the stove forever after a long day at work! So get the family together and discuss everyone's day around the dinner table tonight…You won't regret it!