Easy Tutorials ~ Hand Painted Or Rhinestone Canvas Tote Bag
Easy Tutorials ~ Hand Painted Or Rhinestone Canvas Tote Bag
~EASY TUTORIALS~
Tote bags are a great way to keep library books together, hold a coupon binder, or just use as an everyday bag in the car for kids toys.  There are just so many different ways that you can use canvas tote bags in everyday life, so why can't they be cute and personalized?  Having a canvas tote bag personalized can cost in upwards of $20+ and it's still going to be the same canvas tote bag.  Check out how you can make your own at home even if you don't have a decorating bone in your body!  :)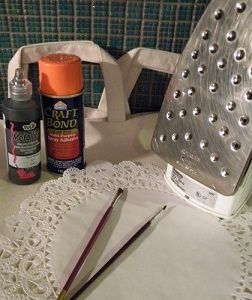 Items needed: 
Canvas Tote Bag (13.5 x 13.5 x 3.5 in)
Paper Doilie (found @ Dollar Tree)
Spray Adhesive
Black Fabric Paint (or any color you choose)
Small Paint Brush
Iron
Pencil
Towel
Rhinestone Iron On (optional)
How to make a hand painted or rhinestone tote bag: 
Iron canvas tote bag, so there are no wrinkles
Use spray adhesive and spray back side of paper doilie
Place paper doilie in bottom corner of bag with 1/4 hanging off edge at the bottom (or place in center of the bag)
Paint design on canvas bag
Peel off paper doilie
Let dry
Use pencil to draw letter
Monogram freehand letter on bag
Let Dry
Use towel and place over design and iron over it for a few seconds.  This will allow the paint to set and the bag to be washable.
Optional: You can use a rhinestone iron on design in place of the monogrammed letter.
**All products can be found @ Wal-Mart and most dollar stores in your area.
Total Cost: around $4 for 1 bag
Time to Complete: 1 1/2 hours
Check out these other easy tutorials and get crafty!! :)
Are you a DIY expert or like craft projects? If so, share your projects with me by emailing: momsconfession @ gmail (dot) com! I would love to share them with all the Moms Confession readers!