7 Garage Sale Tips For Post Sale Cleanup
I am always looking for garage sale tips to help make more money and take some of the frustration out of purging our junk.  If you're like so many of us, after you have a garage sale, you have a lot of stuff left over that you just don't know what to do with. And let's face it, the thought of having another garage sale to sell your garage sale rejects is just not something you want to do. It would take a lot more planning on your part, and it can't get pretty exhausting. So why not take a peek at our garage sale tips for post-sale cleanup?  Make the most of you sale before, during, and after it is over!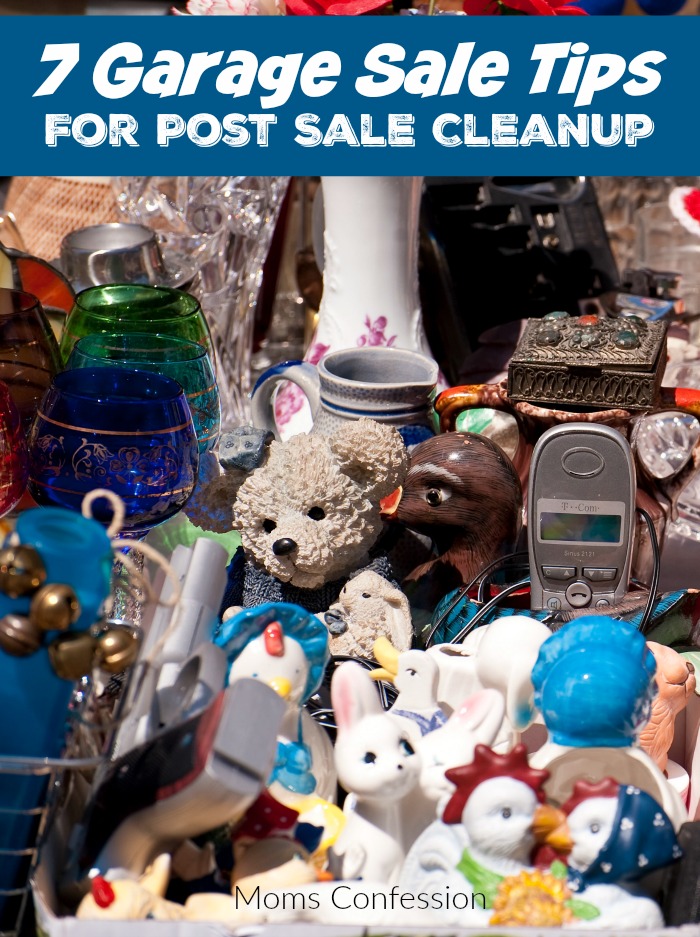 7 Garage Sale Tips For Post Sale Cleanup
If you have leftover items you just don't want to store any longer, check out these great garage sale tips for getting rid of that junk after your sale.  Post sale cleanup is easy when you think outside the box and use the tools at hand!
eBay: An oldy but goody is eBay. It's lost some popularity over the years, but it's still an excellent way to get your used items out to the world. Upside? You have a much larger audience to sell to, and you can set a base price that you would be willing to accept. Downside? It's a bit outdated in the internet world, and shipping costs can rack up if you don't plan properly.
Craigslist: Also added to the list with eBay as outdated forms of selling products, Craigslist has been around for a while. It's not the worst way to go about selling your leftovers and let's face it; beggars can't be choosers, and if you're looking to get rid of your junk, you could always give it a try. Be safe when dealing on Craigslist, though and always meet in a neutral and public place, just in case.
Facebook: In case you weren't aware, there are a huge amount of Facebook garage sale groups popping up all over the place! Way less stress than actually hosting a garage sale, these groups allow you to post most everything (each group has it's own set of rules), and people go "shopping" right from their homes or offices! List your price, a short description, and a picture, and you're on your way to getting rid of your junk!  Facebook as a way to get rid of your junk is one of the best garage sale tips that will make you easy money.
Goodwill: Goodwill Industries has been around for quite some time. Most people don't realize that along with their thrift stores, they offer a lot of services to the community. And they pay for these services with the sales they make from their stores. If you are so inclined, you can give your post-garage sale junk to Goodwill in hopes of spreading some goodwill to others!
Salvation Army: A place that's been around probably longer than Goodwill? The Salvation Army! Also, a great place to donate your unwanted items if you're feeling like helping out towards services needed by the community. Just like the Goodwill Industries, Salvation Army has been using their sales from donated items to help out local people for a long time. They assist vets, addicts, and homeless shelters. The money goes to a great cause, and you get rid of the junk you don't want. Win, win!
Homeless Shelters: If you're feeling a bit of a humanitarian, why not donate your stuff to a homeless shelter? They are slightly more limited in the items they can accept, but it's a great feeling to help out those who need it the most. Clothes, toys, cars and even sometimes furniture are accepted by most shelters in hopes of helping those less fortunate find a way to get back on their feet.
Consignment Shops: These institutions have been around for a while, but consignment shops are slowly growing in popularity amongst younger crowds. You take the junk you don't want in; they sell it for you, and you go back in to collect your money! Now, they do keep a percentage of the profit (they are a business, after all), but if you can't sell it on your own, why not pay a small price for someone to sell it for you?!  This is another favorite of my garage sale tips since you still make money while not having to store your leftovers.
It's so easy to find ways to unload your used items, especially if you follow this handy list of post garage sale tips for easy cleanup! You don't need to sit around wondering what to do with all that stuff. All you have to do now is to decide which option you want to use for getting rid of your junk post-garage sale!
More Garage Sale Tips: