7 Kick Ass Garage Sale Tips For Purging Your Junk
If you are like most people and you're tired of all that crap piling up in your house, then our garage sale tips are just what you need!  Want to clean out your house and upgrade? No better time than now! Purge that stuff and have a kick ass garage sale to earn money to put towards a whole new style. It's refreshing for the soul to change things up once in awhile. Not sure how? That's okay, we've got you covered!

7 Kick Ass Garage Sale Tips For Purging Your Junk
Who doesn't want to have a kick ass garage sale while clearing out their unused stuff? Here are some of our best garage sale tips to help you get rid of the clutter and junk in your home.  Whether you need to purge old decor, clothing that doesn't fit, or you have too many kids toys, these tips will help make sure you make money while cleaning up your home.
Follow the Method of Feels: Based on a very popular method of sorting through all the stuff you're not sure if you want is doing so by following the method of how each thing makes you feel. Feel great about it? Keep it! Feel sort of not so great? Set aside and come back to it. Feel horrible about it? Garage sale! Take a few hours or even a day and go back to the "sort of" pile and see how it makes you feel now. Same principles apply!
Repurpose and Resell: Do you have some old, weathered lawn furniture? Spruce it up! Any crafty projects that never got used? Finish them! All of those things are worth money now, simply because most people are too busy to do that stuff themselves. A fresh coat of paint, some sanding, or a few rhinestones could mean the difference between a couple dollars and a couple hundred dollars. Vintage is "in" all the time and can upgrade anything from "used" to "must-have"!
Organize and Decorate: Every garage sale has pretty much the same outline – some fold-out tables with stuff littered here and there and their lawn probably would appear as if their house exploded with everything they rejected from the last twenty years. Organize everything and have things displayed as if you owned an outdoor shop! Throw a little decoration into the mix so you're not blending into the rest of the neighborhood and make people want to stop. Draw the type of crowd who would want what you have to offer!
Get the Neighborhood Involved: One of the best garage sale tips is to get your neighborhood involved.  Have a block party! Except, make it a massive garage sale party! Get the neighborhood involved and organize a massive sale on the same day. When people are scouring for a deal, they love when they can find multiple sales in one area. Help your neighbors and make it the best block garage sale party ever!
Use Social Media: Do you have a massive following on Facebook, Twitter or some other social media outlet? Use that to advertise your garage sale! Create a Facebook event of your sale and so all of your friends and their friends can help you advertise by sharing your event. Kill two birds with one stone! You can advertise and get an idea of who you can expect by the number of shares, likes and who accepts your invite!  You may also check with your local city and county Facebook groups to see if you can list your sale there!
Feed the Masses: What else draws people in other than a good sale? Food! Invest in a little nourishment such as hot dogs, chips, soda and bottled water. If you let people know that you're offering to feed the masses as well as a kick ass garage sale, more people will come. No need to break the bank, though. You are trying to make money, not spend it all. Keep an eye out for some good deals on anything you can offer and maybe advertise a free hot dog with every purchase. And if they're full, your clientele will be more likely to peruse your wares.
Check, Double Check and Keep It Fun: No one wants to attend anything if it's just halfway thrown together. Plan ahead, double check everything and remember above all else to keep it fun! For better or for worse, you are making a salesperson out of yourself. There's nothing worse than going to a garage sale and dealing with a person who obviously doesn't want to be there. Smile!
Garage sales have been happening for as long as people have had crap they didn't want and needed to get rid of. Reinvent it as your own and pull in some awesome cash. The best garage sale tips above along with a great attitude will bring in more money than you can imagine!  Grab your stickers and garage sale yard signs and start planning today!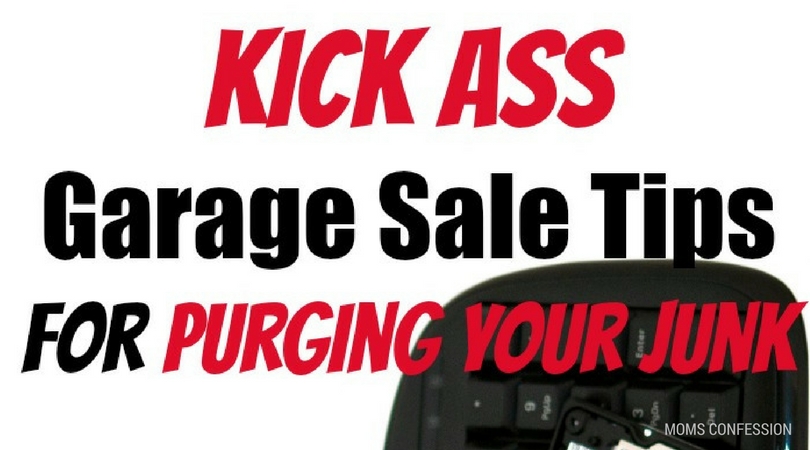 More Frugal Tips: