Getting that gluten free diet going sometimes takes a bit of motivation, so where do you start? I have put together a few gluten-free dinner ideas that I think you will love.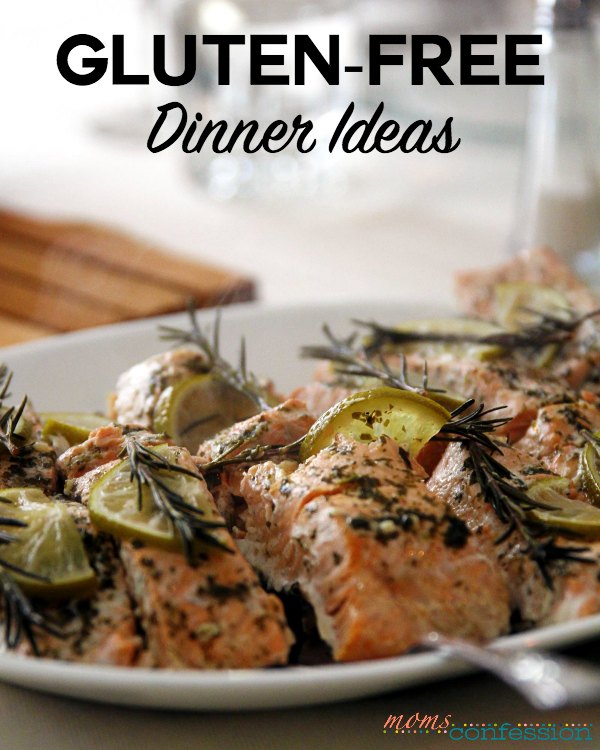 Gluten-Free Dinner Ideas
Grilled Tuna
What? If you want to be gluten free and love tuna, then consider this as a great dinner option. You can do so much with tuna, like grill or bake it. Add fresh veggies to the grilled tuna and you will add in even more flavor.
Salmon
Doesn't that sound delicious? There are so many options when it comes to making salmon, you can grill it like tuna or you can sauté it on the stove. Add simple ingredients like garlic and lime to make the salmon even more delicious and give it that irresistible flavor. Check out this Baked Garlic Lime Salmon recipe. It is an easy gourmet recipe that's zesty and so scrumptious!
Meatloaf
Can't you just taste the yumminess of meatloaf on the tip of your tongue? With the right ingredients, you can keep meatloaf gluten free. A little secret is to use turkey instead of ground meat for your gluten free meatloaf.
Here's an easy and delicious meatloaf recipe on Moms Confessions that you can modify to make gluten free. Instead of using crackers, replace it with gluten-free cornbread crumbs. Have fun making my easy meatloaf recipe and enjoy the southern flavors it has to offer.
What about the side dishes?
You may think that all of these meat ideas sound wonderful but what about the side dishes. I agree that you need to have some side dishes for dinner. Here are a few ideas to keep in mind.
Potatoes
Eating more fruits and veggies
Gluten free pasta is always an option
Quinoa (You will be using a lot of this in your gluten free recipes)
Gluten free options are everywhere nowadays because more people are faced with gluten allergies than ever before. Just think, what you cannot buy, you can always make yourself. And if you're looking to save time on gluten free meals, make a double batch and freeze the other for later.
Learn about the gluten-free lifestyle
If you are new to the gluten-free lifestyle, check out these books to get you acquainted with how to cook gluten-free, gluten-free meal ideas, and so much more.
What is your favorite gluten-free dinner?
Even More Gluten-Free Meal Ideas