Looking for fall breakfast ideas that your kids will love? Try these simple & delicious fall breakfast ideas that are great all season long!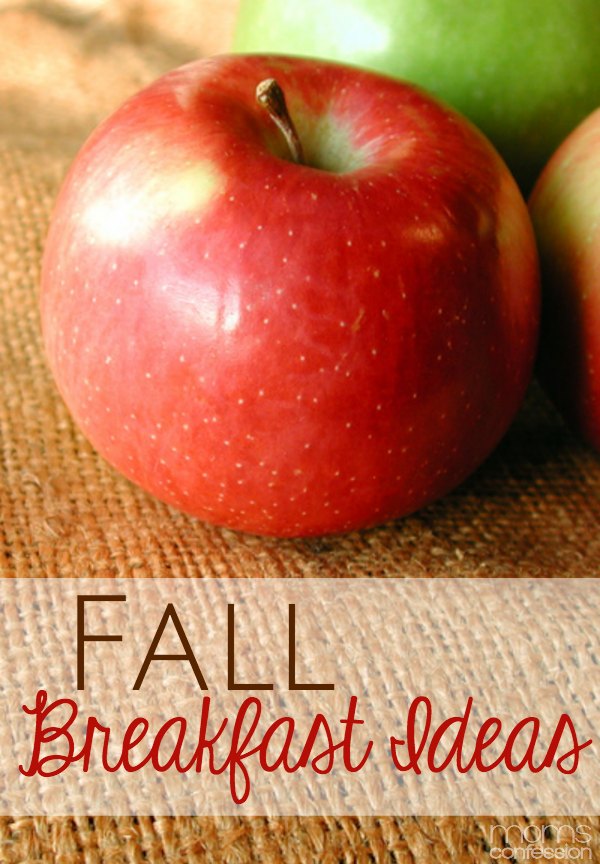 Fall is just around the corner! Can you believe it? I love this time of the year. The cooler weather encourages us to break out the warm socks and the apple cinnamon candles. With the turn of fall comes the opportunity to cook with your favorite spices and enjoy the smell of autumn! It's really is a beautiful time of the year.
Fall inspires me to get in the kitchen and indulge on everything apples, cranberry, and pumpkin! Yes…it's pumpkin season again y'all! Aren't you excited? My favorite time to feast on all things fall is breakfast so I've come up with 10 amazing and simple fall breakfast ideas that I think you and your family will love too! It's all about turning your breakfast into a feast with these fall meal ideas and enjoy the change of the seasons! Sounds like a great idea, right?
The Best Fall Breakfast Ideas For Your Family
Apple Pancakes
With fall come visits to the apple orchard. Instead of regular pancakes for breakfast, slice up an apple and add a dash of cinnamon to your batter. Your taste buds will thank you.
Cranberry Oatmeal
Cranberries are an integral part of fall meals. Think Thanksgiving cranberry sauce. Add this tart treat to your morning oatmeal with some slivered almonds for a truly spectacular fall breakfast.
Apple Muffins
Apple muffins are the perfect way to start any fall day. Experiment with different types of apples to see which flavor you like best. Will the Granny Smith or the Red Delicious win over your heart?
Pumpkin Oatmeal
Fall means pumpkin carving time. Whether you use canned or grown, a little pumpkin flavor and nutmeg added to your oatmeal will create a fall flavor burst in your mouth.
Pumpkin Muffins
Looking for a filling and flavorful fall meal? Pumpkin muffins are just what you need to make. These treats will give you the fall taste you're looking for while filling up your stomach in preparation for the day.
Need help meal planning this fall? Check out these Meal Planning Tips for Fall!
Pumpkin Spice Bread
If you've got a sweet tooth, pumpkin spice bread is the perfect alternative for your breakfast meal. This meal combines delicious pumpkin flavor and savory spices into a slice of heaven.
Pumpkin Pancakes
Flip your pancakes into fall with a touch of pumpkin. When you add pumpkin filling and a few spices, such as nutmeg and cinnamon, you end up with a breakfast that smells and tastes like fall.
Try this pumpkin pancake recipe!
Apple Stuffed French Toast
Nothing is better than French toast. It's easy to make and tastes great. Create an alternative to this easy breakfast food by stuffing it with a delicious apple and cinnamon filling.
Banana Nut Bread
Banana nut bread is a classic meal that will fit into your morning with ease. The great thing about this food is the fact that you can make it ahead of time for easy preparation in the morning.
Try this banana nut bread recipe!
You can roll fall into your breakfast with this tasty treat. Cinnamon rolls are the perfect way to start the day. You can even add some variety to them by throwing in some chocolate chips or crushed walnuts.
What is your favorite fall breakfast meal?
More Fall Meal Ideas