This recipe was shared by my sister-in-law! Her family loves Chili just as much as we do so it was only fitting that she share her family's recipes with us today! Hope you all enjoy this easy Corn Chili recipe!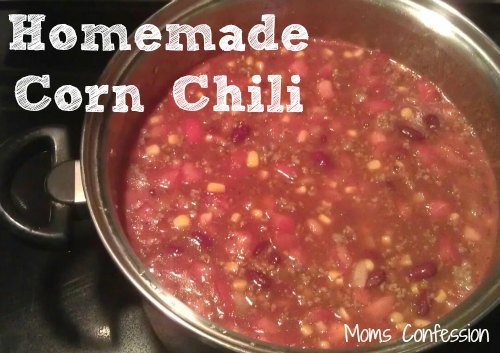 Corn Chili
Yield – 5-7 servings
Preparation Time – 5 minutes
Cooking Time – 2-3 hours
Ingredients
1 lb. hamburger meat
1 15 oz. canned or frozen corn (canned – drain and rinse)
1 15 oz. pinto beans
1 15 oz. kidney beans
1 8 oz. tomato sauce
1/2 medium onion (chopped)
2 roma tomatos (chopped)
1/4 cup diced green chilies
1 1/2 tablespoon chili powder
1 teaspoon cumin powder
1 teaspoon salt
1 teaspoon black pepper
1 cup water
Instructions
Brown hamburger meat over medium heat.
Add all other ingredients into pot, bring to a boil.
Reduce to a simmer and stir every 15 minutes for 2-3 hours.
This recipe can also be cooked in a crock pot before heading out the door for errands, work, etc.
More Delicious Dinner Ideas
[riview id=485 num=2000 orderby=title order=asc size=150×150 showtitle=always lightbox=0]