Huevos Rancheros with a Twist
This post is sponsored by Lone Star Eggs. All opinions are 100% my own.
It's no secret that I am a loud and proud Texan! Being born and raised in the great state of Texas, I've grown to know how important buying local is. Between growing, harvesting or raising your own food, it's a great thing for those in the country. Unfortunately for us, we live in the city and raising our own chickens is frowned upon. As a result, we have resorted to farmers markets or companies like Lone Star Eggs (sold exclusively at Walmart) to help bring local eggs to the table.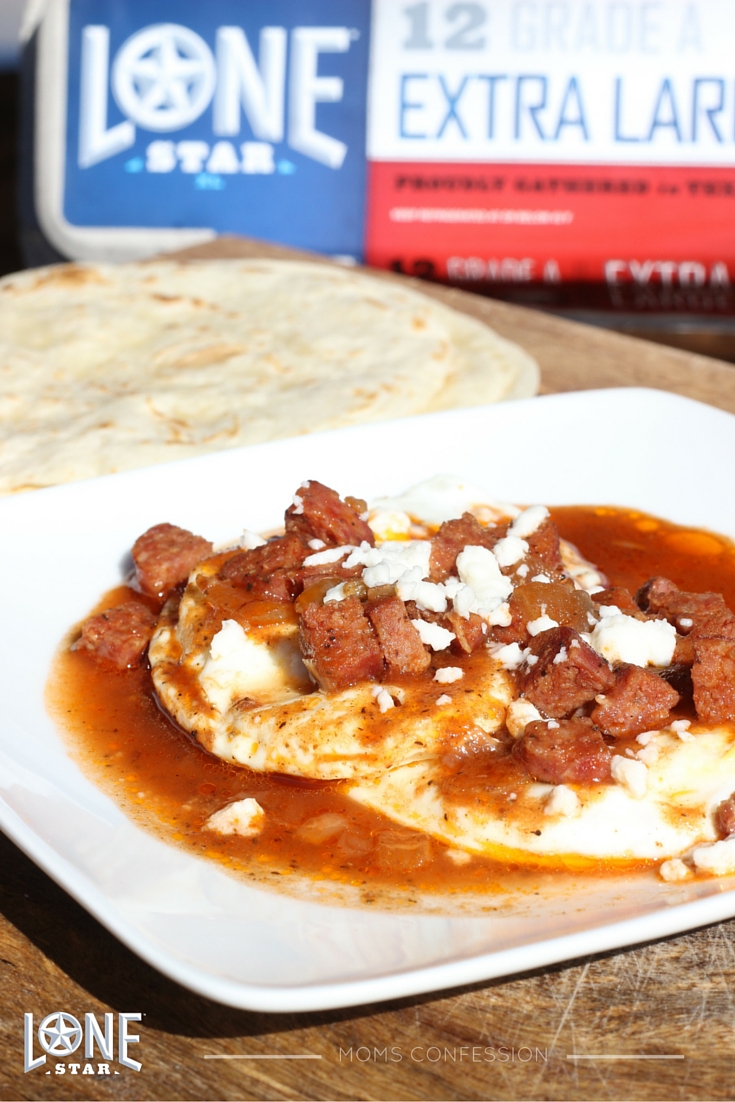 The first thing I learned to cook was a scrambled egg, but my favorite meal with eggs was a Tex-Mex twist on the traditional huevos rancheros. Growing up, my mother made sure we always had something delicious and Texas style on the table every night. Every dinner had a distinct smell and when she made "chilithro" (aka huevos rancheros with a twist), you knew it was going to be an exceptional night!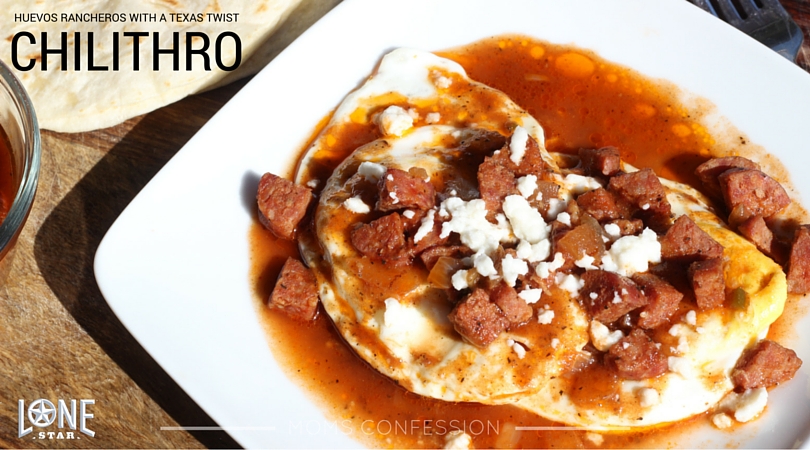 Chilithro is semi-chili style with a Tex-Mex flair that calls everyone to the table. It is seriously packed full of the ranchero flavors we know and love topped on perfectly fried eggs.
It's everything Texas is known for when it comes to food…
Loud from the delicious flavors
Proud from the locally farmed and raised products
And the saying of "everything is bigger in texas" is perfect for this dish too. Even if you only make a little, you are going to bring a larger amount of people around the table. :) So take my advice…make enough for a small army when you try it!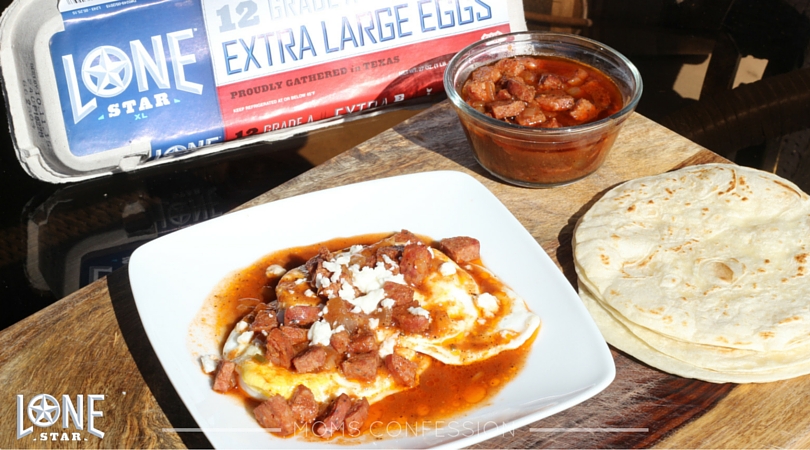 Find Lone Star Eggs Locally in Walmart Here and make this meal tonight!
Easy Mexican Huevos Rancheros (aka Chilitro)
One of my favorite recipes with Lone Star Eggs is a Tex-Mex twist on huevos rancheros called Chilithro. It's loud, proud and Texas style. Try it yourself!
Ingredients
2 links smokehouse smoked sausage (we use Prasek's or Burton Sausage)
1 smallish jalapeno pepper
1 medium onion
12 ounce tomato sauce
6 cups of water
2 tablespoons + 1 teaspoon cumin
1 tablespoon garlic powder
1/2 tablespoon + 1 teaspoon salt
1/2 tablespoon + 1 teaspoon pepper
Lone Star Eggs
Vegetable Oil
Flour Tortillas
Queso Fresco
Instructions
Deskin smoked sausage and chop it up into small triangular pieces.
Dice onion.
Finely dice jalapeno pepper.
In a large skillet, fry sausage and onion until fully heated (approximately 10 minutes) on medium heat.
Add remaining ingredients to the skillet and cook for approximately 30 minutes on medium heat.
While the chilithro is cooking, fry Lone Star Eggs in vegetable oil to your liking.
Heat tortillas in a small skillet over low-medium heat.
After everything is fully cooked, serve the chilithro over the eggs and a pinch of queso fresco. Pull a triangular piece off the tortilla to make a small taco boat for your eggs and huevos rancheros with a twist.
Nutrition Information:
Yield:

6
Serving Size:

1 Servings
Amount Per Serving:
Calories:

192
Total Fat:

13g
Saturated Fat:

5g
Trans Fat:

0g
Unsaturated Fat:

7g
Cholesterol:

54mg
Sodium:

974mg
Carbohydrates:

12g
Fiber:

2g
Sugar:

4g
Protein:

8g
This data was provided and calculated by Nutritionix on 6/3/2020.
I can't wait to hear how much you all like this recipe too!