Tex-Mex is a favorite around the house and so are these mini taco salads! It combines all the things we love-cheese, meat and a little kick in flavor. This type of food is good for me, as a mom, because it is an easy way to incorporate vegetables into my child's diet. For some reason, they don't seem to notice they are eating them when it's in a dish like this!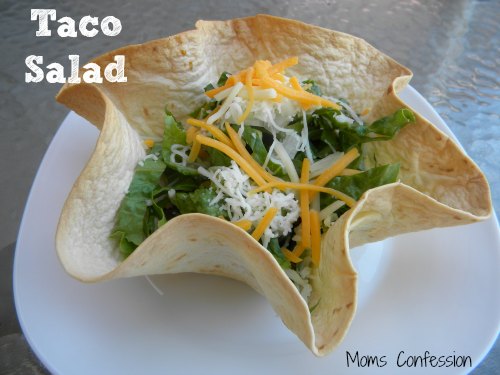 With farmer's markets popping up for the season (or maybe you have your own garden at home), not only is this the perfect time to get the freshest ingredients for this dish, but also at a great price. I find all sorts of inspiration walking the streets looking at all the fresh goodness.
This recipe can be made as is, or you can add your own toppings, however you like them. I like these for nights when we are super busy because I can make the bowls a night or two before and they are quick to throw together.
Mini Taco Salads

Yield – 4-6 servings

Preparation Time – 5 minutes

Cooking Time – 20 minutes

Ingredients

Instructions

Preheat oven to 350˚
Cook hamburger meat with taco seasoning as you would normally prepare your taco meat.
Turn muffin pan over and place flour tortillas in between muffin bowls to create a mini taco bowl.
Bake flour tortillas for 10-12 minutes or until they are semi-crunchy or lightly golden brown.
Once the tortilla bowls are done, remove from muffin pan and fill with your taco meat and additional toppings.
Serve & enjoy! :)