Summer is the time for crockpot meals and cookouts, but what if you need something in a hurry? This 3 Bean Chili is perfect for those nights when you want something hearty and filling, but don't have a long time to spend making it or waiting for it to cook.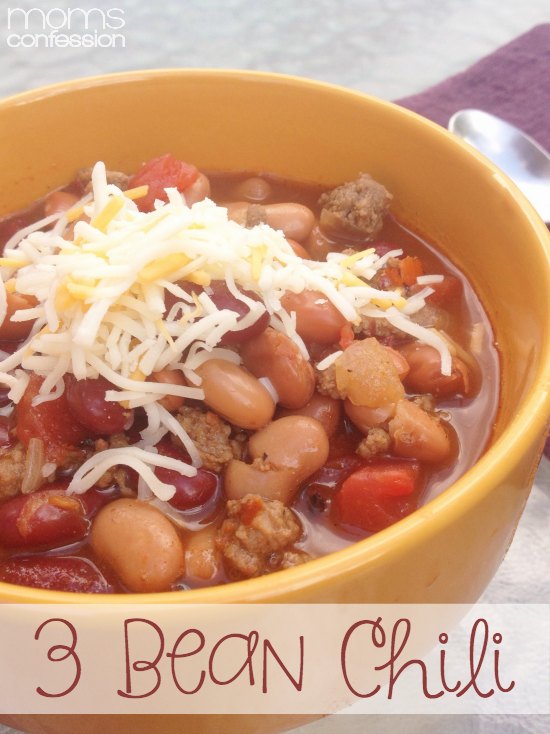 Using pinto beans and kidney beans from a can, it is super easy to throw together. The addition of the ranch-style beans gives it a little southern flair and a kick.
Using such simple ingredients, it is also a low cost option for meals. No need to spend all day cooking this one as it is ready in just a small amount of time on your stovetop. This 3 Bean Chili would be perfect for making on a camping trip or on a camp stove for a picnic as well!
3 Bean Chili

Yield – 4-6 servings

Preparation Time – 5-10 minutes

Cooking Time – 45-60 minutes

Ingredients

1 lb. hamburger meat
1/2 medium size onion (chopped)
1 15 oz. pinto beans
1 15 oz. kidney beans
1 15 oz. ranch style beans
Chili Seasoning Package
salt to taste
black pepper to taste

Instructions

In a medium stock pot, brown hamburger meat with salt & pepper to taste.
Add onion just before meat is fully cooked.
After hamburger meat is fully cooked, add in remaining ingredients.
Bring to a boil over medium heat and reduce to a simmer.
Simmer for 30-45 minutes.
Remove from heat and serve.
Looking for more Chili Recipes?