Stockings can be one of the best parts of Christmas morning. No matter how small or inexpensive the items are, it's just fun to pull out item after item, drawing out the fun. Teens can really be a challenge, especially because their tastes are generally more expensive. Which is totally the case in our house! Why must they be so darn expensive?!?! Needless to say, you don't have to break the bank with these teen stocking stuffers. You simply have to get creative and mist inexpensive dollar items with a few costly things and you might just see that same sparkle of wonder from their childhood.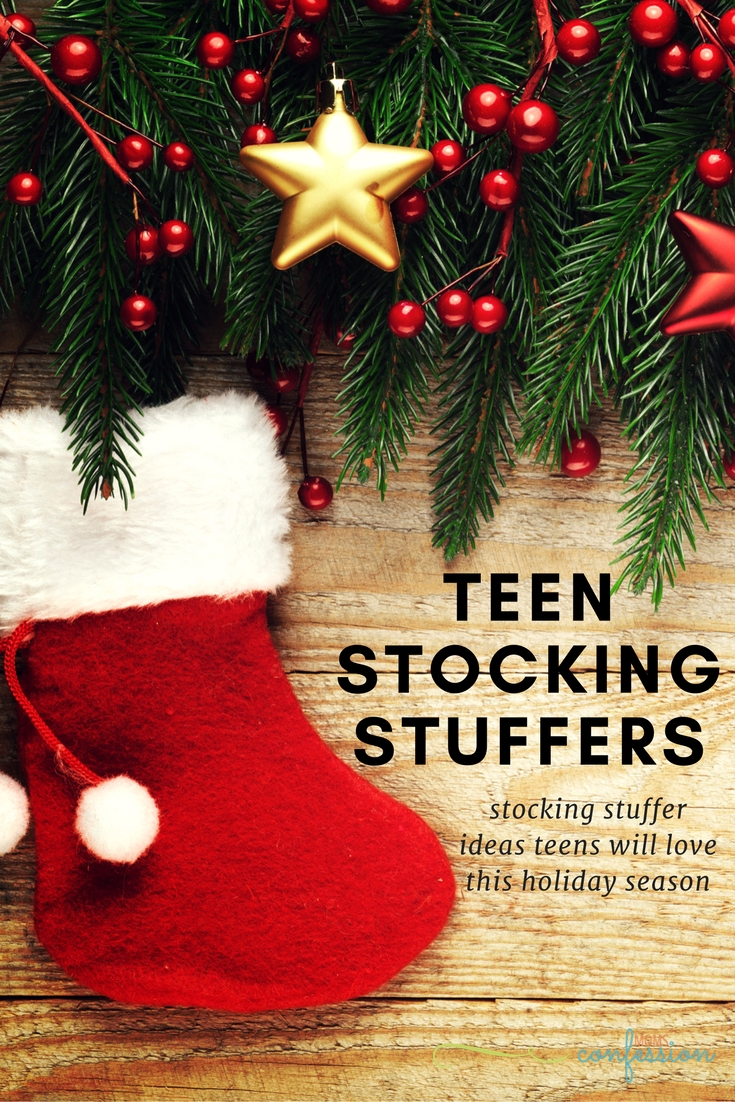 Teen Stocking Stuffer Ideas
Candy
But not just any candy, something nostalgic from their childhood that they loved but don't think to grab now. Silly wax lips, a fruity bubble gum, candy buttons on white paper strips, licorice, etc. However, if they love fancy chocolates, by all means, indulge them here.
Ear Buds/Headphones
While many teens have the pricier headphones and they have their place inexpensive headphones are a great extra to have while traveling, working out, at school, etc. Several pairs around the house are never too many. We plan on adding some Bluetooth earbuds to our kids stocking this year since they workout so much for football.
Batteries
Technology takes a lot of batteries, video game remotes, RC cars, radios and more. Keep them running with a stash of batteries in their stocking.
Gift Cards
A slightly more fun and creative alternative to cash. Gift cards for the bookstore, coffee shop, gas, fast food, or their favorite retail store will be a hit.
Phone Banks/Charger Cords
It probably already occurred to you to pick up new charger cords or phone banks for their electronics, but just in case it hasn't, this is something they seem to always be missing or have broken.
Paperbacks
Slip in a paperback, either something they are into now or a throwback to childhood with a handwritten note inside. They may roll their eyes a bit now but they will treasure it later.
Bath and Body Products
Think shampoo, conditioner, deodorant, body spray, hair gel, eyeshadow, face wash, a new bath pouf, razors, shaving cream, nail files, toothbrushes, travel tissue packs, etc.. These are necessities in life and they are always great go-to stocking stuffer ideas.
Memory Card/USB Stick
I don't know how many times my kids have come to me needing a USB stick or memory card at random times, but now they are a staple item in their stockings year after year. These are great for personal use as well as for school projects.
Breath Mints/Gum
Teenage years are hard enough to navigate without fresh breath. Slip some breath mints or gum in their stocking and they are good to go!
Socks
Fuzzy socks, toe socks, low rise, stripes, special socks for different sports, etc.. Socks (mainly Nike) are a big thing these days at our house so these types of things are a need and very much appreciated.
Wallets
Wallets are a simple idea for stocking stuffers, but to make it more personal, include a pic of you and a $20 bill. They will love it!
Tickets
Every teenager loves to go to the movies or special events, but make these tickets something special you and your teen will enjoy doing together. Think about their likes and pick up some tickets for a professional sporting event, ballet, monster truck rallies, rock concerts, museum openings, art shows, movie tickets, etc. and add them to their stocking. They really enjoy the idea of doing something fun and exciting. Plus you get to spend a little one on one time with them too!
Travel Games
During the holiday season, we travel a lot, but don't necessarily want the kids on their phone all the time while we are traveling. Instead add some travel games like playing cards, magnetic games, mad libs,etc. to their stocking and give them the opportunity to go electronic free on your trip.
Belts
I know belts are kind of an odd item to find in a Christmas stocking, but think about their personality and get them a belt that is utilitarian or fun and wacky. They may only wear it once, but you may be surprised when they wear it all the time too!
Fun Duct Tape
No longer just available in silver, this comes in just about every color and pattern imaginable for quick fixes or decorating notebooks. It's a good idea to add to their stocking and even better, you can pick up the fun duct tape at most dollar stores to save on this creativity booster.
Small Tool Kit
From computers to glasses and everything in between, a small tool kit can help with at home or away repairs.
Gloves
Gloves are a must have during the winter months and they come in so many different styles too. Think fur, leather, fingerless, whatever works in your climate when you are picking up gloves for your teen's stocking.
That's it…use these 17 fun and useful teen stocking stuffer ideas to stuff your teens stocking this holiday season without breaking the bank. These teen stocking stuffers will keep them warm, bring out their creative side while giving them something that is age appropriate for them to love this holiday season.
Looking for more Christmas Ideas?