With summer vacations heavily on our minds these days, we are thinking of ways we can trim costs this summer by having a staycation exploring our city this year. Staycations have become very popular in recent years and while some of us may still choose to travel for a vacation, that doesn't mean that we can't save while we are exploring different cities.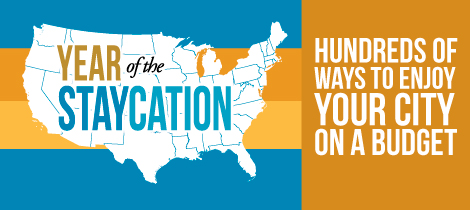 In case you missed it earlier this week, I shared how we are exploring Katy, Texas. We have family coming in to visit us this summer so we are going to make sure they have the best time ever…on a budget of course!

I have teamed up with several bloggers from across the United States to share how you can explore your city or a city you are visiting this summer on a budget. Check out all these great cities you can explore!
Staycation on a Budget: Explore Your City
Mid Atlantic
Midwest

Central, Illinois :: The Homeschool Scientist
Chicago, Illinois :: Chicagoland Homeschool Network
Naperville, Illinois :: The Sensible Mom
Schaumburg, Illinois :: Ravings By Rae
Fort Wayne, Indiana :: Simplified Saving
Northern Indiana :: So Dough Savvy
Kansas City Area :: Kansas City Mamas
Metro Detroit, Michigan :: Saving Dollars and Sense
Grand Rapids, Michigan :: Give Me Neither
Rural Minnesota (either Southern our Lake Country) :: Mommysavers.com
St. Cloud, Minnesota :: Frugal Finders
Kansas City, Missouri/Kansas :: Kosher on a Budget
Cincinnati, Ohio :: Family Friendly Cincinnati
Columbus, Ohio :: Cleverly Simple
Dayton, Ohio :: Savings Lifestyle: Dayton
Mansfield, Ohio :: The Traveling Praters
NE Ohio :: Raising Lifelong Learners
Northeast Ohio (Canton, Akron, Cleveland) :: Sisters Shopping on a Shoestring
Black Hills, South Dakota :: Little House Living
South Dakota :: Moms Mustard Seeds

Mountain

Phoenix, Arizona :: Mom Endeavors
Scottsdale, Arizona :: Saving For Someday
Colorado Springs, Colorado :: The Greenbacks Gal
Denver, Colorado :: Bargain Blessings
Helena, Montana :: The WiC Project
Omaha, Nebraska :: Mom Endeavors
Reno, Nevada – Lake Tahoe (Northern Nevada) :: Saving in Nevada

Pacific

Fresno, California (Central Valley) :: NerdFamily Blog
San Diego, California :: Good Cheap Eats
Portland, Oregon :: Frugal Living NW
Seattle, Washington :: Thrifty NW Mom

South Atlantic

Washington, DC :: Kidventurous
Clearwater Beach, Florida :: Bargain Briana
Southwest Florida (Ft. Myers area) :: Chaos Is Bliss
St. Augustine, Florida :: Simply St. Augustine
Tallahassee, Florida :: SwagGrabber
Atlanta, Georgia (metro area) :: Hodgepodge
Atlanta, Georgia (metro area) :: The Couponing Couple
Annapolis, Maryland :: The Happy Housewife
Asheville, North Carolina :: Paradise Praises
Raleigh/Southeastern, North Carolina :: Upside Down Homeschooling
Charlottesville, Virginia :: How to Have it All
Richmond, Virginia :: Teachers of Good Things
Smithfield, Virginia :: Walking in High Cotton
Virginia Beach, Virginia :: The Coupon Challenge

South Central

Coastal Alabama :: Meet Penny
Huntsville, Alabama :: The Traveling Praters
Northern Kentucky :: Simply Sherryl
Chattanooga, Tennessee :: Living Chic on the Cheap
East Tennessee (Smoky Mountains, Knoxville) :: Finding Joy on the Journey
Nashville, Tennessee :: Montessori Tidbits
Arlington, Texas :: Grocery Shop For FREE
Austin, Texas (Hill Country) :: Ponder the Path
College Station, Texas :: How to Homeschool My Child
Dallas, Texas :: Surviving The Stores
Fort Worth, Texas :: Coupons & Freebies Mom
Houston, Texas :: MomsToolbox
Houston, Texas :: MyLitter
McAllen, Texas (Rio Grande Valley) :: iLoveMy5Kids
San Antonio, Texas :: Melissa's Bargains
Tell me what city do you want to explore this summer?
More Staycation Ideas