John McLemore, The Man Behind Masterbuilt Q & A
This post is sponsored by Masterbuilt. All opinions are 100% my own.
John McLemore, coowner and President/CEO of Masterbuilt Manufacturing, Inc. sat along side his wife, Tonya in the green room of the Great Day Houston studios last week and you could see the passion in his voice as we discussed his products, recipes and more.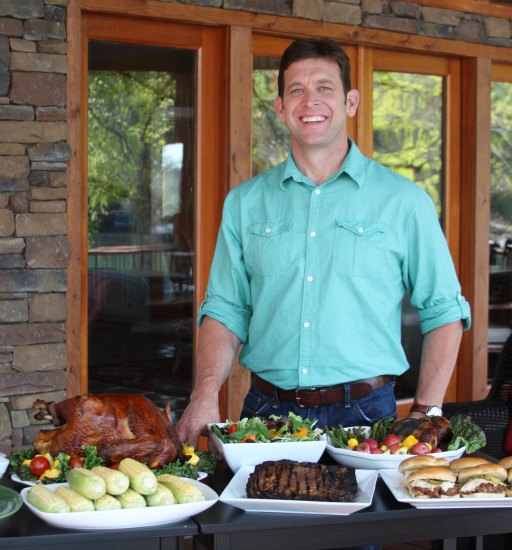 John McLemore, The Man Behind Masterbuilt Q & A
During our short conversation in Houston, TX, I learned a lot about the man behind a successful business as well as how much he and his wife value family and I wanted to share that with all of you.  Enjoy!
Kristi – Where do you find inspiration for your recipes?
John – My first would have been my parents. I grew up cooking fish with my dad and loved my mama's cooking. My three kids like to cook, especially my 15-year-old daughter so we shared their recipes and actually named some of the recipes after them. My wife Tonya is a good cook and we've got some recipes named after her. It's a combination of what my parents showed me growing up, recipes that I've done on my own but also recipes from friends and family along the way. Some of our employees at Masterbuilt are fantastic cooks as well.  So as we're starting to think about recipes for book #3, we are probably going to have even more of our employees recipes show up.
Kristi – Now thinking about the 3rd book, when are you thinking of that coming out?
John – First of all, we have to get it finalized (the actual book itself), but I would like to have it launch in the fall of 2014.
Kristi – Out of all the recipes in Dadgum Thats Good and Dadgum That's Good Too!, which one is your favorite or do you have a favorite?
John – I always circle back to my deep-fried turkey recipes. Love, love, love the deep-fried turkey recipes. But if I've got one favorite recipe it's going to be because of my mother. The only recipe that we have duplicated in Dadgum Thats Good and Dadgum  That's Good Too! is my moms southern fried chicken. We lost her a couple years ago, so we dedicated book #2 to my mom and that recipe is one of my favorites.
Kristi – This was my first time to use the smoker, so what is the best tip you can give a beginner or someone who has never turn used a smoker before?
John – I would recommend getting an electric smoker like the Masterbuilt Electric Smokehouse so that it makes it easier and you're not fooling so much with the process or how to do the smoking. Instead, you can concentrate more on the recipe. Then start with an inexpensive type of meat, like chicken and just kind of get your feet wet.
Kristi – From all the different wood chips suggestions in the cookbooks themselves, what is your favorite?
John – Pecan because I like the flavor of it.  Apple because I like the sweet smell and I also like Alder when it comes to fish. It's not popular because it's not readily available though.
Kristi – In your opinion, what is the best BBQ? Texas, Kansas City, or Carolina? Why?
John – If you only made me pick one, I'd have to say in Texas it's the brisket. If it's regular BBQ, I'd say Kansas City only because you didn't name Georgia. If you would have named Georgia, I would've picked that.
Kristi – Because your in the grilling business, what do you think of the low carb craze?
John – Eat what you like, just eat less & exercise. I love to eat so much so I just eat, but in moderation.
Kristi – Just for fun, what's your preference for a turkey leg? Deep fried or smoked?
John – Just the leg? I'm going to go with smoked because you can recreate a fair recipe we all love right at home.
Kristi – What's the most unusual think you have grilled, smoked, or fried?
John – We did a segment with Steve Harvey called "Tastes Like Chicken." In Dadgum Thats Good and Dadgum That's Good Too!, we have four chicken recipes that we substituted with wild game meats. So instead of Smoked Chicken Gumbo, we did Smoked Turtle Gumbo. Instead of MeMaw's Southern Fried Chicken, we did the same recipe with gator tails or gator bites. We fried frog legs with another deep fry recipe from the cookbook. And instead of doing Chicken and Dumplings, we did Bunny & Dumplings. It was really good.  The one that tastes like chicken the most to me was gator tail. Turtle is kind of chewy.
Tonya – Turtle was better in little pieces.
John – Outside of that particular show, we have deep fried just about everything.
Tonya – The worst thing that didn't work was deep fried peanut butter and jelly.
This post is brought to you by Masterbuilt. All opinions are 100% my own.
Let's chat: What is your favorite smoked, grilled, or fried recipe?