After talking with my friend about how to stop feeling like a short order cook, she shared this ground beef casserole recipe and we haven't looked back. Packed with flavor and the perfect ingredients, this simple family meal is sure to become one of your families favorite recipes.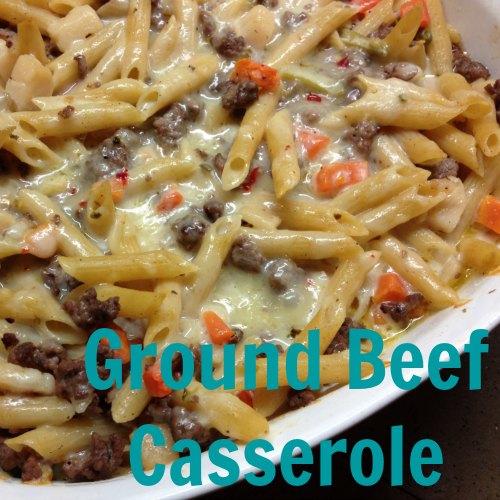 Over the years, we have done many variations of this recipe depending on what we had in the home. In the picture above we used Penne noodles and pepper jack cheese with the same results….a perfect easy family meal that our family dives into without hesitation.
Dig into dinner tonight!
Easy Ground Beef Casserole
Prep Time 10 minutes
Cook Time 40 minutes
Total Time 50 minutes
Servings 8 -10
Ingredients
1 lb ground beef
15 oz can of Veg-All Mixed Vegetables
2 cups macaroni noodles (cooked)
¼ cup onion (chopped)
¼ teaspoon salt
1 teaspoon pepper
8 oz shredded cheddar cheese
Sauce Mixture:
¼ cup butter or margarine
¼ cup flour
1 cup milk
How to Make Ground Beef Casserole
Preheat oven to 350˚.
Cook macaroni noodles as directed and drain.
Brown ground beef and onion and drain grease.
Melt butter, mix in flour and milk to make the sauce in a bowl.
Add Veg-All Mixed Vegetables and macaroni noodles together with ground beef in a 9×13 oven safe dish.
Mix in 1 cup shredded cheese and add sauce mixture to casserole.
Top with 1 cup shredded cheese.
Bake at 350˚ for 30-40 minutes.

Get the printable Easy Ground Beef Casserole Recipe below.

Want to meal plan like a pro?

After struggling for what seemed like forever, and having my teenage kids always asking… Mom, what's for dinner? I finally figured out the easiest ways to meal planning and now it's smooth sailing at dinner time each night. There is always a plan for dinner in place and I am not longer asked..what's for dinner…because they already know!

I may have learned the hard way about meal planning, but you don't have to! You can learn how I get dinner on the table in a hurry in my ebook, Meal Planning for Busy Moms!

What's included? You say!

Tips and tricks I have learned on my meal planning journey (I'm taking the guess work out for you!) :)
14 Day Sample Meal Plan to help you get started
Themed Meal Planning Ideas (with examples)
180+ Meal Ideas for Breakfast, Lunch, Dinner and Snacks
16 scrumptious recipes that you can make for your family today
and so much more!

Get your digital copy of Meal Planning for Busy Moms today, and start meal planning like a pro in no time!

Easy Ground Beef Casserole

Yield: 10

Prep Time: 10 minutes

Cook Time: 40 minutes

Total Time: 50 minutes

Ground Beef Casserole is one of those staples that every family should have on the dinner table. This recipe is easy to make and tastes so delicious!

Ingredients

1 lb ground beef
15 oz can of Veg-All Mixed Vegetables
2 cups macaroni noodles (cooked)
¼ cup onion (chopped)
¼ teaspoon salt
1 teaspoon pepper
8 oz shredded cheddar cheese

Sauce Mixture :

¼ cup butter or margarine
¼ cup flour
1 cup milk

Instructions

Preheat oven to 350˚.
Cook macaroni noodles as directed and drain.
Brown ground beef and onion and drain grease.
Melt butter, mix in flour and milk to make the sauce in a bowl.
Add Veg-All Mixed Vegetables and macaroni noodles together with ground beef in a 9x13 oven safe dish.
Mix in 1 cup shredded cheese and add sauce mixture to casserole.
Top with 1 cup shredded cheese.
Bake at 350˚ for 30-40 minutes.

Nutrition Information:

Yield: 10 Serving Size: 1 serving
Amount Per Serving: Calories: 339Total Fat: 21gSaturated Fat: 11gTrans Fat: 1gUnsaturated Fat: 8gCholesterol: 77mgSodium: 310mgCarbohydrates: 16gFiber: 2gSugar: 2gProtein: 21g

This data was provided and calculated by Nutritionix on 6/3/2020.

Do you ever change up ingredients to your favorite family meal recipes based on what you already have at home?

More Simple Dinner Ideas