Who's ready for summer gardening with kids? I know we are! Gardening is the perfect way to involve your kids in the exciting world of gardening. They'll enjoy being outside and seeing what you're up to and also enjoy the benefits of the work they put into gardening.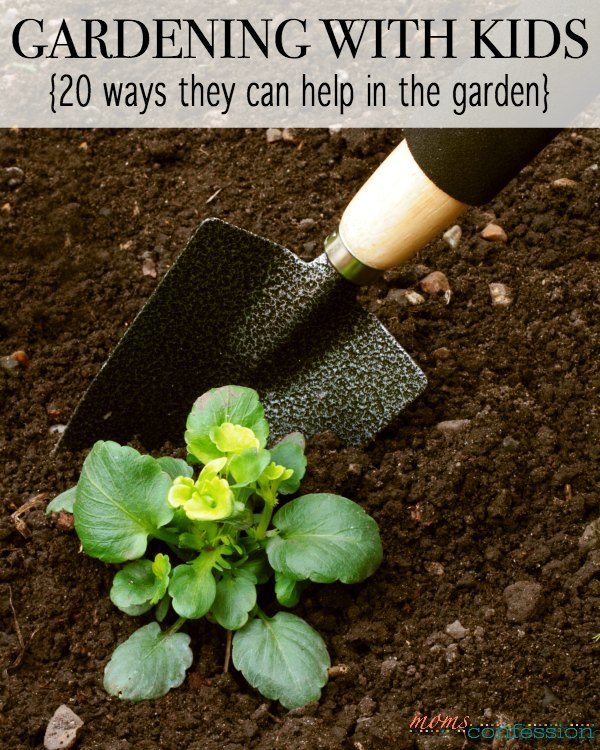 Do you ever remember watching your mom and dad do something and you just wanted to help? Now you can allow your kids to get involved by letting them try any of these fun garden chores. Who knows, they may just start appreciating the hard work that goes into creating food. Any of these ideas are bound to be a huge hit with them!
20 ways kids can help in the garden:
Help start seedlings in containers before they are ready to plant.
Help place soil in the containers for seedlings before they're ready to plant.
Rake the soil to help get the garden ready.
Pull weeds and help remove tiny rocks.
Place soil or mulch on the ground to help with the nutrition of the garden.
Plant the fresh seeds or the seedlings in the ground.
Ensure that there's enough space in between each seed that's planted.
Water fruits and veggies on a daily basis to help keep them healthy.
Help create garden markers for the garden.
Help put up a garden fence to keep critters out.
Write down what was planted and when it was planted.
Keep an eye on which fruits and veggies are ready to be harvested.
Use scissors to help cut different plants when they're ready to harvest.
Help take pictures of the progress of the garden.
Clean gardening tools and put them back where they belong.
Help pick fruits and veggies for that night's dinner.
Pick fruit and veggies off the main plant that are no good.
Help make sure all edible fruits and veggies are picked.
Help to winterize the garden when the time is right.
Put away all gardening tools and decorations for the upcoming winter.
How do you let your kids help in the garden? Do you have more ideas to add? Share your fresh ideas in the comments below!
More Gardening Tips and Tricks