In an effort to trim the budget and still put a meal on the table for my family, I took the Switch and Save Challenge at Aldi when I attended the grand opening of the store in Katy, TX. The Aldi Meal Plan I created includes 21 meals under $100. I remember shopping Aldi when we lived out of state and loved every bit of the savings so I already had an idea of how easy the switch and save challenge was going to be for me.
While I was at the grand opening, I had three other amazing Houston Bloggers with me and we all took different approaches to our taste test choices.
Lisa from Milehimama was focused on seeing if the Aldi brand was as good as the national brands they already purchase.  She was pleasantly surprised to find that the Aldi brand Greek yogurt is dye free…which is perfect for her family!
Brenda from Meal Planning Magic was looking for products that were similar to what she already purchases at other stores for lower prices.
Fred from Mocha Dad took the approach of choosing items to make the kids' lunches and dinners for the week.
For me, it was about easy meals I could get on the table in 15-30 minutes all while still providing a balanced meal my family could enjoy.
To show you just how you can easily Switch and Save at Aldi, I wanted to give you all the details so you can save as well!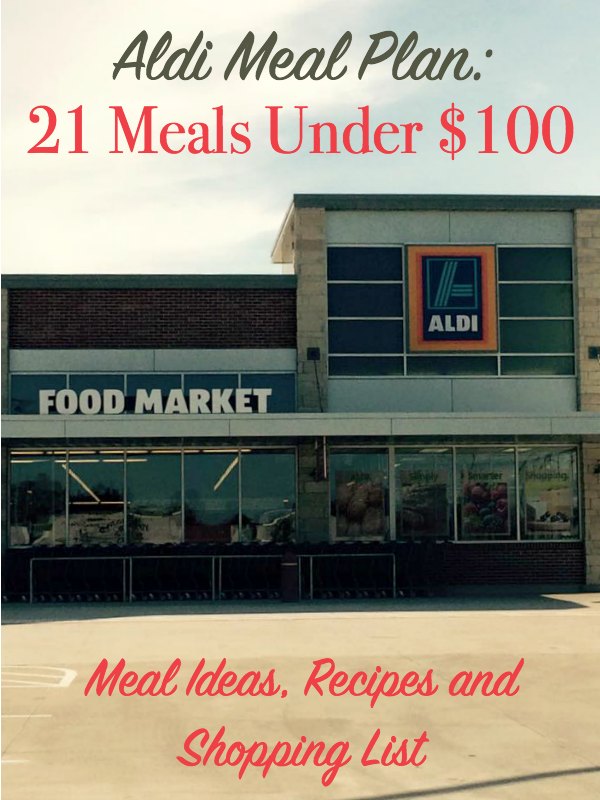 The Challenge: 21 Meals Under $100
Feed a family of 4 breakfast, lunch, and dinner for $100…that's 21 meals y'all! 

The Menu: 21 Meals Under $100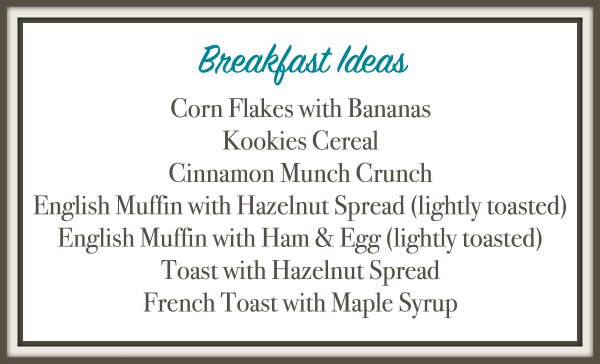 Breakfast Ideas
Corn Flakes with Bananas
Kookies Cereal
Cinnamon Munch Crunch Cereal
English Muffins with Hazelnut Spread
English Muffins with Ham & Egg
Toast with Hazelnut Spread
French Toast with Maple Syrup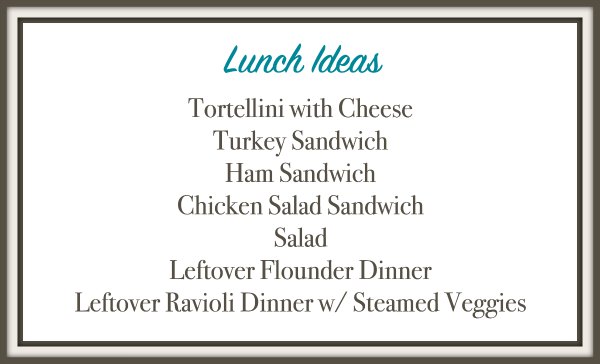 Lunch Ideas
Turkey Sandwich
Ham Sandwich
Chicken Salad Sandwich
Salad
Leftover Flounder Dinner
Leftover Ravioli Dinner with Steamed Veggies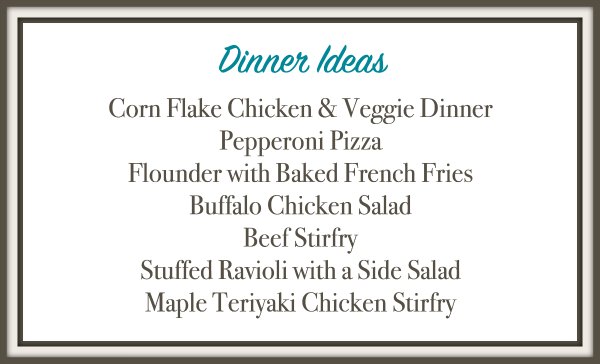 Dinner Ideas
Pepperoni Pizza
Baked Flounder with French Fries
Buffalo Chicken Salad
Beef Stirfry
Stuffed Ravioli with a Side Salad
Maple Teriyaki Chicken Stirfry over rice
I will be sharing recipes from this plan over time so in the meantime check out these other delicious family recipes to enjoy tonight!
To make this super easy, I've put the Aldi Meal Plan Printable 

together

 for you that includes recipes and a shopping list. You can get it all for only $1.99!!
The Aldi Meal Plan Printable includes: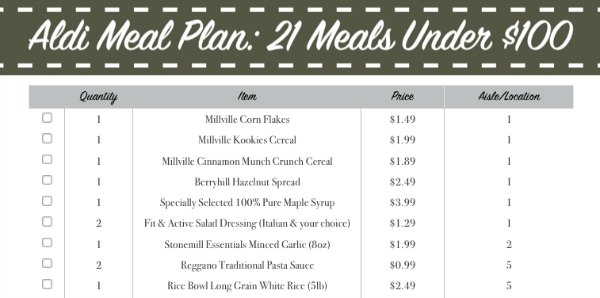 1) A shopping list to keep you organized on your next shopping trip.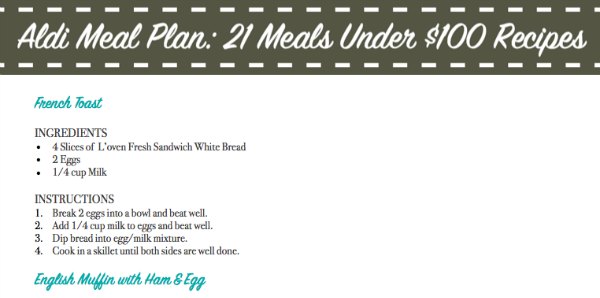 2) Recipes so you know exactly how to use the ingredients.
3) All 21 meal ideas.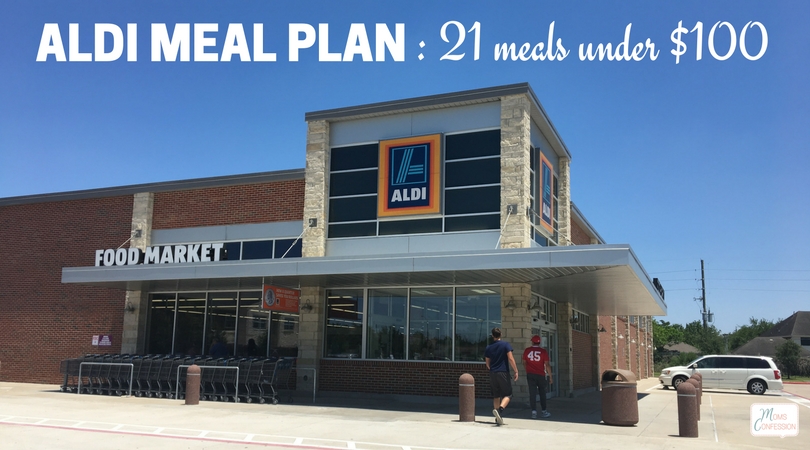 Need help finding Aldi Locations in the Houston area?
Aldi has now opened 10 store locations, see which store is closest to you so you can save below:
2009 S. Mason Rd., Katy, TX 77450
11510 Broadway, Pearland, TX 77584
2302 FM 2920 Rd., Spring, TX 77388
10402 Hwy. 6 South, Sugar Land, TX 77498
6900 FM 1960 East, Humble, TX 77346
5930 Fry Rd. Katy, TX 77449
2045 N. Loop 336, Conroe, TX 77304
13340 Tomball Pkwy., Houston, TX 77086
4140 Fairmont Pkwy., Pasadena, TX 77504
5855 Hwy. 6 North, Houston, TX 77084
If you need help with meal planning, check out Meal Planning for Busy Moms and become a meal plan pro in no time!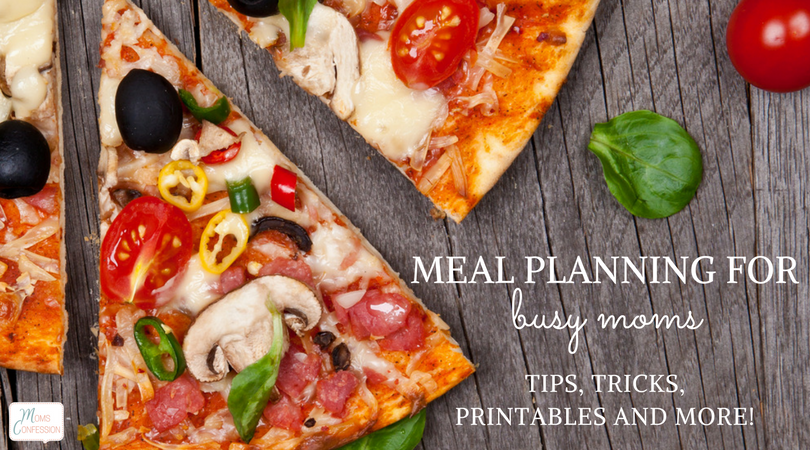 No compensation was received to share this information. All opinions are my own.