Chicken Bombs with a Texas Twist!
Are you ready for a chicken dinner recipe that will knock your socks off?  If so…I've got the perfect recipe for you!  It's Chicken Bombs with a spicy Texas twist!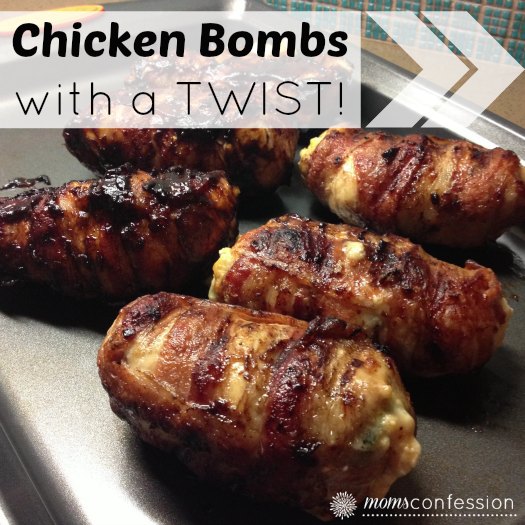 Chicken Bombs with a Texas Twist!
This recipe will knock any other chicken recipe out of the ballpark and have the family wanting more and more with each and every bite.  I literally had to stop the boys (including the hubby) from going back from more…they just couldn't get enough! Truth be told, I thought the claws were going to come out as they battled over who got the last bite! :)
There really is no other way to describe this recipe…you just have to try it yourself! So put a spicy Texas twist on a traditional chicken bomb recipe and enjoy this easy family dinner recipe tonight!
Chicken Bomb Recipe
Ingredients
1 package boneless skinless chicken breast (3 in package)
3 jalapeno peppers (deseeded, and cleaned out)
1 package bacon
8 oz cream cheese (softened)
1 1/2 cups pepper jack shredded cheese
Approximately 1 cup barbecue sauce
Sprinkle of Slap Ya Mama Cajun Seasoning
Directions
Remove chicken from package and slice chicken lengthwise while laying on a cutting board
Place each piece separately in between two pieces of parchment paper
Use a rolling pin to flatten chicken pieces until they are approximately 1/8 – 1/4 inch in thickness
Wash jalapenos, cut stem off, slice lengthwise, remove seeds and clean out center
Rinse jalapenos a second time
In a mixing bowl, add cream cheese, pepper jack cheese, and approximately 1 teaspoon of Slap Ya Mama Cajun Seasoning
Mix together until well blended
Add mixture into jalapenos
Lay flattened chicken on a cutting board and season each piece of chicken with Slap Ya Mama Cajun Seasoning
Lay 1 filled jalapeno piece cheese side down on 1 side and roll chicken around jalapeno
Wrap 2 pieces of bacon (1 at a time) tightly around the rolled chicken and tuck bacon into itself to seal it closed
Preheat grill to at least 300° and place chicken bombs on the grill to cook for approximately 25-30 minutes
Turn chicken bombs on the grill every 5 minutes to ensure it is cooking evenly
After 10 minutes of grilling time, baste with barbecue sauce before turning.
Just before the chicken bombs are done, baste one last time.
Remove from grill and allow to cool for a few minutes
Slice into 1/2-1 inch slices and ENJOY!
Additional items needed
Parchment Paper
Mixing Spoon
To check if chicken is fully cooked
I know there are bound to be many other ways to check this, but here are 3 ways you can make sure your chicken dinner is done.
Use a meat thermometer and make sure the internal temperature reaches 165°
Use a fork and poke chicken bomb in the center and if the liquid runs clear, you are in the clear!
Use a knife to pierce the center of the chicken bomb and make sure the chicken fully white…no pink
There you have it…my TX twist on a traditional chicken bomb recipe!
While it seems like a lot of work to enjoy this recipe, it is VERY simple to make for your family since you can prep most of it the night before and have it ready to grill in no time!
If you think this looks amazing…share it with your friends and family or pin it to Pinterest so you can easily access the recipe when you're ready to cook it each and every time!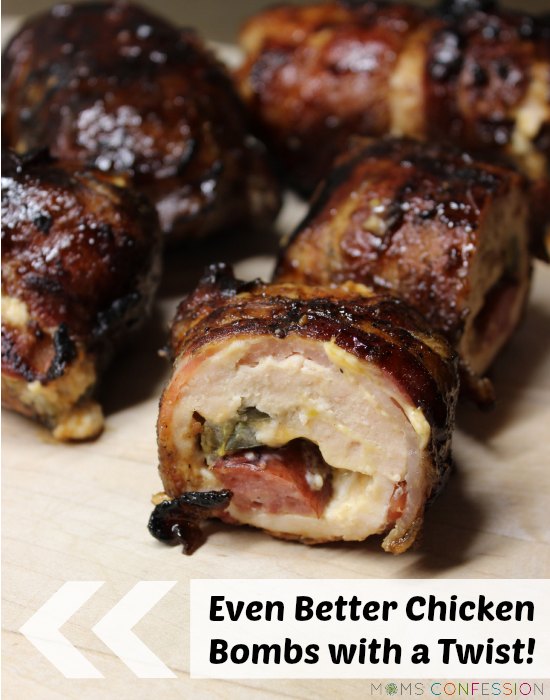 Bacon Wrapped Chicken never tasted SOOOO good! You have to try these chicken bombs stuffed with shrimp too!