S'mores…need I say more? They are full of ooey gooey deliciousness that everyone in the family can enjoy and love! S'mores Bars are by far one of my favorite sweet treats, but I don't like the extra pounds they help to pack on.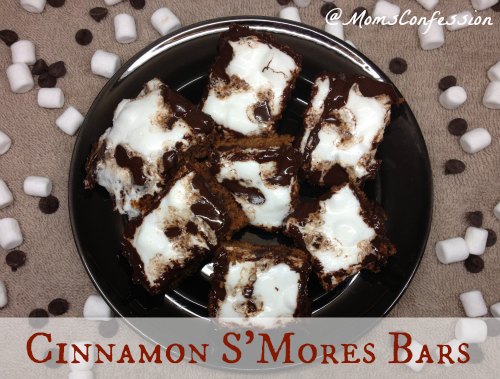 With the new year upon us, we are all looking for ways to trim the waistline and I have found the perfect way to enjoy a sweet treat without the extra calories!
In the spirit of trimming calories, these s'mores bars resemble a cookie, pack a cinnamon punch and give you the "oh so ooey gooey deliciousness" that s'mores have to offer with less sugar!
So if your on the hunt for a last minute dish to take to your New Years party…we have you covered! These Cinnamon S'Mores Bars are super easy to make and taste absolutely delicious!
Enjoy!
Yield – 16 servings

Preparation Time – 10 minutes

Cooking Time – 20-25 minutes

Ingredients

Directions

Preheat oven to 350 degrees
Using a food processor, crush graham crackers until they are very fine
Blend sugar and baking soda into crushed graham crackers
With the food processor on, drop in butter (one piece at a time) and mix well
Add egg into food processor and blend until mixture forms into a ball
Press into 9 inch pan
Bake 20-25 minutes
Sprinkle marshmallows and chocolate chips on top and bake for about 2 minutes
Allow to cool completely and cut into 2 inch squares
Serve & enjoy!
*This post contains affiliate links to Amazon.com