Chicken Pizza With A Texas Twist!
Pizza is a staple in any home with kids. I love that it is so versatile and can be made with any topping your heart desires. One drawback to having kids at home, though, is they often want to stick with things like pepperoni or just plain cheese pizza and while I like those toppings, I also like to kick it up a notch and eat gourmet once in a while.
My recipe for Chicken Pizza contains delicious queso fresco cheese, peppers, and onions. It is the perfect marriage of great taste that you would get at a premium pizza joint without the price tag!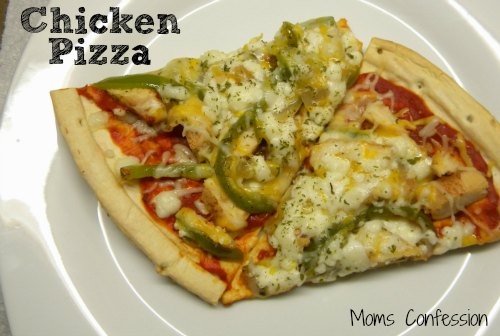 This version of pizza is super delicious, healthy and a great way to enjoy some premium toppings. What's more, kids still love it so you can enjoy it for family pizza night!
Chicken Pizza With A Texas Twist!
Preparation Time – 10 minutes
Cooking Time – 10-12 minutes
Ingredients
1 package thin pizza crust
Pre-cooked Chicken Strips
Queso Fresco Cheese (crumbled)
Mozzarella Cheese
Pizza Sauce
Green Bell Pepper (sliced)
Onion (sliced)
1/2 tablespoon Butter
How to Make Homemade Chicken Pizza
Pre-bake pizza crust according to directions on the package
Slice bell pepper and onion then saute in butter
Heat chicken according to directions on the package and dice
Add pizza sauce to pre-baked pizza crust
Top with chicken, onions, bell pepper, crumbled queso fresco and mozzarella cheese
Bake for 10 minutes or until cheese is melted