Yesterday's Fort Hood shooting hit a little closer to home than I would like to admit. While I don't know anyone personally that was involved, it hits home because my husband is a US Army Veteran and I know what the military way of life is…I lived it. Being a military wife and living on base was one of the best times in my life.
Much like the military members, military wives have a sense of camaraderie too. We stick together, lean on each other when it's rough, cry when we need to and above all else…we stand with and support each other all the time, but more so when our husbands are out in the field, on a mission or fighting a war in some far away country. The military wives stick together and have each others back just as much as their men in uniform do the same for their battle buddies in the field.
So back to yesterday's breaking news story out of Fort Hood. When the news broke about a shooter on base, I was floored. I thought this can't seriously be happening…again?!?! I scoured the internet, my twitter stream and any news I could gather about the incident at Fort Hood. I was on the brink of tears just thinking about the military lives that were being changed right there on my screen.
Then they released details on the shooter. Who he was, how he was seeking help at Fort hood for mental illness…potentially post traumatic stress disorder (PTSD). He was not yet diagnosed with it. Seeing those four little letters on the screen hit me the hardest because I live with PTSD. No I didn't serve in a war, go through a traumatic event as a child or anything, but I live with PTSD. I live with my husbands PTSD.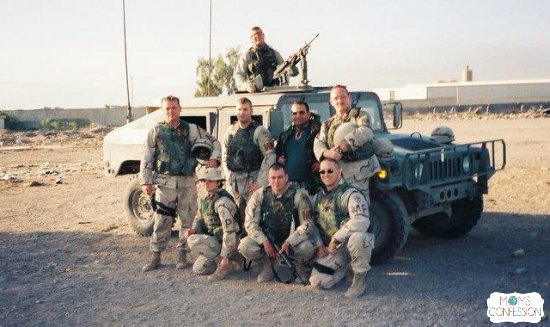 Living with PTSD
He served in the military from 1997-2005 and did a tour in Iraq from 2003-2004. He marched into Iraq on May 11, 2003 (Mother's Day) after all major combat operations were called off around May 2, 2003. Guess what…all major combat operations were not called off. My husband marched into a war zone that was not under control at all. He saw stuff that I can only imagine was horrifying. He did things that I can't even imagine doing.
I don't know everything, nor will I ever know everything about his deployment to Iraq and I'm completely ok with that. But I still live with the after effects of war through him. It's not easy, but I know what I'm up against. I've done research, I've been there to support him when he is down. I've grown to accept that he will not be the same person he was before his Iraq tour.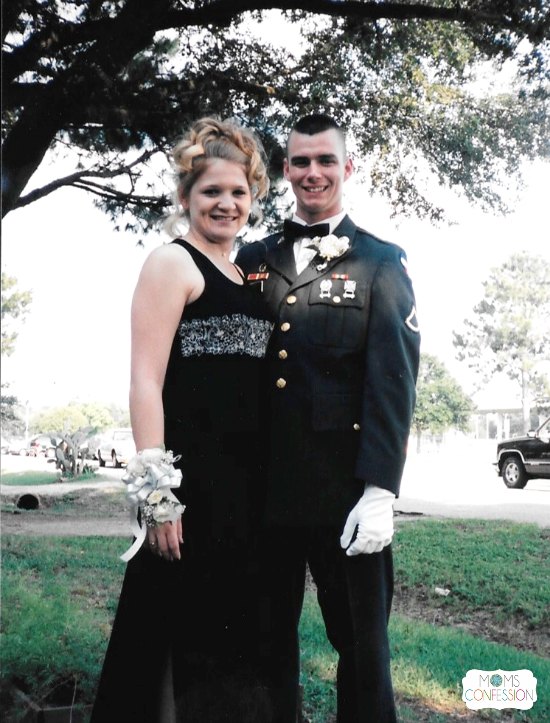 Before leaving for Iraq, my husband was an outgoing, fun loving guy with a great outlook on life. He lived every minute to it's fullest and had plans for the future. I am happy I got to see that side of him for the first 3 1/2 years of our marriage. When he came home from Iraq, I knew something was wrong…he wasn't the same person I married. He was different.
He lives on edge, doesn't like crowded places and avoids them like the plague. When we go out to eat, it has become an unspoken thing with our family that he gets to choose where he sits before anyone else can sit down. He lives to get through the day and takes life one step at a time. He's not the man I married nearly 15 years ago, but he is the husband I am married to now and that's ok.
Since his return home, we have spent countless hours at the VA hospital and just as many hours in various doctors offices looking for answers. It took a lot for me to even get him to acknowledge that something wasn't right and also get him to step foot into a doctors office. He was not diagnosed with PTSD right away. It took a couple years just to get a diagnosis for my husband, but after we got the diagnosis of PTSD along with traumatic brain injury (TBI), we were able to find a way to live with it…instead of it living for us.
Through the years, I have been wakened by his night terrors and even been hit in my sleep from him fighting in the dreams he has. He startles easily and loses his cool more times than I'd like to admit, but he is my husband and I know it's not his fault. It's his PTSD and the after effects that come with war.
It's not easy living with PTSD under your roof and I know that life could have gone worse if it wasn't for the support system I have tried my hardest to build for him. PTSD can either make or break a person, I could have easily left my husband when he returned home from Iraq a changed man. The problem is that wouldn't do any good for anyone. It would only make the problem worse. Living with PTSD requires a lot of support by family, friends and the biggest support is having ex-military members in that support system. Having them in the support system is key because it gives them a sense of camaraderie again. It's someone they can talk to, someone who understands what it's like…someone who gets it. I can't do that for my husband, nor can anyone else that hasn't seen war first hand.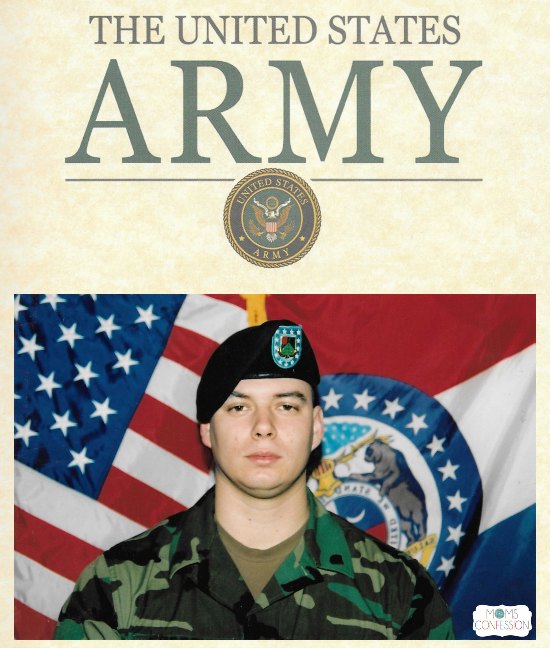 My husband proudly served 8 years in the Army for this country and if he were given orders to report to duty again…he would go in a heartbeat. My husband's military service makes me so proud of him. It's not just him that I am proud of..it's all of our military men and women serving (both past and present) our country that make me proud as well. They have fought for my freedom and there is not one thing I could do to repay them for that. All I can do is support them and say thank you to each and everyone of them from the bottom of my heart. So if you are a military wife, husband, veteran, or currently serving our country…
THANK YOU!
Freedom is not free…there is someone that has fought for the freedom you have today. Thank a serviceman, woman or veteran today and show them you care. Offer support if you see one that is down or needs a little uplifting.
If my husband were ending this…he would say HOOAH! So I'll say it for him…HOOAH (or is it HUA…hmm). Either way works!
Additional Help for Veterans in Crisis:
If you are in the military, a veteran or a family member looking for help, contact the Veterans Crisis Line.
About the Veterans Crisis Line according to their site: The Veterans Crisis Line connects Veterans in crisis and their families and friends with qualified, caring Department of Veterans Affairs responders through a confidential toll-free hotline, online chat, or text. Veterans and their loved ones can call 1-800-273-8255 and Press 1, chat online, or send a text message to 838255 to receive confidential support 24 hours a day, 7 days a week, 365 days a year.