Are you struggling to think of something yummy to cook your family for lunches over the holidays? One of my favorite things to do is fix my family a nice light lunch on holidays. I know we'll be eating a big meal later, so my goal is to keep them full, but not overly full. Check out some of my favorite holiday lunch ideas.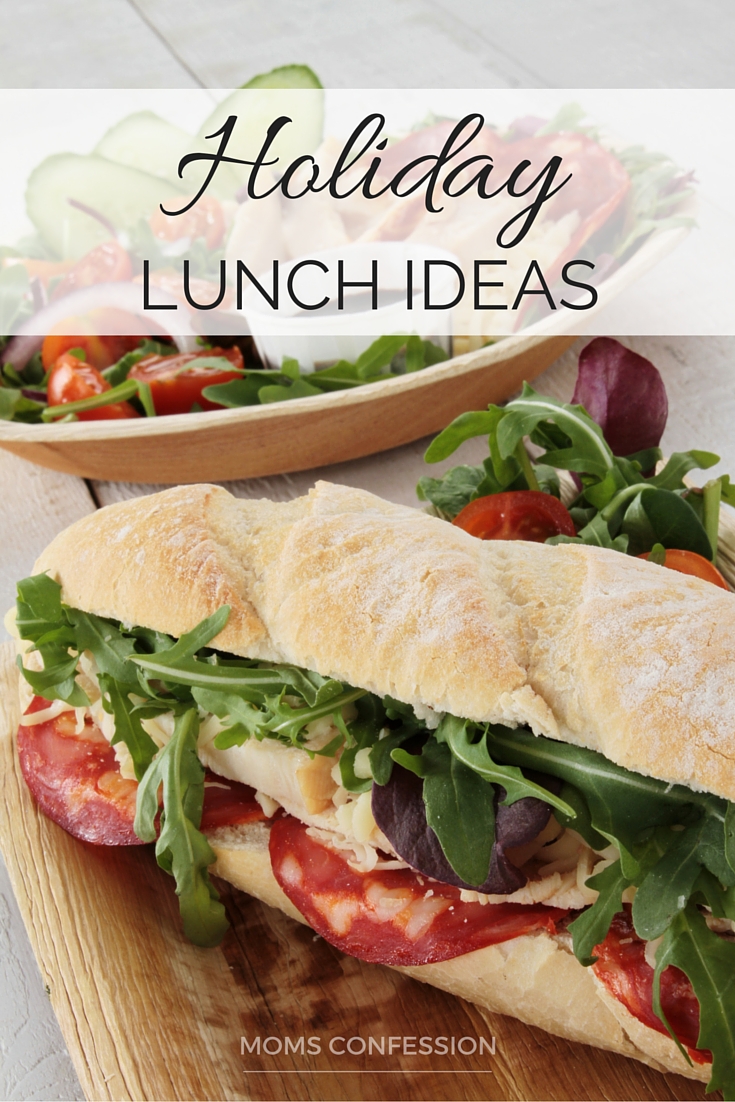 Holiday Lunch Ideas
Salads
I love making a nice salad for our holiday lunches. Sometimes I'll do an excellent Cobb Salad and other times I'll make a Spicy Chicken Salad. When it comes down to it, salads are so simple and delicious. They keep you full, but not too full, so you'll have room later for the bigger dinner.
For the best salads, use a salad spinner so the greens are clean and fresh.  Then store in this great salad container that keeps them fresh and crisp.
Pulled Meat Sandwiches
Obviously, during the holidays, I'm super busy and do not have a lot of time for extra cooking. I usually allow my slow cooker to do the hard cooking for me. Another go-to lunch for me during the holidays is pulled meat sandwiches. I LOVE putting pork or chicken in the crock pot and then enjoying it for lunch. My family enjoys this meal too; it's a favorite.
If you are worried about meat costs, don't miss our post about how to save money on meat.  This helps me keep meat on the table all the time and still stay in budget.
Chicken Salad/Egg Salad
Another super easy meal I make during holidays for a quick lunch is the chicken salad/egg salad type meals. They're so easy and fast and most of the time I have the ingredients right on hand. I always make a big batch so we can have it for lunch and then even leftovers for the days to come.
My friend Katie has a great Healthy Chicken Salad recipe you can try if you are worried about having too many calories around the holidays.
Lunch Meat Sandwiches
I know it looks like I'm taking the easy route for holiday meals, and maybe I am. Remember these meals should be quick & light. You don't want to make anything too heavy, you'll be chowing down later. There is nothing in this world like a lunch meat sandwich; you can make it quick and eat it just as fast and get back to your regular holiday cooking.
I hope you enjoy these tips for making some of my favorite holiday lunch ideas.  With simple options, your budget will thank you, and your family will be satisfied.  You don't have to slave over a hot stove for hours to present a delicious meal everyone will enjoy for the holiday season.
Looking for More Holiday Meal Ideas?