8 Ways to Make Money from Home
Being able to earn money from the comfort of your own home is a dream for many. Thankfully, the Internet has made this more and more of a reality. In fact, to make money from home it has never been easier.  The list below gives you a great beginning to how you can utilize your time at home to make money for vacations, groceries, or in some cases a full time income.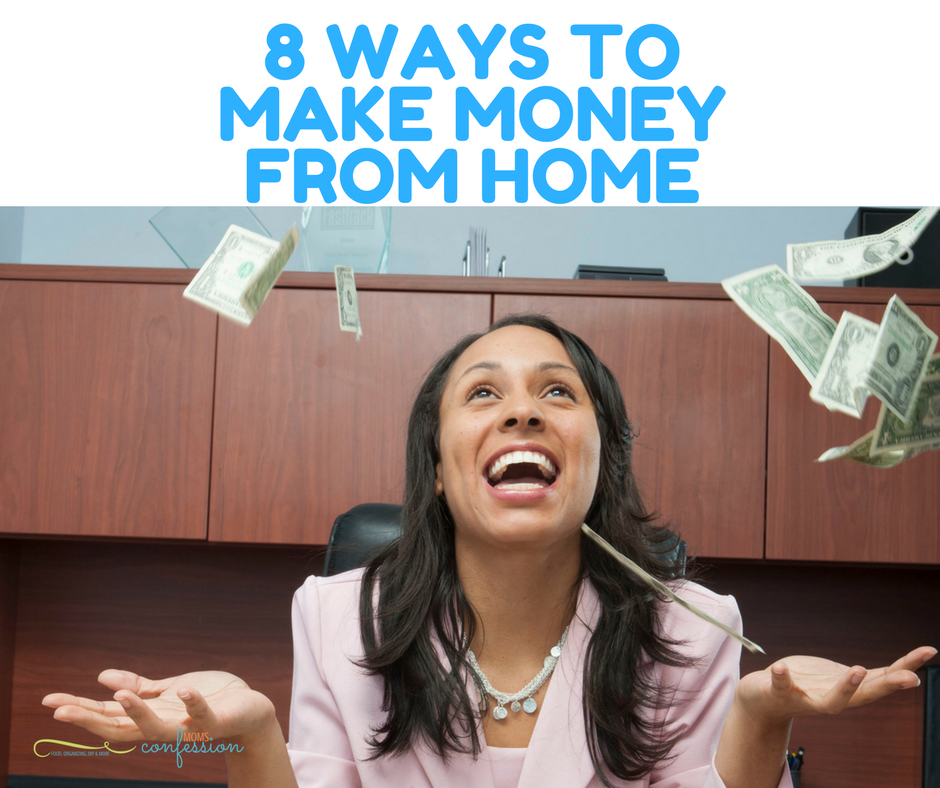 8 Ways To Make Money From Home
1. Surveys
Getting paid for giving your opinion is always fun! You can do paid surveys in your spare time, to supplement a full-time job or build your savings account. If you sign up with many different websites, you can get enough survey opportunities to build a substantial income.
Some of my favorite survey sites include:
Pinecone Research – They offer a set $3 per survey, and they pay much faster than most other survey websites. You will only get survey invitations with Pinecone if you are qualified, rather than getting turned away after answering the first few questions. Pinecone also offers paid product testing, which is always a nice change from just answering questions all the time!
Opinions Outpost – You can cash out with Opinions Outpost after $5-$10 are accumulated, and they pay with PayPal or in gift cards. Payments usually take just a single day to reach you once you cash out.
MySurvey – Another reputable survey website, MySurvey has been around since the mid-2000's. They also offer PayPal cash or gift cards. Not a lot of surveys come from here (maybe one every 1-2 weeks), but if you consistently do the ones you are offered, it doesn't take long to reach payout.
2. Blogging
Starting a blog will take some time, but you can earn a nice income from it. Owning a blog lets you make money from paid advertising, writing sponsored posts, or even affiliate marketing (promoting products and earning a commission for each sale).
Try to start in a niche you are familiar with, as you will be writing a lot of content on the subject and related topics. Courses like Elite Blogging Academy or Strategic Blogging Academy can help you get your blog up and running and earning money from home for you.
3. Freelance Writing
Website owners and bloggers have a constant need for content. If you enjoy writing articles and blog posts on hot topics such as health, travel, parenting, or frugal living, you can earn extra money working from home as a freelance writer.
If recipes or crafts are more your thing, you could still earn money selling original tutorials. Specialize in things like simple recipes or gluten-free recipes and you can quickly become the go-to person for this type of content!
4. Virtual Assistant
Owning a blog is a very busy job. There is so much behind the scenes work that many bloggers decide to hire a virtual assistant (VA) to help with the most tedious tasks. Many hire for things like email management, social media management, photo editing, and content creation.
As a VA, you can use your skills to land jobs that are enjoyable for you. Some get paid hourly while others charge a flat fee for each project or assignment.
5. Etsy Seller
If you enjoy making crafts or other handmade items, selling on Etsy may be a great way for you to make money from home. You will get your own storefront and can fill it with your merchandise. You get to set the prices and transform your hobby into a lucrative (side) business for yourself!
6. eBook Author
eBooks have changed the world of publishing and made it so easy for any author to be self-published. Whether you enjoy writing fiction or non-fiction titles, you can now work from home making money as a writer.
Get familiar with Amazon's Kindle Direct Publishing to start self-publishing your work. Barnes and Noble also offer a platform called NookPress for self-published authors.
7. Coaching Services
If you are seen as an expert in a niche and want to teach others how to succeed in this area, consider making money from home as a coach. Many of the top online coaches charge $100-$200+ for a one-hour coaching session, so you can decide how much you want to make and schedule accordingly.
8. eBay Seller
If you have old items lying around that you wish to get rid of while making money, become an eBay seller. Once your house is free of the clutter, start visiting yard sales for more products to sale. You can also offer arbitrage services out of your home. This involves taking other people's items, selling them through your eBay account, and then keeping a commission off of each sale.
As you can see, there are tons of great ways to make money from home.  Whether you have a specific skillset or want to invest in training, you can easily bring in an extra source of income with just a few hours a day.
More Frugal Tips:
How To Teach Teens To Budget Money
How To Save Money On Your Cell Phone
How To Save Money Without Coupons
The Best Money Saving Tips For Moms