Spring Break Fun for All Ages
WOAH this year has flown by super fast and it's hard to believe that Spring Break is already here.  This past week, I was talking with the kids about what has been going on at school when one of them reminded me that Spring Break was this coming week.  Yikes!
I haven't planned…I haven't even thought about it!  Double yikes!
So I asked them for suggestions on what kind of fun they would like to have since I know for a FACT that having two teens in the house for a week is going to be CRAZY if we don't have plans.  You know what I mean right?
These are their awesome Spring Break Fun suggestions that fit every age group…Check it out!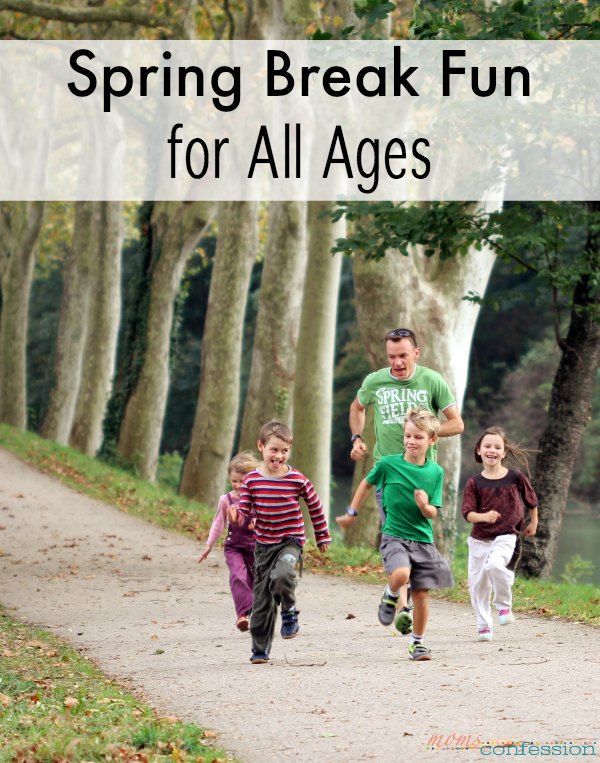 Hang out with friends!
Let the kids be kids and enjoy having their friends over for some backyard fun. Throw an impromptu party of sorts with water balloons, backyard bowling, horseshoes, pizza, popcorn, and soda!
Catch some rays at the park!
Enjoy a day at the park and catch some rays to brighten the skin tone. Pack a picnic and have fun being a kid again! (who says we all have to be grown up every day of the year?!?!) 
Go to the beach!
If you're able to soak up the sun while the waves crash on your toes, why wouldn't you do it? Any chance we can get to the beach, we are totally there. The beach is our families happy place, especially over Spring Break.
Host a backyard BBQ!
Host a potluck barbecue with friends.  Have everyone bring something to the table while you provide a fun and inviting place to have fun!  Set up the fire pit, roast marshmallows, swap funny stories and above all else enjoy your each others company!
Head to the library!
Curl up in a chair or on a mat at the library with a good book and share your love of reading with your little ones.
Get Crafty!
Head to your local Dollar Tree store and see what crafts they have for $1 that you can do together. Then head home and have fun getting crafty with the kids!
Enjoy a staycation!
Set up the tent in the backyard and pack up everything you need for a fun camping trip in the backyard.  Fire up the fire pit and share stories together as a family (favorite trips, family memories, etc.)  It's all about enjoying your family and feeling like you are on an actual camping trip away from home!  Be sure you don't go into the house unless it's to use the facilities. Or check out all these great staycation ideas across the country!
How do you spend your spring break vacation as a family?