Pepper Jack Macaroni and Cheese
I love creating new recipes and I am so excited to be featured on the Loaf Life Blog for Tillamook Cheese! WOOHOO!!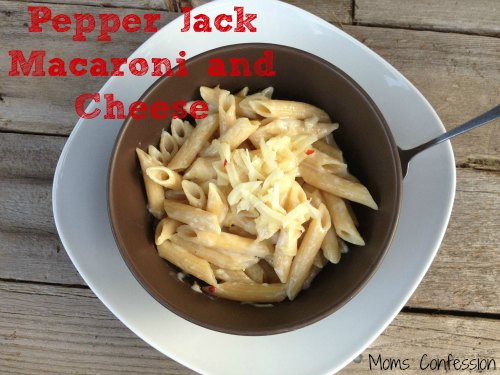 Today's recipe is delicious, simple to make and super tasty!  I hope your family loves it just as much as mine! :)
Macaroni & Cheese is number one on my kiddos list and pretty much every kid I know LOVES the delicious taste of cheese on macaroni noodles. Put a pepper jack twist on everyday mac-n-cheese that the entire family can enjoy!
Pepper Jack Macaroni and Cheese
Yield – 6 servings
Preparation Time – 15 minutes
Cooking Time – 15 minutes
Ingredients
3 tablespoons Tillamook Salted Butter
⅛ cup Tillamook Fat Free Sour Cream
1 cup Tillamook Pepper Jack Cheese, shredded
⅛ cup milk
2 cups macaroni noodles
4 cups water
Instructions
In a pot, heat on high until water begins to boil.
Add macaroni noodles and cook for 8-10 minutes.
When noodles have completely cooked, remove from heat and drain off excess water.
Once water has been drained, add Tillamook salted butter, sour cream, Pepper Jack cheese, and milk to noodles, and stir well.
Serve and enjoy!
This recipe is sponsored by Tillamook Cheese. I received the Tillamook products in order to provide the create the recipe above.
More Side Dish Dinner Ideas
[riview id=486 num=2000 orderby=title order=asc size=150×150 showtitle=always lightbox=0]