20 Easter Activities for Kids and Families
Easter is sneaking up on us and will be here before we know it! When my boys were little, I loved doing easter activities with them. It was fun to come up with new and exciting easter craft ideas together. Of course that was before Pinterest made its debut online. Oh how I wish I would have been able to easily search for fun crafts and ideas for easter back when my kids were itty bitty. It would have made craft time so much easier on me, but it did let us get super creative so that's definately a win in my books!!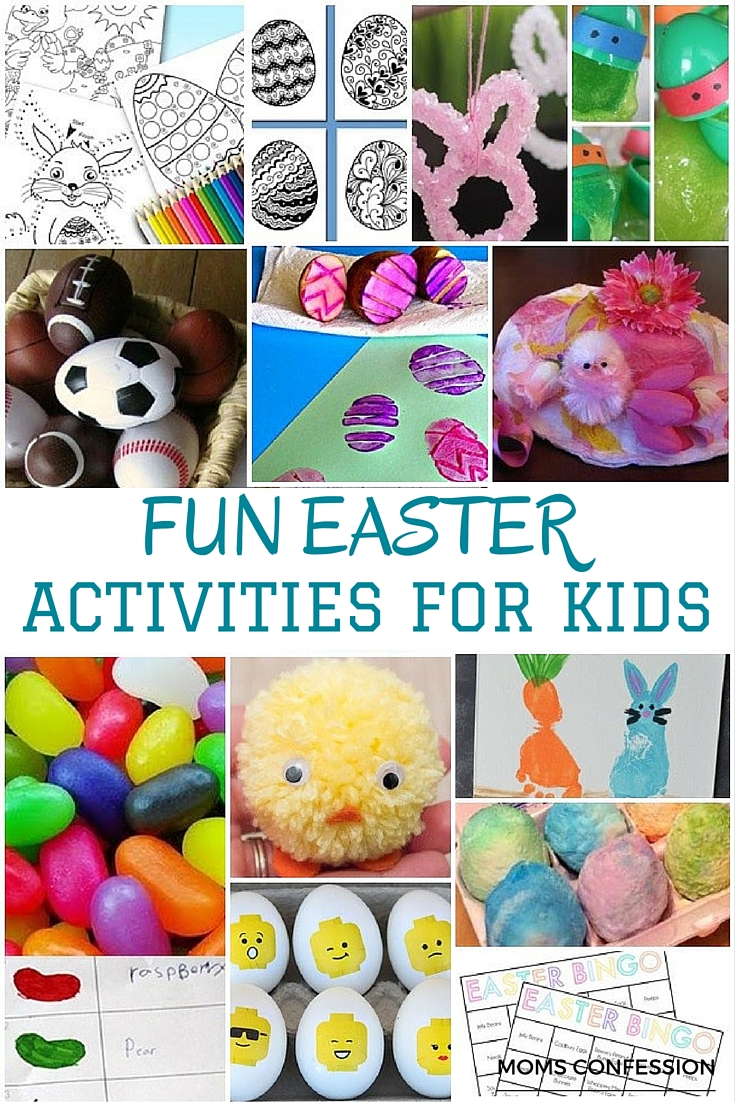 Either way, we created some fun easter crafts while creating plenty of memories along the way. Anyways, check out these 20 fun Easter activities for kids of all ages. You will have a ball and so will the kiddos.
20 Fun Easter Activities for Kids and Families
Shaving Cream Eggs – The boys and I had fun making our easter eggs like this a couple years ago. It was so easy and a fun way to dye eggs!
Growing Crystals – This is a fun science experiment for the kids! Who knew 2 ingredients would make something so awesome!
Easter Egg Printable Coloring Pages – 21 fun Eater egg printables the kids an enjoy
Easter Egg Potato Stamping Craft for Kids – fun way to create Easter egg stamps
Exercise Eggs Scavenger Hunt – cute way to get the kids moving after hunting for their eggs
Easter Footprint Canvas Keepsake – My kids are WAY too old for this one, but this Easter bunny and carrot footprint keepsake is too darn cute!
Easy Jelly Bean Bracelets – These are like the Cheerios or Fruit Loop necklaces we made as kids…only these bracelets are perfect for Easter and they taste good too!
Pom Pom Chicks – Chirp…chirp…chirp! These pom pom Easter chicks are the cutest thing I have seen all day!
Magic Hatching Easter Eggs – This is a fun craft the kids are going to remember for years! Make memories y'all…make memories!
Space Eggs Easter Craft – These space Easter eggs are awesome…that's all! :)
Easter Egg Suncatcher – Suncatchers rock and this Easter egg craft is one my boys still talk about making so many years ago!
Jelly Bean Taste Test – another Easter science experiment for the littles in your life
DIY Lego Easter Egg Printable – Lego lovers…this one is for you!
Easter Bonnet Paper Craft – a cute Easter paper craft project for the little girls to wear and enjoy
Ninja Turtle Slime Eggs Activity – Slime Easter eggs…this is a fun idea for kids of all ages!
Easter Candy Bingo Printable – Everyone loves bingo and this Easter bingo game is one to play year afer year.
Fingerprint Easter Egg Craft Printable – great project for kids to learn counting and colors then either give as a homemade gift to grandparents or showcase on the fridge
Bunny Paper Bag Puppet – The kids and I made this Easter bunny puppet craft years ago…as a matter of fact, I think I still have them today! :)
Easter Egg Letter Matching Printable – it's Memory…Easter style!
Easter Activity Pages Printables – cute Easter printable pages for kids to practice coloring and drawing
Which of these Easter activities for kids will you be doing this year?