Meal Planning Organization Tips to Get Organized
This guest post is brought to you by Kate at Maternity Glow. Thank you for sharing your meal planning organization tips Kate!
As a full-time stay-at-home mom with two little kids to parent (not to mention a home to care for), I often find myself being short on time. If you're anything like me, you probably feel the same way!
And being honest, prepping and cooking a meal is the last thing I want or need to worry about after looking after my kids all day. So, I decided to take control of my life and my meals, by planning ahead of time. Once you start doing it, you totally get the hang of it.
But, there are a few key things to consider helping you make the most of your time and this process. Read on to learn about some of my tips and tricks to help you stay just as organized as I do when planning out my meals.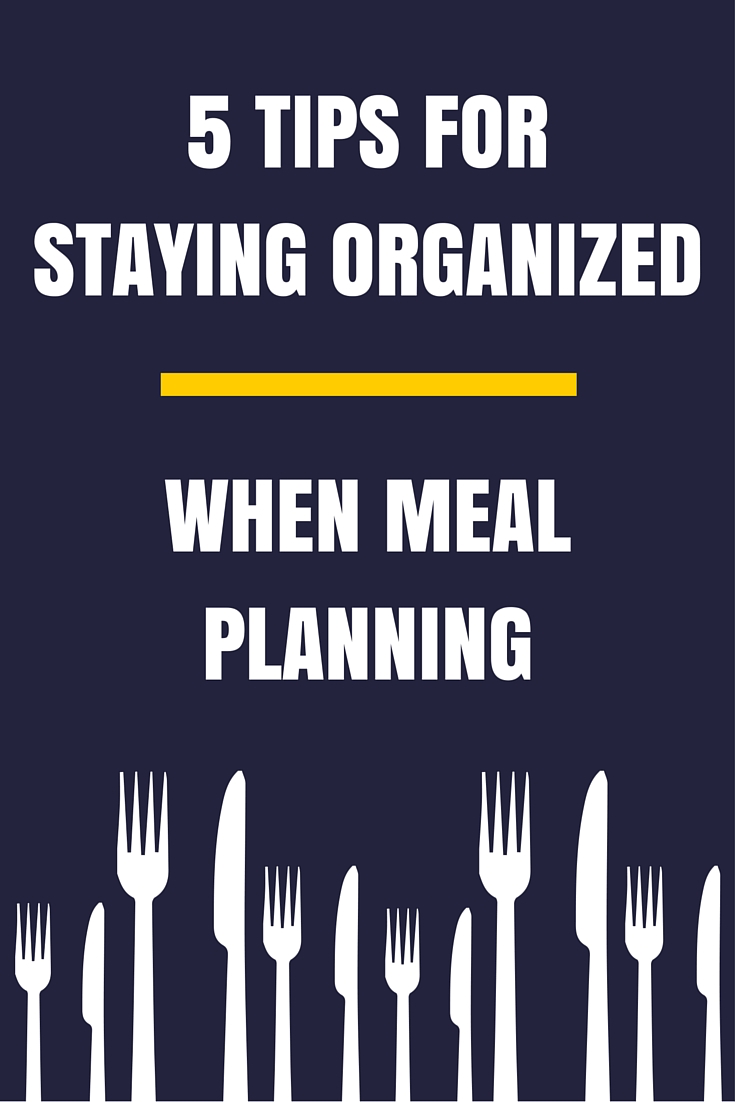 Meal Planning Organization Tips to Get Organized
1. Post a Menu Plan
I used to plan out my meals on sticky notes. After losing the pieces of paper every week, that did no one any good! Instead, I would suggestion hanging up a chalkboard (or a dry erase calendar board) and start posting what you are serving each night of the week. This way, family members are already in the know of what to expect for dinner each night (and so you don't have to remember!)
2. Cook Meals Wisely
What I mean by this is do not make something for dinner that takes an hour to cook if you are going to be busy into the evening, or if your children have a sports event to attend. Keep it simple on nights like this. Consider using your crock pot, or have a tray of lasagna already baked, so all you have to do is warm it back up! If you have little kiddos still eating baby food, consider stocking up on some easy-to-eat pouches that are also healthy.
3. Keep an Accurate Grocery List
I used to think I had grocery shopping under control and I could remember everything I was going to make, as well as every ingredient I needed. I jotted down notes, but when I'd get home, there was always something missing on my list, making me head right back to the store to grab it.
Consider making your week's grocery list one night when everyone is in bed. You will have full concentration and will even have time to scan through your Pinterest page to read over each recipe thoroughly.
4. Try Color Coded Meal Planning
One thing that helped me was color coding my containers! After I'd prep veggies or cut up my meats, I wouldn't just keep them in any old container. I'd designate a lid color for each day of the week, so if I saw anything green in my fridge, I'd know to pull it out Monday evening to use in my meal.
Color-coding has kept things ultra-organized, and my husband also appreciates this strategy when he has to take over in the kitchen here and there and play chef!
5. Make Time to Meal Prep
This was always one of my least favorite things, but it is so necessary for everything to run smoothly throughout your week when cooking. Find one day that you can do all your peeling, cutting, chopping, and pureeing.
My day is always Sunday. I wake up, have my coffee and spend about an hour and a half in the kitchen (sometimes less if I have helpers). I get everything ready for the week, and then I get to enjoy the rest of my Sunday, not having to worry about it. Everything is ready to go for the week's meals!
Wrapping Up
If you've decided to start prepping your meals, you've made an awesome decision! You are sure to notice a difference when cooking your weeknight meals, and a difference how you feel since you have a freshly cooked meal at home each night (no more take out!)
These five meal planning organization tips and tricks really helped me get organized, and I know they will help you too!
Happy meal prepping!
Kate Trout is the author behind Maternity Glow, A New Mom's Guide to Figuring it All Out. She's a coffee addict, wine drinker, and cheese lover. Oh, and she's also Mom to the two cutest little kids.