7 Frugal Valentines Presents Ideas For Men
This year you can easily take advantage of this great list of Frugal Valentines Presents Ideas for Men to give the man in your life an amazing treat that won't break the bank.
When you are working hard in all areas to save money, it is great to find ways to stay in budget while giving personalized gifts for him on Valentine's Day.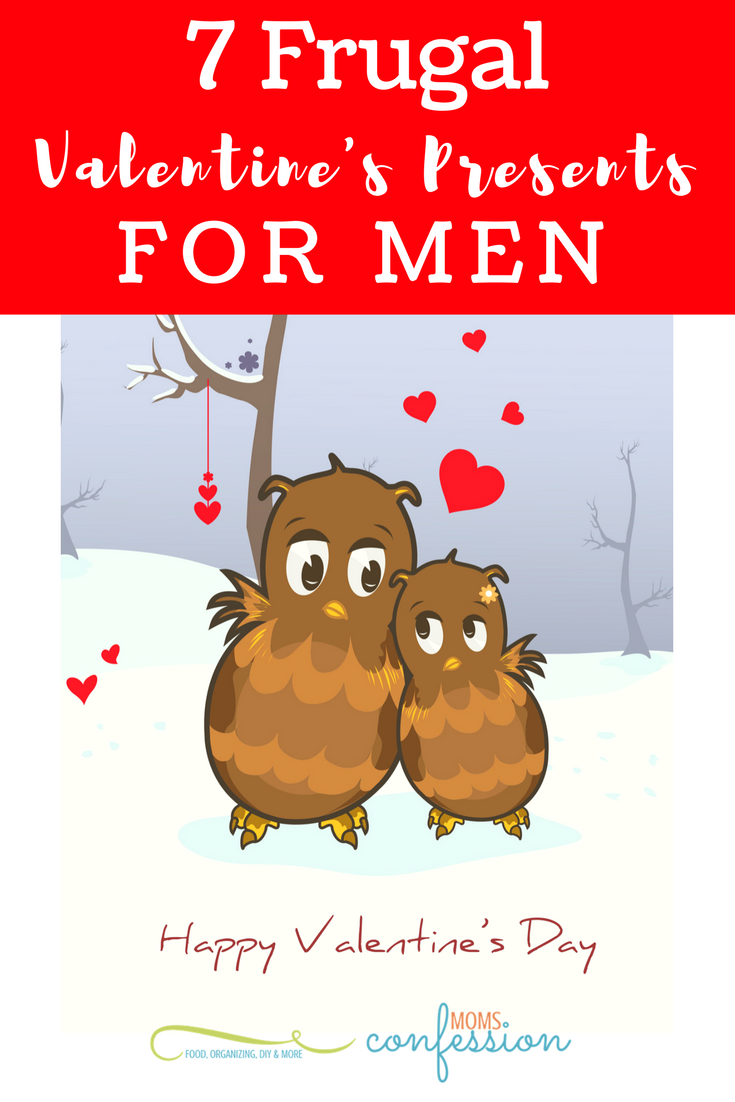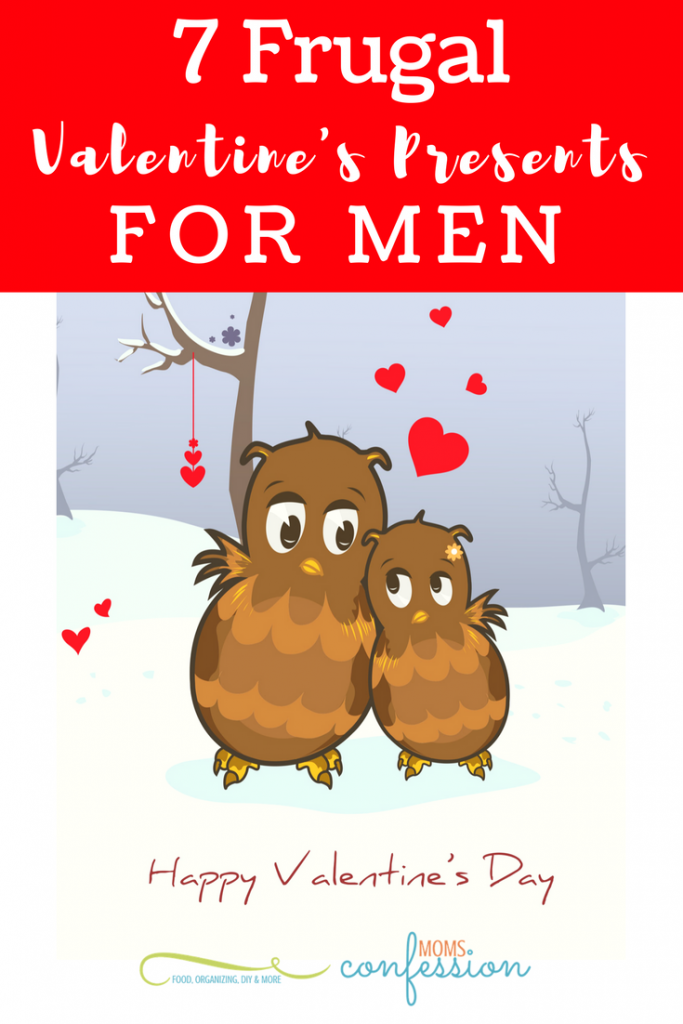 7 Frugal Valentines Presents Ideas For Men
Make something he can use.
There are tons of homemade gifts that are cute and kitschy out there, but think about what he can and will actually use. Some men love the homemade cards and pictures their kids draw, but others find it sweet yet just another item they have to find a place for in their office.
Instead of making just any craft online, focus on things he uses regularly and see how you can make them for him.
If he is a coffee drinker, you can customize a simple coffee mug with his kid's handprints. If he is working out in the cold during the winter, you could knit or crochet him a scarf, wool socks or gloves.
If he is on the road a lot, you could even go old school and make him a mixtape (aka playlist) of fun songs, upbeat songs or even love songs to listen to while he drives.
If your husband has a beard, something like this Rosemary & Clove Beard Oil would be a fun and easy option you could make.
Make his favorite meal or treat.
They always say the way to a man's heart is through his stomach. While it may not be one of the most unique valentines gifts for him, it is something most men will love.
It is especially fun to get kids involved helping you make cookies, cakes or treats that he can pack and take with him to work.
Create a coupon booklet for him to use.
These may seem cheesy, but for some men, this is the perfect choice of valentines presents for him. It gives them a little something they can use anytime, and it shows you are willing to do what they need or ask any time because you love them and want them to know they are important to me.
There is any number of things you can choose to add to your coupon booklet from the intimate to the funny or even simply a free meal of their choice when it's your night to cook.
Katie at You Brew My Tea has a simple Coupon Booklet you can personalize for anyone.
Have something he loves personalized.
Personalized gifts for him on Valentine's Day are always a big hit, and if you have a limited budget they can work great. Especially if you can personalize something he already owns and loves.
Engraving centers are often found in kiosks in your mall and charge a nominal fee on products you want personalizing.
If you have a little larger budget, you may also want to check out some places online to order a new item that has been personalized for him.  These custom coffee tumblers are really popular and a great Valentines present for men.
Give your time.
Hands down one of the valentines presents for him that will always win is your time. So many men just want you to put down the phone, book or magazine and listen to them.
Maybe it's turning off all social media and distractions to hear him go on for an hour about his favorite video game, or perhaps it is simply leaving your phone at home next time he takes you out for dinner. It's free, and he will feel very loved.
Gift cards for breakfast or lunch out.
If you have a small budget, a $5-$10 gift card to his favorite breakfast spot, coffee shop or donut shop can give him a great meal on a busy morning. You can do the same for local restaurants he frequents with his coworkers for lunch.
This gives you a break from packing a meal and gives him a little pick me up treat. Even just $5-$10 is a great little gift that is heartfelt and reminds him not just on Valentine's Day, but later on that you are thinking of him and love him.
One of my favorite Valentines presents to give or receive is a Cracker Barrel Gift Card or a Starbucks Gift Card!
A book.
One of my favorite simple and usually frugal Valentine's gift ideas for men is to buy them a book. Some men don't like to read much, but you will be surprised at the books they will enjoy. It doesn't have to be fiction, but can be a book of beautiful photography, tutorials on their favorite games or car repair needs, jokes and humor or political topics.
A paperback book purchased on Amazon can be as little as $3-$5 shipped. Personalize gifts for him can also be part of this simply by adding a handwritten message inside the cover with the date.
Great authors to check out for men are:  Michael Crichton, Clive Cussler, David Baldacci, and Michael Connelly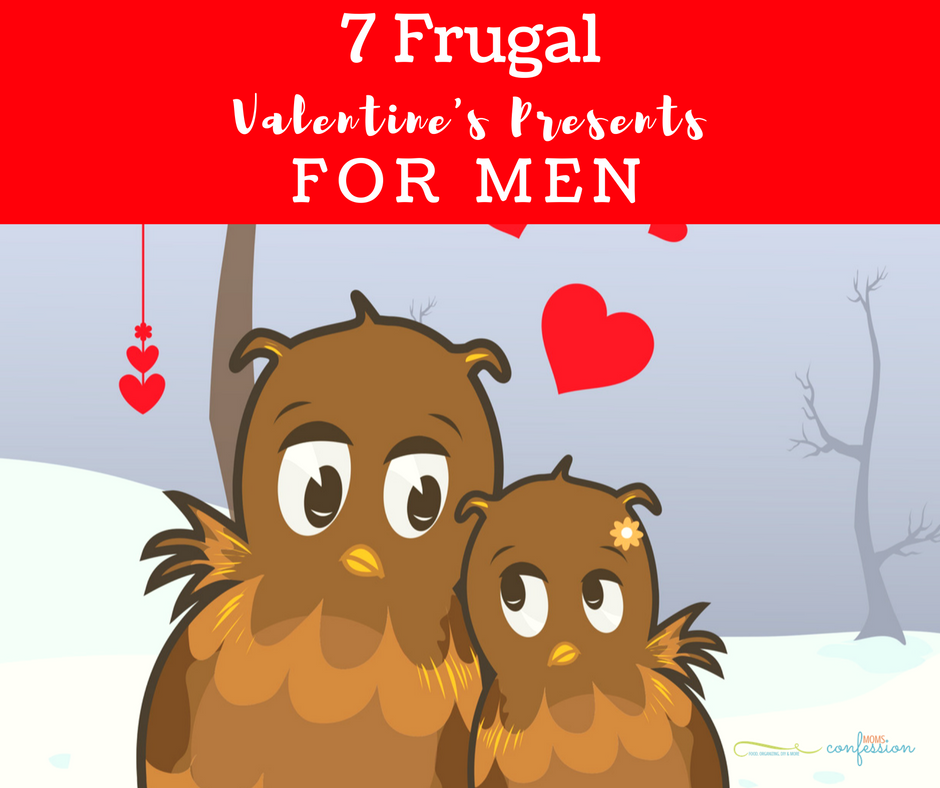 These frugal Valentines presents ideas for men are simple for almost anyone on any budget to manage. From giving something homemade to gifting a simple but powerful book, your husband, brother, father or friend will be thrilled with your choice for him this Valentine's Day.
More Valentines Day Ideas: