Did you know that the fruit of Texas is the Grapefruit? I have grown up in this great state my entire life and for some reason it was news to me. :/ This was just one of the many cool facts I learned about Rio Star Grapefruits from the wonderful people at TexaSweet during an workshop a couple weeks ago at Central Market in Houston. Before that day, the only thing I knew about grapefruit was that it tastes delicious! Growing up, I remember sharing this delicious treat with my dad. Our favorite late night snack and after dinner snacks together was delicious red grapefruit and side of sugar! YUM!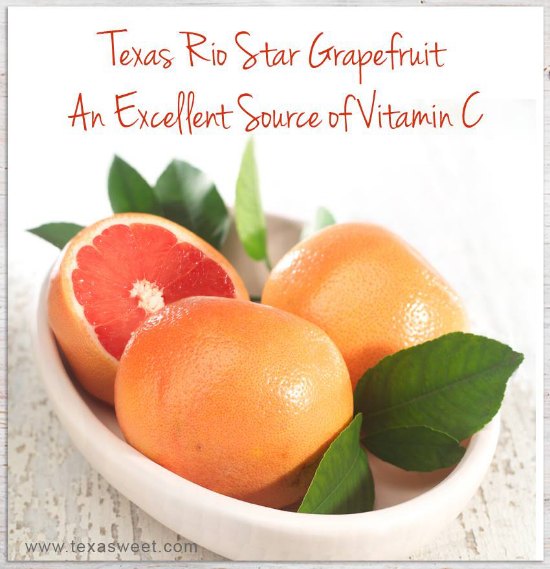 Rio Star Grapefruit is a popular citrus fruit that is a cross between a delicious sweet orange and a pummelo. There are actually 3 different variations of grapefruit that are grown. They include white, pink and red varieties. Each of these grapefruit have their own distinct flavor and coloring, but what sets them apart the most is their taste. The red variety is by far the sweetest grapefruit available and you know what…the the Ruby-Sweet and Rio Star variety is the only one produced in Texas! That makes us special, right?!? :)
A Few Fun Facts about Rio Star Grapefruit:
In 1929, Texas Citrus growers accidentally discovered the sweet red grapefruit that we all know and love as the Rio Star or Ruby-Sweet.
Over several decades after the sweet red grapefruit was discovered, even redder mutations of the fruit were discovered and each one was named after the grower who found it.
The Ruby Red was the first grapefruit to be granted a United States patent.
The Texas Red Grapefruit was named the State Fruit of Texas in 1993.
There is a lot history that I didn't know about the Texas Rio Star Grapefruit and you can learn more about it here on the TexaSweet website. There is a lot more great little facts and fun tidbits to learn about this delicious citrus fruit!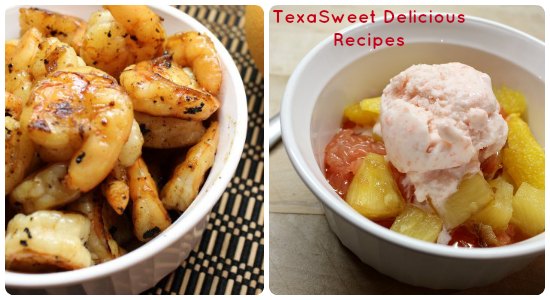 During the workshop with TexaSweet, we learned how to cut a grapefruit and we cooked some really delicious dishes to enjoy (using grapefruit in each one). I had only enjoyed the tasty citrus with sugar so I was floored when I learned just how delicious this citrus fruit tastes when you cook with it. Check out the recipes below and I hope you enjoy them as much as my family did this week!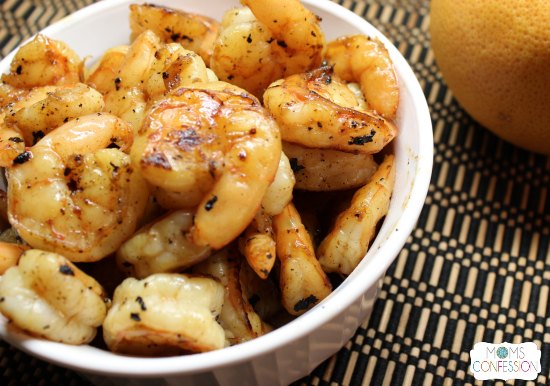 Grilled Shrimp with Rio Star Grapefruit Glaze

Yield – 6 servings

Preparation Time – * minutes

Cooking Time – * minutes

Ingredients

2 cloves garlic, minced
1 tsp. grapefruit zest
½ cup fresh Rio Star Grapefruit juice
1 tbs. olive oil
2 tbs. honey
½ tsp. salt
¼ tsp. black pepper
1 lb. jumbo shrimp peeled and deveined
12 wooden skewers, soaked for 30 minutes in water

Instructions

Light the grill. In a small bowl, combine the garlic, grapefruit zest, grapefruit juice, olive oil, honey, salt, and pepper.
Add shrimp to the marinade, stirring well to coat.
Let marinate for 20 minutes, stirring after 10 minutes.
Thread shrimp onto wooden skewers. Cook the shrimp until just done, 2 to 3 minutes per side. Brush each side with glaze while grilling.
In a small sauce pan, bring the remaining glaze to a boil. Boil for 1 minute, remove from heat and pour over shrimp skewers.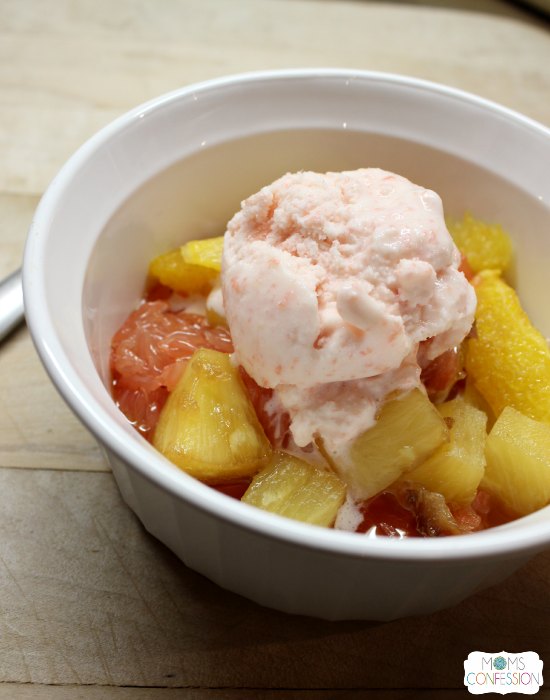 Warm Texas Citrus with Brown Sugar

Yield – 4 servings

Preparation Time – * minutes

Cooking Time – * minutes

Ingredients

2 Rio Star Grapefruit, sectioned
2 Texas Oranges, sectioned
1 cup fresh pineapple chunks
½ cup packed brown sugar
2 tablespoons butter, softened

Instructions

In a medium bowl, combine grapefruit, oranges,
and pineapple. Transfer to a 1-quart, broiler-safe
casserole dish.
In a small bowl, mix together brown sugar and butter; sprinkle over fruit.
Broil about 4 inches from heat for 5 to 6 minutes until sugar is bubbly and fruit is warmed.
Serve warm.
Rio Star Grapefruit Ice Cream

Yield – * servings

Preparation Time – * minutes

Cooking Time – * minutes

Ingredients

4 Rio Star Grapefruit, sectioned
2 containers (8 oz. each) lemon yogurt
½ cup 0-calorie sweetener

Instructions

Place grapefruit sections on a sheet pan, cover with plastic wrap, and freeze for 30 minutes.
Combine frozen grapefruit sections, yogurt and sweetener in food processor bowl and process 30 seconds or until smooth and creamy.
Freeze for several hours or overnight.
Find more recipes on the TexaSweet website and be sure to follow them on Facebook, and Pinterest for more citrus treats!
This post is brought to you by TexaSweet. I attended a workshop and received a gift card to purchase the ingredients for these recipes so my family could try them at home. All opinions are 100% my own.