Soft, moist, cake-like cookies with a delicious pumpkin base…sounds great, right? These Pumpkin White Chocolate Cookies are a great recipe to start off the fall season! They are super easy to throw together and insanely good to devour. One bite is never enough!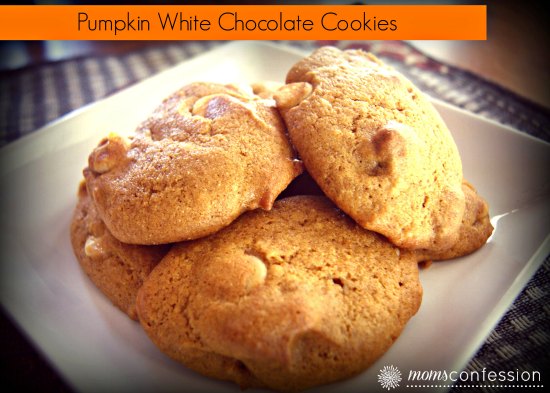 Pumpkin White Chocolate Cookies
Do you remember the great canned pumpkin shortage of 2012? I do…It was bad. It had something to do with weather not being too wet for the poor pumpkins. Perhaps this was not as bad as an outbreak of a plague or something, but for a self-proclaimed pumpkin addict it was dire enough.
Pies, cakes, cookies, and coffee…you name it and I will put pumpkin in it. So after it was hard to find on store shelves last year I stocked up. If it makes me odd that I made several pumpkin recipes over the summer months, so be it. Because my addiction to everything pumpkin is here…check out this super delicious Pumpkin White Chocolate Cookie Recipe and devour a bite or two for yourself!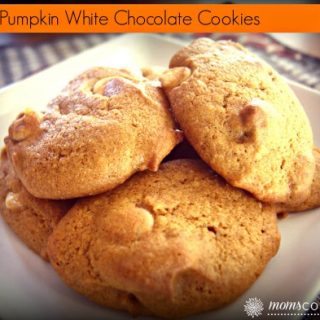 Pumpkin White Chocolate Cookies
Ingredients
2 ½ cups all-purpose flour
1 tsp baking soda
1 tsp baking powder
1 tsp cinnamon
1 tsp pumpkin pie spice
½ tsp salt
1 ½ tsp vanilla extract
1 cup canned pumpkin puree
1 ½ cups brown sugar lightly packed
1 stick softened
1 egg
½ cup walnuts (optional)
Instructions
Preheat oven to 350°.
Mix flour, baking soda, baking powder, cinnamon, pumpkin pie spice, and salt thoroughly.
In a separate bowl, cream butter and sugar. Add in pumpkin, egg, and vanilla until mixture is smooth and creamy.
Combine flour mixture and wet ingredients thoroughly. Gently fold in white chocolate chips, and walnuts.
Drop by the spoonful onto a greased or parchment lined cookie sheet.
Bake for 16-20 minutes until edges begin to brown.
After 1 minute remove from pan and allow to cool on rack.
Notes
**Can be stored at room temperature for a week, if they last that long.
Try our twist on traditional family recipes here!
What is your favorite recipe with pumpkin?