Simple No-Glue Halloween Wreath
Hello October! Hello Halloween! And hello to holiday decorating! Between Halloween and Christmas, I have the hardest time choosing which is my favorite holiday since both of them are fun and festive in their own way. Just like Christmas, I love creating a new wreath for the season without spending an arm and a leg.
My budget is always on my mind when it comes to decorating so I often seek out items from the Dollar General to keep it in order. One thing about shopping at the Dollar General is that you have to keep an open mind and also think outside the box (especially when you are creating DIY projects). When I went to the store last week to pick up wreath supplies for Halloween, I knew I would have to think outside the box. I already had a generalized idea of what my wreath would look (I'm a processor and visualizer) like this year so I kept that in mind.
After a little bit of thinking and visualizing everything together…I knew I would have the best Halloween Wreath on the block (with the exception of making a second one for my mother!) :) Check out all the Happy Haunting items this Halloween at your local stores, they have so many great items for the season! So lets dig in and make an awesome Halloween Wreath together!!
Halloween Wreath Supplies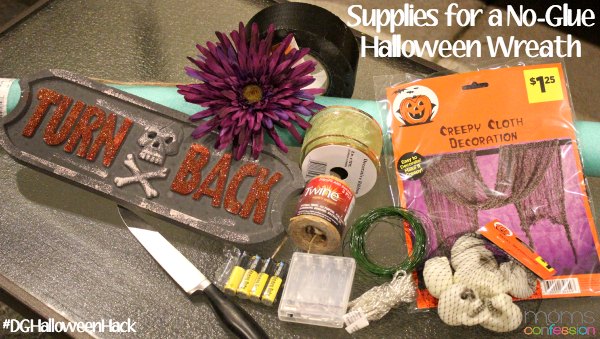 Pool Noodle
Strand of 10 Battery Powered Lights
Batteries (check lights to see what size – mine took AA)
Gardening Wire or thin wire
Foam Halloween Sign (they have 3 options: Turn Back, Dead End or Haunted House)
Scissors
How to Make a No Glue Halloween Wreath
Pin this Halloween Wreath for later and head out to your local Dollar General today to pick up your supplies!