Frugal Home Remodel Tips For Kitchens
Frugal home remodel tips like these for kitchens are perfect for making your home look amazing on a budget. A few simple fixes can save tons of money easily!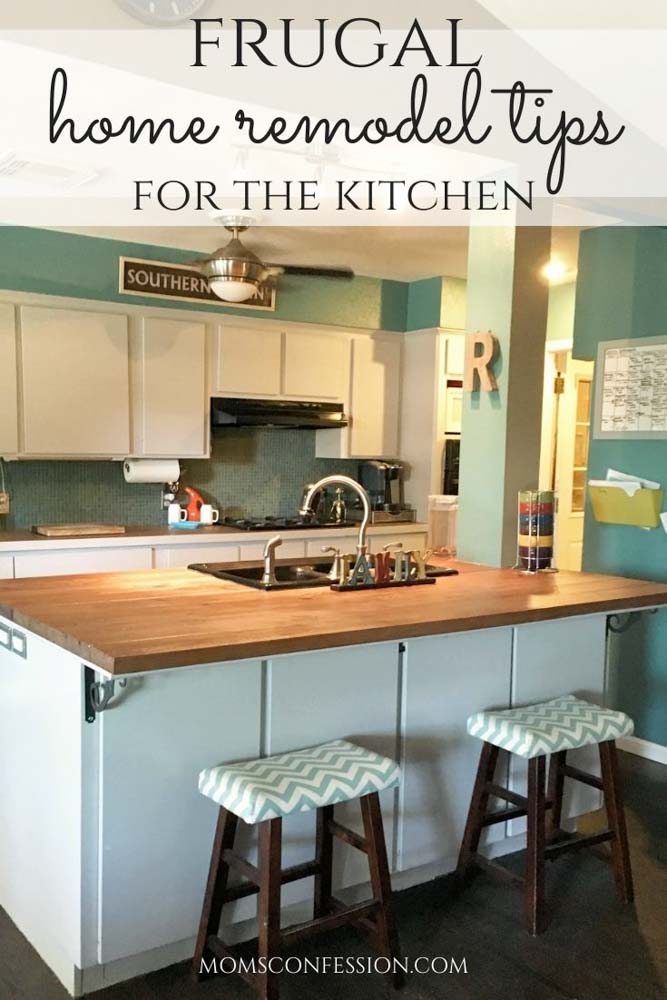 Whether you are buying a new home or updating a home you've been in for years, these frugal home remodel tips are going to really help you stay on budget.
One place that almost every older home needs an update is the kitchen, so this post is really going to focus on inexpensive kitchen remodels and how you can do them without a lot of extra help or huge expenses.
Frugal Home Remodel Tips For Kitchens
Upgrade with a new coat of paint.
If your kitchen is older and just needs to be brightened up, one of the best kitchen update ideas is to paint it. This is simple, fits easily into a frugal home remodel budget, and can be done by anyone regardless of experience.
It's also especially helpful when you have old rather ugly or dated wallpaper in your home. Even if you don't update the dated countertops, you can update them with a fresh coat of paint on the walls or cabinets. Bright white latex paint is a great choice.
Replace fixtures, hardware, and coverings.
From light switches to light coverings and ceiling fans you can easily do some simple upgrades by replacing fixtures in your kitchen.
As a simple DIY kitchen remodel, a fresh coat of paint and some simple upgrades on cabinet hardware are great ways to make your kitchen look new without a lot of expense.
New light switches can be as little as $5 for an entire room. Hardware like drawer pulls and cabinet door knobs are easy to replace for just $1-$2 each. Some vintage pulls you may want to keep for design reasons, but could easily paint or refinish so they pop with color.
Clean the grout.
One of the most important kitchens updates ideas in a frugal home remodel is to take a hard look at your tile.
If you have tile that is still in good shape and a neutral shade or style, you can easily clean the grout and re-grout to update and make it look sharp and fresh.
Mildew and stains in grout can really bring the look of counters, floors and backsplashes look dull.
Replace countertops.
Yes, this is pricey, but there is a great hidden secret for frugal home remodels that some don't know. Check out places like Habitat For Humanity Restore as well as outlet hardware stores.
There are many times when odd sizes or lengths on counters are left and you can grab them at great prices. These might not fit a traditional kitchen counter but could work great in a small kitchen that would need countertops.
You can also check with local construction companies about buying leftover pieces from their jobs. You'd be surprised at how many contractors will sell you a high-quality piece of countertop for a bargain bin price so they don't have to haul it off.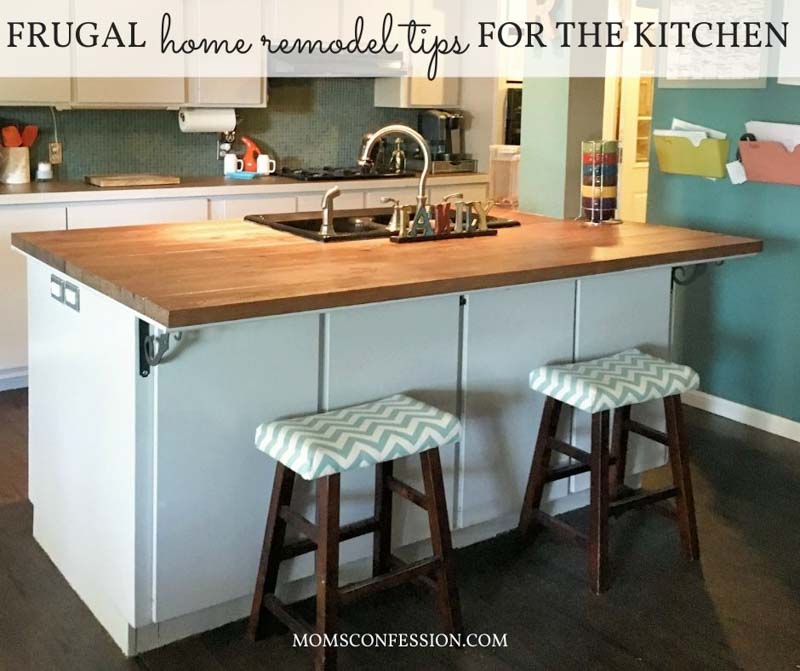 These frugal home remodel tips are so easy to manage. They are simple and don't take a lot of money, which means they are excellent inexpensive kitchen remodels that any budget and manage.
Be sure to pin this for later!