Chicken Lo Mein Recipe – So Simple Even Your Kids Can Do It
I was only 4 years old when Karate Kid came out (I'm totally dating myself here) and while it may be 30 years old this year…it's a family favorite for us. We have seen the new Karate Kid many times, but we always seem to go back to the original. It's a great family movie and also inspires amazing dishes like…
This month's #BlogFilmFood recipe for Chicken Lo Mein is in one word….
AMAZING!!
Chicken Lo Mein
Yield – 6 servings
Preparation Time – 15 minutes
Cooking Time – 35 minutes
Ingredients
1 lb chicken (diced)
1 – 16 oz frozen broccoli stir fry mix
1/2 cup water (for veggies to cook)
1/2 – 10 oz package Wel Pac Lo Mein Egg Noodles
1 teaspoon olive oil
Salt & pepper to taste
1/4 cup Lawry's Sesame Ginger Marinade
1/4 cup Kraft Teriyaki Ginger Dressing
1/4 cup Kikkoman Sweet & Sour Sauce
1/8 cup La Choy Soy Sauce
2 teaspoon Sriracha Hot Chili Sauce
1/8 cup brown sugar
1/8 cup bamboo shoots
1/8 cup coleslaw mix
How to Make Chicken Lo Mein
Dice chicken
Place olive oil in a deep frying pan or wok
Add chicken, salt & pepper into frying pan or wok and fry until well done
While chicken is cooking, boil Wel Pac Lo Mein Egg Noodles according to directions on the package
In a small – medium mixing bowl, add sesame ginger marinade, teriyaki ginger dressing, sweet & sour sauce, soy sauce, hot chili sauce, and brown sugar in a bowl. Mix together well and set aside.
Add frozen broccoli stir fry mix and water to frying pan with fully cooked chicken, cover and cook on low to medium heat for 7-10 minutes or until frozen veggies are fully cooked.
Add bamboo shoots and coleslaw mix into pan.
Add Lo Mein noodles and mix together with veggies and chicken.
Pour sauce mixture on top, mix together and simmer for 5 minutes.
Serve and enjoy!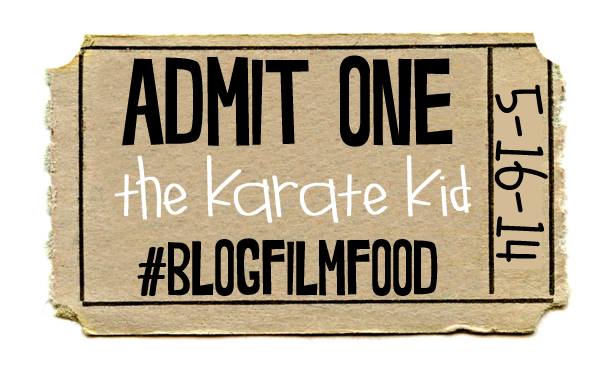 Enjoy these other Karate Kid Inspired Dishes from the amazing bloggers I've joined to bring your the #BlogFilmFood Spring and Summer Film Series!
Caramel Banana Wontons from The Grant Life
Homemade Sesame Candy from Family Fun Journal
Chicken Lettuce Wraps from Kirsten Oliphant
Flank Steak Kabobs from Penney Lane Kitchen