Spring Cleaning Tips for the Yard
When we purchased our home ten years ago, we didn't care much about what the yard looked like. Our only concern was finding a home that was structurally sound and had the basic requirement of four bedrooms. Beyond that, we knew we could make any house a home and customize it over time to fit our families lifestyle.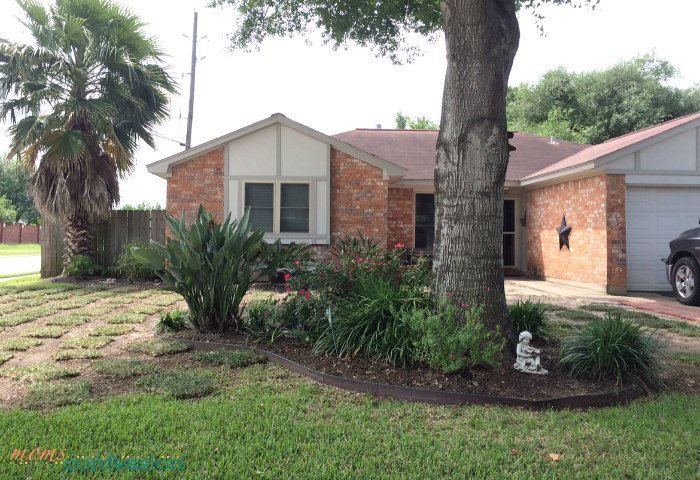 During the past ten years, we have done just that. We remodeled our kitchen on a $1000 budget, remodeled the guest bathroom on a $600 budget, updated the master bathroom on a $300 budget, had new windows installed and our back porch redone to suit our families needs. It's been a long ten-year process, but it's been a good journey to be on since we have done about 90% of the work ourselves (along with the help of my jack of all trades dad).
Over the years our yard has taken a backseat because we wanted to make sure the inside of our home had everything we wanted. Now that we have done all the major updates inside, our focus has shifted to the outdoors.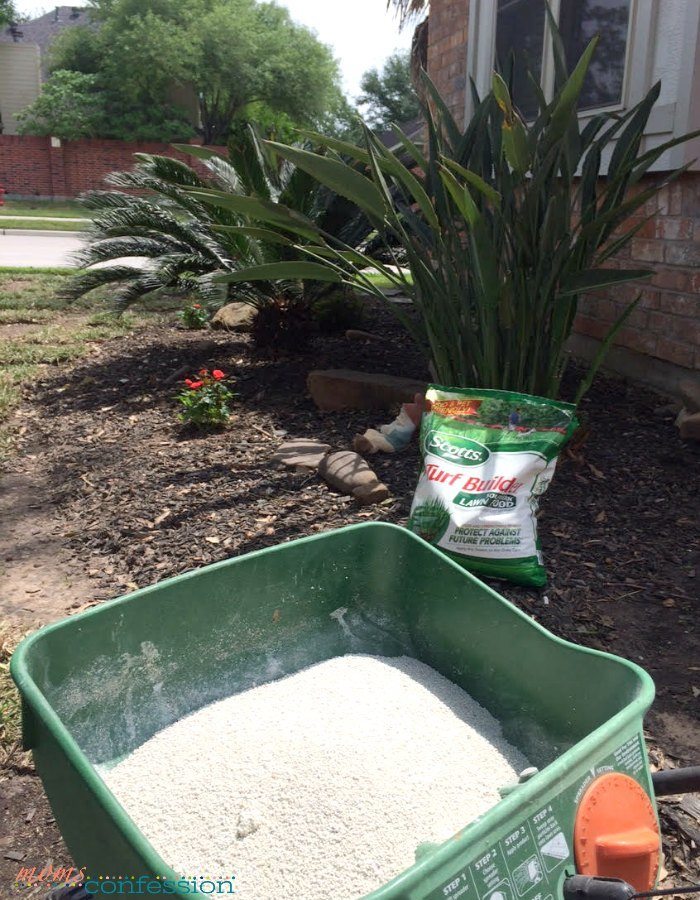 The front yard has been hideous, full of a mix of rye, Bermuda and the worst kind of grass you can get…Bahia. That grass is hard to get rid of, but with the help of SCOTTS Turf Builder over the years we have been able to slowly get control of the Bahia grass. When the road by our house was expanded last year, the construction crew ripped up nearly a quarter of our lawn and replaced it with nice beautiful St. Augustine grass and it has been wonderful to see the lush grass in our yard. At the same time, it's been an eye sore to see only a quarter of the grass nice and lush so it has been somewhat of a discouragement to us.
After finally having enough, we decided it was time to reclaim our yard and get it Spring cleaned for good. We knew we had a good amount of rain heading for the Houston area so we got to work last weekend. (I'm sure you saw the massive flooding that hit our area on the news. It was bad.) We tilled up the remainder of our front yard and spot planted the same beautiful St. Augustine grass across the back three-quarters of our yard. Nearly 100 pieces of sod, two trips to the store later, and a good coating of SCOTTS Turf Builder later, we are well on our way to a lush front yard in no time.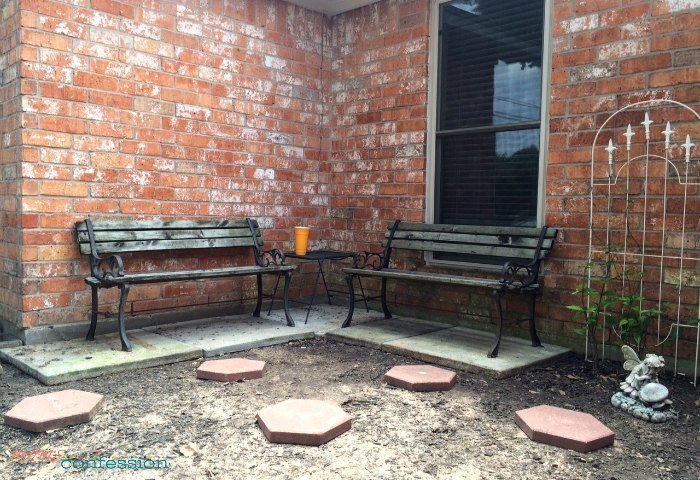 For years we have had our two park style benches and a table sitting in the grass, but we have always dreamed of having a space to enjoy the wonderful North wind that hits our front yard. Instead of putting it on the backburner for yet another year, we decided to create a simple and functional sitting area near the front door. It's a work in progress still, but we will definitely make it the perfect space for us.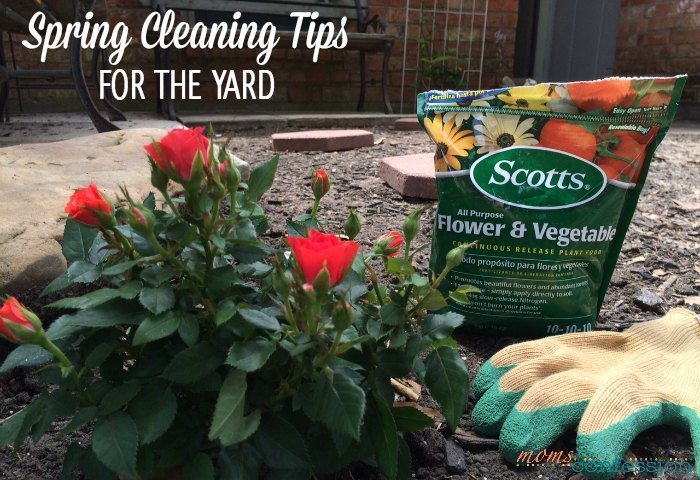 If you are ready to spring clean your yard, here are some tips that will inspire you to Express Yourself in the yard!
If you are thinking about redesigning the landscaping of your lawn, draw a layout on paper and ask your local nursery for placement of plants and the best plants for your zone.
Cut back plants to regenerate new growth during the Spring and Summer season.
Remove any plants you do not want to keep in your landscaping project.
Fertilize your lawn with quality products like – SCOTTS Turf Builder.
Promote new growth of flowers and plants with SCOTTS MIRACLE-GRO Plant Food and Soil products.
Rid your yard of pests with ORTHO Bug B Gone and Fire Ant Killer.
Get weeds under control in your yard and flower beds with the help of Roundup Weed & Grass Control.
Pin these tips for spring cleaning the yard today!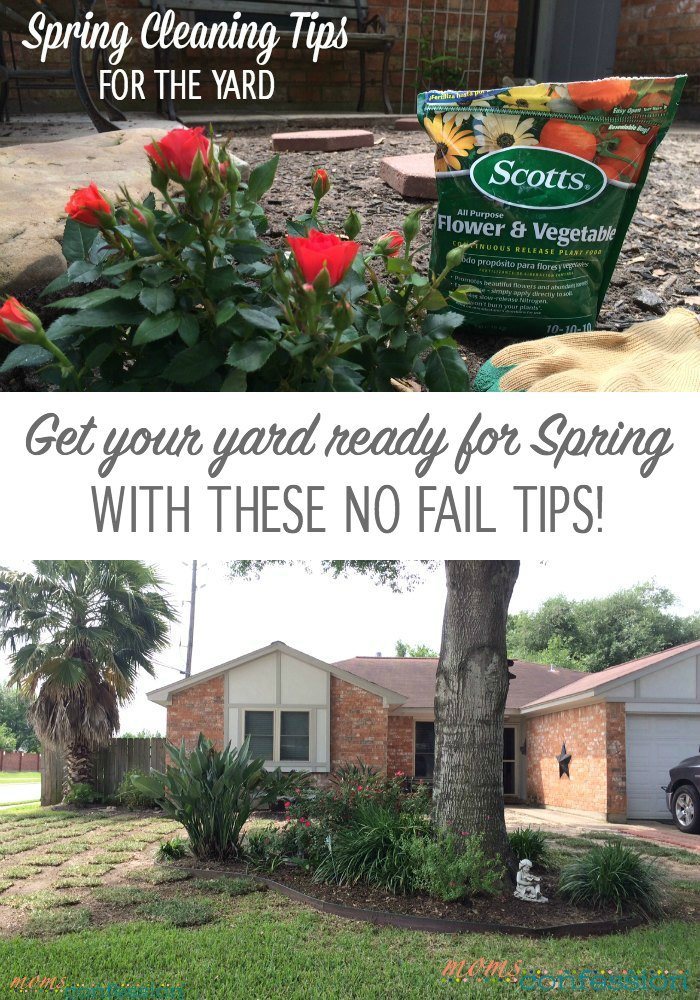 Remember to always read and follow label directions for the referenced products.
This is a sponsored conversation written by me on behalf of Scotts. The opinions and text are all mine.