Pecan pie muffins bring back memories of life for me and some days I wish I could have those days back again. Growing up, we had a pecan tree in our front yard.  We had a red "pecan picker" and every other day or so, we would head out and pick our very own pecans. We shelled and froze them for delicious recipes or just to eat them on their own. Delish!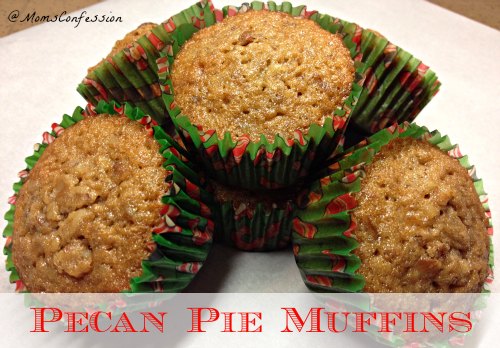 Pecan Pie Muffins
Unfortunately, we don't have that tree anymore so when my aunt showed up bearing 3 pounds of pecans the other day, I was like a giddy little girl that had just received the best gift ever. I couldn't wait to make something with pecans, but I didn't want just any ole pecan pie..nope!
I wanted muffins fresh out of the oven.
These pecan pie muffins are absolutely delicious and taste just like eating the best homemade pecan pie. Top that off with the shear fact that this pecan pie muffin recipe is easy to make and you have a recipe for success!
Pecan Pie Muffins

Yield – 12 servings

Preparation Time – 10 minutes

Cooking Time – 12-15 minutes

Ingredients

1 cup brown sugar
½ cup all-purpose flour
2 eggs
⅔ cup melted butter
1 cup chopped pecans

Directions

Preheat oven to 350 degrees.
Mix sugar, flour, eggs, butter and pecans in a mixing bowl until blended well.
Pour mixture into muffin pan until ⅔ full.
Bake 12 to 15 minutes.
Enjoy!
* This post contains affiliate links for Amazon.com